The Problem
CUSTOMER'S CHALLENGE
After analyzing the current state of their online presence, we established a few major issues that required immediate attention. Their existing website was not built and designed to be easily updated for new services or additions and it was not scalable. Aesthetically speaking, the website was in need of a major update in order to accurately portray their vision, their beautiful establishment, and their quality of service they offer to clients. Finally, they were in need of earning more new customers that could turn into long-term patients.
The Solution
THE APPROACH WE TOOK
After taking over their project in early 2020 before the pandemic hit, we knew that we would need to implement a strategic multi-channel digital marketing approach that would allow Lazer Lounge to meet where their clients are online. We blended both a long-term and immediate-results strategy that would allow Lazer Lounge to start earning new clients right away while still focusing on long-term client acquisition.
The Marketing Channels We Utilized Are:
143%Return On Investment (ROI)
*This case study is a snapshot of the first five months of our business relationship.
Facebook & Instagram Ads
As part of our immediate-results strategy, our team designed a comprehensive and engaging paid Facebook and Instagram advertising campaign that targeted their ideal clients based on location and specific interests and behaviors.
After a thorough analysis of various services and their profit margins, we created an attractive promotional offer with one of their midlevel services that would entice new clients to try out their services. Our team also added an upsell to the promotion that increased the total Return On Ad Spend (ROAS).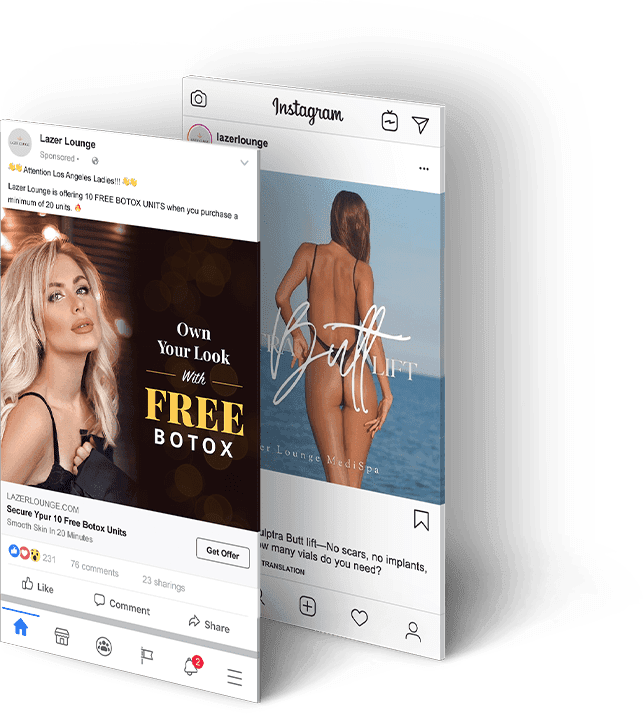 $10.72Cost Per Appointment Requests
110%Return on Advertising Spend (ROAS)
Optimizing For Higher Conversions
After analyzing user behavior and data, our team made adjustments both to the user experience and user interface that simplified the booking process and provided a clearer and more digestible message for the user that resulted an increase in the overall conversion rate.
92%Increase In Conversion Rate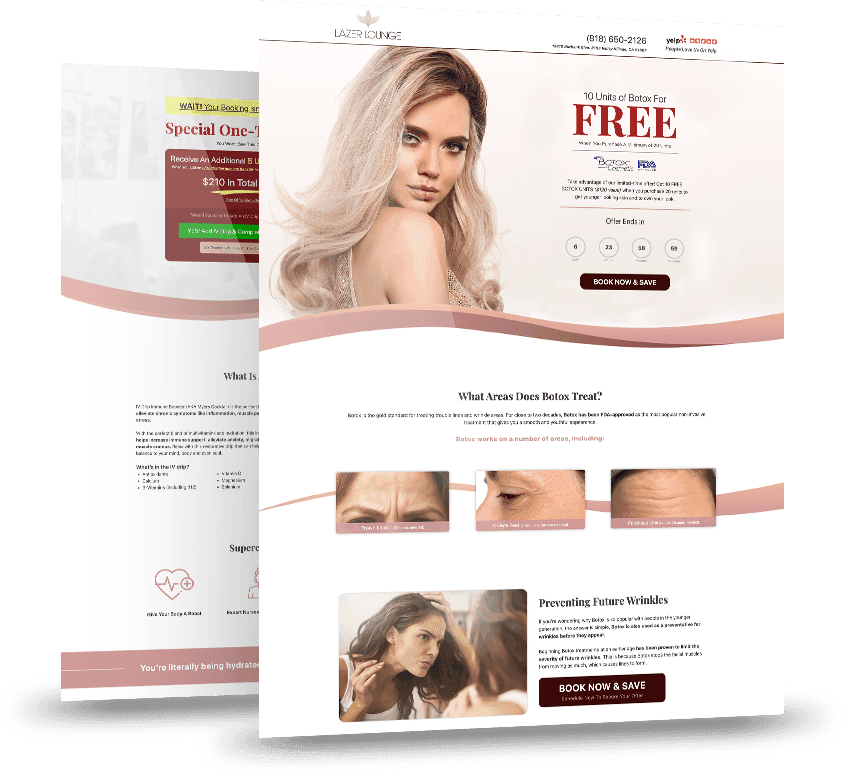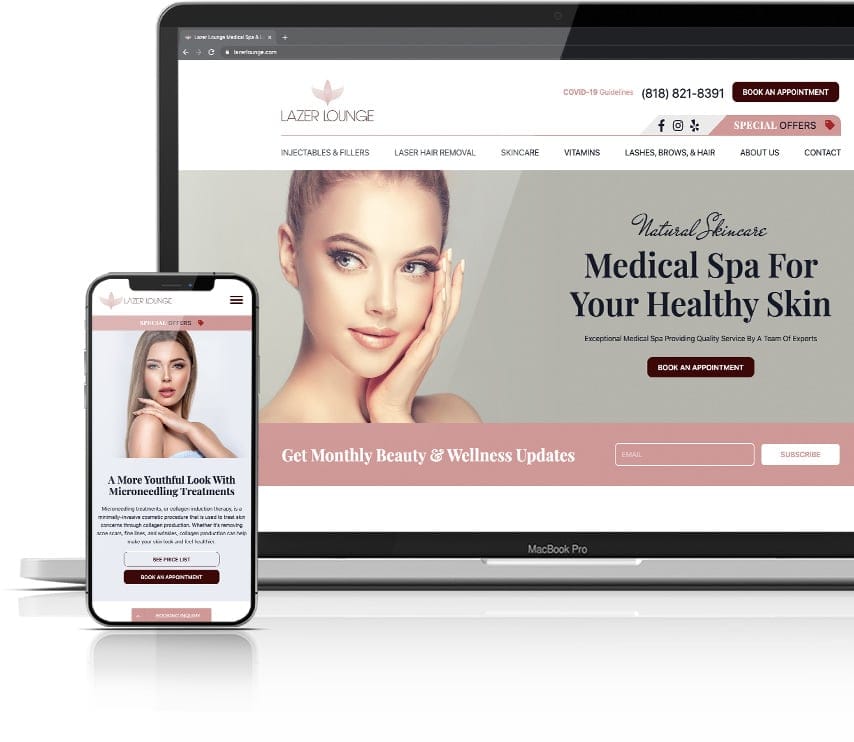 Website Redesign
In order to target their ideal client and properly portray their high quality medical spa services, a website redesign was a must. Lazer Lounge management favored some elements of their original website which we were able to blend together with a more modern and user-friendly interface and experience that actively guided users to the end goal which was booking an appointment.
After analyzing the various services they provided we created an elegant design that provided users with easy access to the right information that was both educational and desirable.
To create greater trust between the user and Lazer Lounge, our team implemented and added various "buyer selling points" that are highlighted in key points across the entirety of the website.
134%Increase In Pages Viewed Per Session
48%Decrease In Bounce Rate
52%Increase In Visitor Duration on Websites
Optimizing For Better Conversions
In marketing, it's essential to constantly test various images, colors, copy placements, titles, and much more in order to maximize your conversions. Our team made sure to present the proper information in key places to allow for a pleasant user experience and to answer their most desired questions in the right order. As a result of consistent data analysis and testing, we maximized the conversions for our desired user action.
Search Engine Optimization
One of the problems we aimed to solve was the visibility of Lazer Lounge on the search engine and to attract more local and organic search traffic.
Our team did a systematic and comprehensive SEO analysis of their old website as well as thorough and exhaustive keyword research based on all of the treatments and services they provide.
In order to properly optimize their website, we constructed the entire website with SEO in mind and created unique content on each page that will be favored by search engines. The content is designed to answer each visitor's most important questions and to help rank the web pages for specific search terms.
298%Increase in Organic Search Traffic
123%Increase in Search Traffic Conversion
175%Return On Investment (ROI)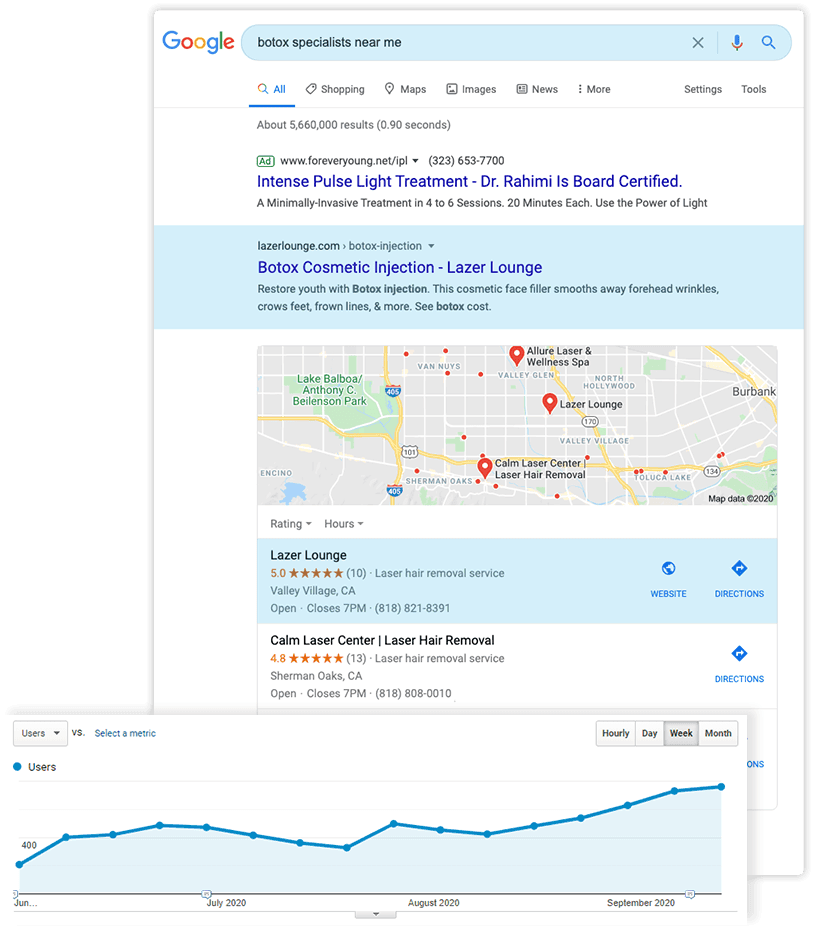 Email Automation To Nurture Leads
In order to complement our immediate-results strategy of Facebook and Instagram ads, our team added email marketing and automation to our multi-channel approach. The intention of the email marketing was to nurture each lead that inquired about their promotion.
Depending on what treatment the user selected, they were placed into a unique email automation workflow that had content that was tailored and personalized to the specific treatment that they were looking for. The goal of the nurturing process was to educate the lead and alleviate or quell any hesitation that they may have had.
46%Average Open Rate (AOR)
35%Increase in Appointment Show Up Rate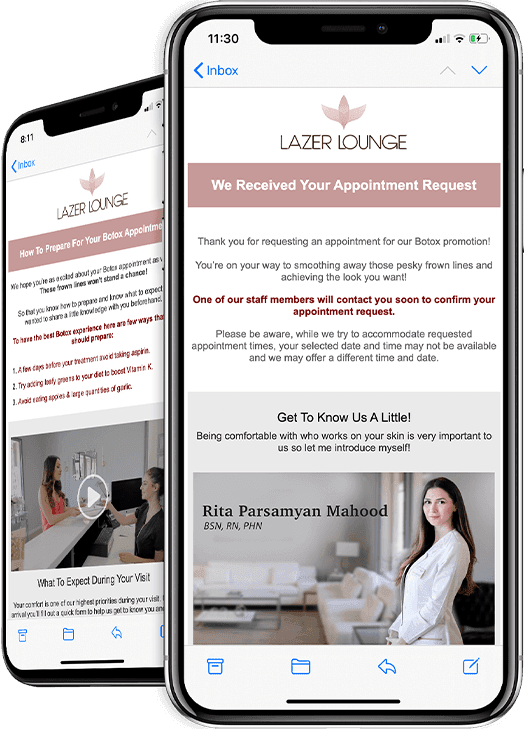 Client Testimonial
Lorem ipsum dolor sit amet, consectetur adipiscing elit. Morbi est enim, eleifend id lacinia eget, imperdiet quis tellus. Quisque venenatis urna eget sapien sollicitudin gravida. Maecenas vitae orci ac tortor vehicula suscipit id et libero. Nunc pellentesque congue quam, a imperdiet neque posuere eget. Phasellus gravida metus eleifend laoreet tincidunt. Praesent sit amet consequat tellus, tincidunt vestibulum elit.

Rita Parsamyan
Owner / BSN, RN, PHN