The Problem
CUSTOMER'S CHALLENGE
Metropol Event Venue reached out to Alecan as a result of some challenges they faced. The sheer beauty of their ballrooms spoke for themselves but they were in need of a more uniform branding strategy as well as an increase in event inquiries.
After a thorough analysis of their current digital marketing efforts, we established a number of issues that required immediate attention. Their website did not accurately portray the charm of the Metropol venues and brand. There was room for improvement in earning more event inquiries. Their local competitors were tapping into the market share they once had, and there was no streamlined communication process with regards to where their budget was being spent and how each channel was performing.
The Solution
THE APPROACH WE TOOK
In order to build trust and a long-term relationship with the customer, we started off with media buying ad campaigns. This allowed us to acquire more qualified leads that helped to immediately increase revenue.
As a result, Metropol Event Venue handed us the keys to their entire digital marketing budget. Having one agency handle their entire digital marketing campaign made sense for them as it offered streamlined communication, quicker ability to adapt to changes, and a unified vision for their strategy which ultimately increased the return on their investment.
The Marketing Channels We Utilized Are:
*This case study is a snapshot of the first six months of our business relationship.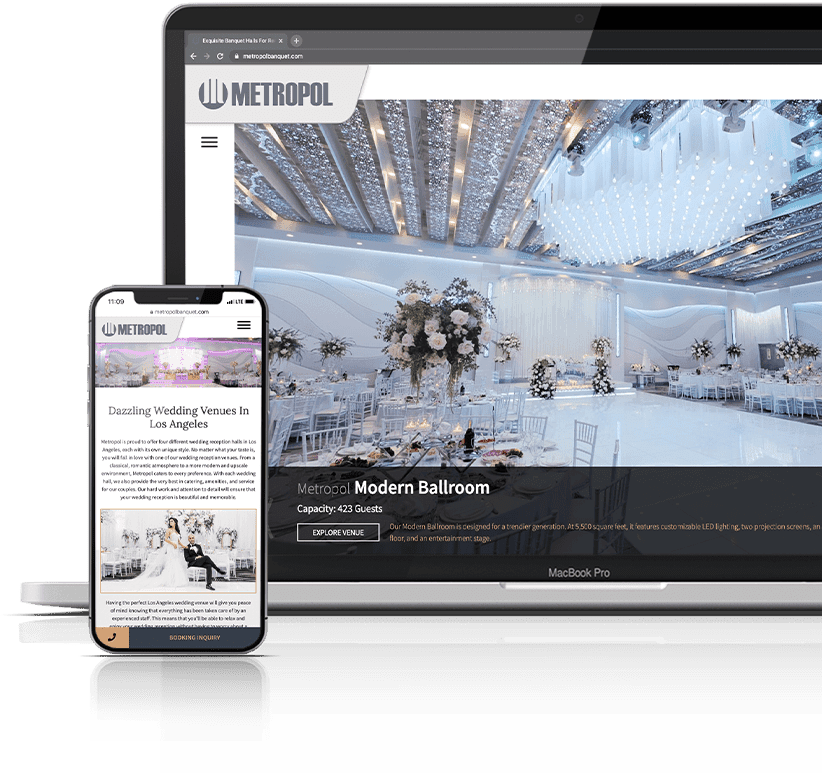 Website Redesign
If there's one thing our team has learned after years of helping out wedding venues and reception halls, it's that your website and web presence must properly align with the looks and value of your venue and answer each visitor's most important questions.
Their old website was lacking on visuals and selling signals to visitors. There was minimal visual appeal and it provided a poor user experience. This meant that their website was falling short on its potential for earning more event inquiries.
In the wedding venue industry our experience shows us that more than 60% of website visitors are from mobile devices. Metropol's website needed a complete overhaul to be properly optimized for the mobile experience.
Website Redesign Goals:
Justify the visual aesthetic of their venue on the web.
Optimized for search engines.
Offer a great user experience.
Optimized for better conversion.
118%Increase In Pages Viewed Per Session
48%Decrease In Bounce Rate
33%Increase In Visitor Duration on Websites
Search Engine Optimization
Before the website redesign, our team did in-depth research to better understand Metropol's desired target audience and what searches and phrases we should focus on optimizing the website for. After a detailed analysis, it became obvious that there was an opportunity to capture a larger market share of local and organic traffic.
We developed an SEO plan based on proven strategies and industry best practices. We executed that plan over time while continuously fine tuning our approach and consistently measuring our results.
96%Increase in Organic Search Traffic
133%Increase in Search Traffic Conversion
925%Return on Investment (ROI)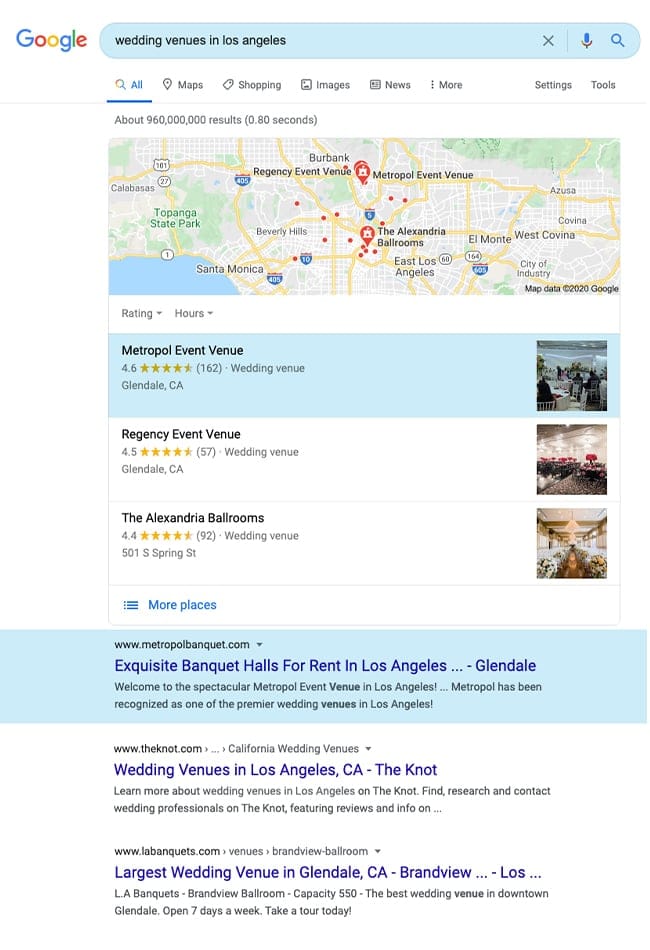 Paid Social Media Campaigns
The wedding venue industry is all about beautiful and powerful visuals. Social platforms are an ideal place to create brand awareness and to earn booking inquiries with the power of paid social ads.
Each ballroom of Metropol caters to a unique audience and is equipped with various amenities that would intrigue a specific clientele.
A thorough analysis of their target audience and area demographic guided us in determining who our paid social media campaigns should be targeting to drive relevant impressions and conversion. We segmented various audiences that we felt would fit each specific ballroom of Metropol.
Through A & B testing of sales funnel pages, making strategic adjustments to campaigns, and testing various audiences, our team was able to deliver qualified leads month after month that delivered Metropol 710% Return On Advertising Spend (ROAS).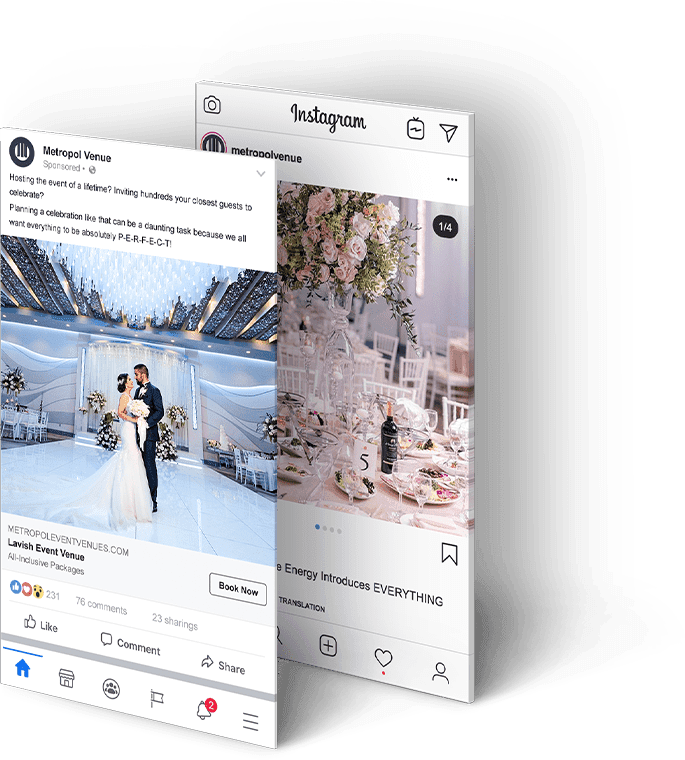 61%Increase in Click Through Rate
71%Increase in Conversion Rate
45%Decrease of Cost Per Conversion
710%Return on Advertising Spend (ROAS)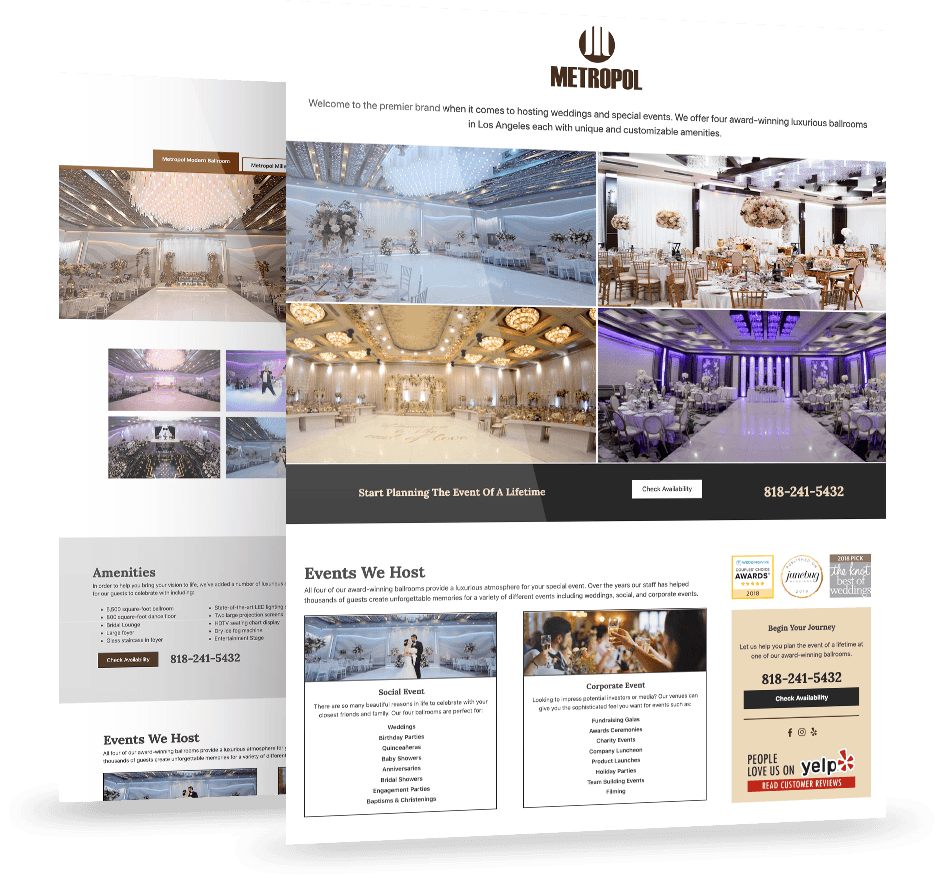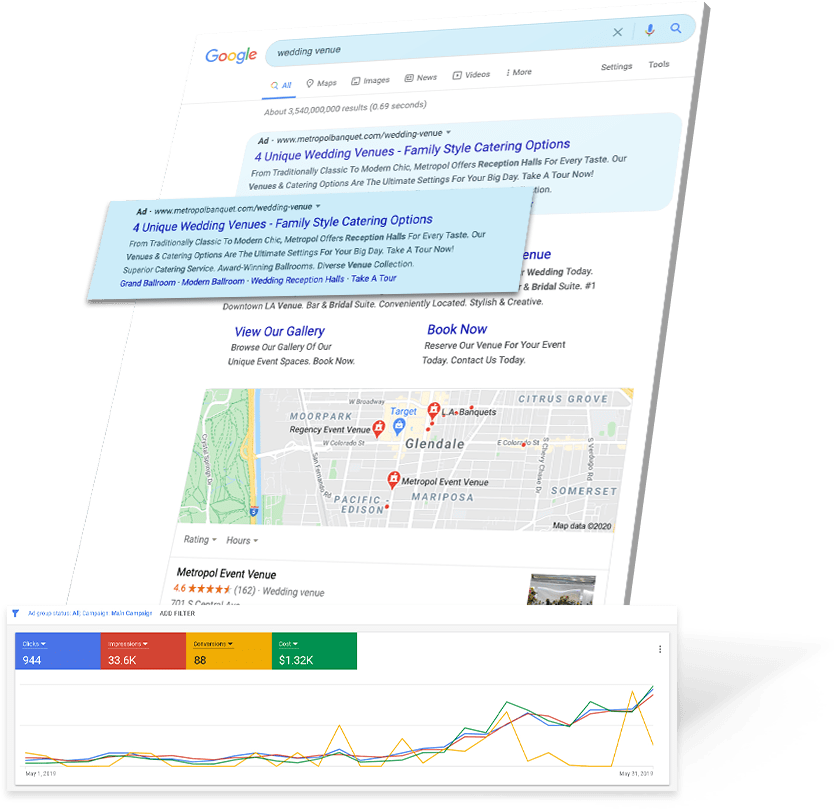 Google Search Ads
In order to ensure we were able to hit Metropol's target audience from every angle, we launched a comprehensive search ads campaign.
Search ad campaigns offer highly qualified traffic as users ACTIVELY searching for wedding venues and services Metropol offers.
Our team put a strategy in place to immediately start generating qualified leads for our client while also learning from the data we were collecting. Once we received enough data we were able to start pairing down the campaign and allocating the search ads budget to the most impactful & precise keywords and campaigns.
Running successful search ad campaigns is not a set-and-forget model. Our team dived deep into the data and performed changes on a consistent basis. Some of these changes included optimizing ads for the most impactful time and day to display, allocate budget to the highest converting keywords, eliminating wasteful keywords, and so much more. By continuously optimizing the campaign, we were able to scale their campaign and deliver 814% Return on Advertising Spend (ROAS).
41%Increase in Paid Traffic
34%Decrease in Average Cost Per Click (CPC)
48%Decrease in Cost Per Lead
570%Return on Advertising Spend (ROAS)
Client Testimonial
Working with Alecan has been great! These guys are the most professional marketing team anyone can work with. They keep consistent and clear communication with our management, exceeded our company's expectations in every way, and opened doors for us we never thought would exist. I can't recommend them enough.

Andre
Venue Director