Receiving a manual action from Google is a scenario every site owner and online marketing professional dreads. When Google, a major household name and the leading authority for reliable search rankings, flags a company's website site as a source of spammy, poor quality content or penalizes the site owner for artificially inflating page rank through prohibited tactics, the results can be disastrous.
Alecan Marketing Solutions recently worked with a client whose marketing practices prior to our relationship resulted in a manual penalty against their brand's site. The rankings they'd worked hard to build up over time with proper optimization and relevant, high-quality content were stripped away and would remain so until the issue was corrected, and in the meantime they were losing all of the leads, inquiries, and potential sales that their former rankings had guaranteed.
It was critical that we pinpoint the problem and enact a solution quickly, before the penalty became permanent and lost revenue condemned the business to close.
What Is a Manual Action?
In the plainest terms, a manual action (interchangeably referred to as "manual penalty") occurs when an agent from Google's anti-spam team takes note of unusual activity related to a website, such as many links directing to the URL from domains with high page rank but little to do with the site's focus; for example, a website selling clothing receiving link juice from a high-PR travel blog, pet supply retailer, and medical forum. Tactics that artificially boost one's page rank with referrals that don't adhere to a logical pattern of relevance are prohibited by Google, and when an agent catches something that the search giant's increasingly refined algorithms didn't, they can manually demote or otherwise penalize the offending site.
While there's evidence that manual actions against websites have been a part of Google's standard practice for some time, the practice of notifications to site owners regarding these penalties was introduced during the launch of Google's Penguin algorithm update in the spring of 2012. Web marketing professionals will recall the major, sweeping changes that this update triggered at every level of our craft, in many cases gutting the search rankings and traffic to sites that had benefited from intentionally or mistakenly engaging in prohibited SEO practices for years.
Alecan provides a broad menu of custom services that help businesses maximize the earning potential of an established web presence and expand their opportunities for customer engagement and name recognition, including link-building services. When done properly, link building is still a powerful tool for boosting page rank and attracting visitors and customers from the markets you want. Our team stays informed of the latest updates and changes to search ranking policies to ensure that we follow best-practice guidelines as dictated by Google and other search engines in every campaign. Unfortunately, not every marketing firm is as committed as ours, and when we take on a new client we often find ourselves resolving issues that the previous marketing company or department created.
Such was the case earlier this year, when a client with an established domain signed with us for a round of link building and SEO services. We completed our research and developed a strategy, but before we could launch our client's new campaign, we received notice from Google of a manual penalty against the domain. The information provided by Google and what we discovered through an in-depth audit indicated that the outsourced marketing firm they were previously contracted with (which, incidentally, also failed to complete a portion of work the client paid them to do) had engaged in some serious black-hat SEO. The particular sticking point for Google had to do with several hundred inbound links from high-PR sites completely lacking in relevant content; not one of them had anything to do with our client's product, industry, or even geographical location. Google's automated system had previously missed this as the links were very old and not prioritized to be re-crawled, but a change to one of the referring sites triggered a re-examination of the entire network of links and resulted in manual review. Due to another firm's poor link-building strategy and direct violation of Google's policies, our new client suffered a severe drop in ranking and we were pressed to repair the considerable damage before implementing any of our marketing services if we were to have any hope of their effectiveness.

We began by contacting Google via the Webmaster Tools console that they used to first inform site owners of the issue. They offer a comprehensive set of tools and tutorials for self-help as well as the means to directly contact a member of their team for clarification and assistance. We politely explained the situation and asked that Google work with us to identify and correct the specific problems with our client's domain. Policy does not permit them to offer certain details that potentially compromise the company's proprietary methods, but they are invested in providing the best, most relevant results for every search and can be of great assistance in helping site owners develop content and practices in line with that objective.
The most useful tools in our situation were features that permitted our team to review all the questionable referral links, isolate the ones causing the issue, and dissociate our client's site from those domains. Using the Disavow tool in Google Webmaster Tools, we were able to request that many of the poor-quality links were simply no longer factored into our client's rankings. It is important to note, however, that Google's policies request that you first attempt to remove the links by sending the referring site owner a removal request, and requests for link disavowal are far more likely to be honored for webmasters who can demonstrate a diligent effort to remove the unwanted links before creating more manual work for Google through Disavow. It might be tempting to head straight for this option, but ignoring Google's guidelines and attempting shortcuts is what created the issue in the first place, and continuing to do so will not get you the results you need after a manual action.
Once we understood our responsibilities and Google's protocol for recovering from manual penalties, we began the arduous task of contacting the owner of each and every domain that supplied an undesirable referring link to our client's site. This stage is extremely valuable as the process creates a record of your good-faith effort to correct the issue, which in turn helps your chances of any links you can't remove this way being approved for disavowal. If the webmasters are not responsive or refuse to comply with your requests, you still have the request logs to show that you made your best attempt at bringing your site up to regs. After completing the several hundred link removal requests, we had to wait a reasonable amount of time for webmasters to respond and cooperate before moving on to the disavowal stage, which we did.
To improve the client's chances of being safe from future penalties and problems, we chose to take a very strict, thorough approach to the requests for removal and disavowal, opting to sever any connection that was even questionably relevant unless it came from a major credible source such as a news site or a general resource like Wikipedia.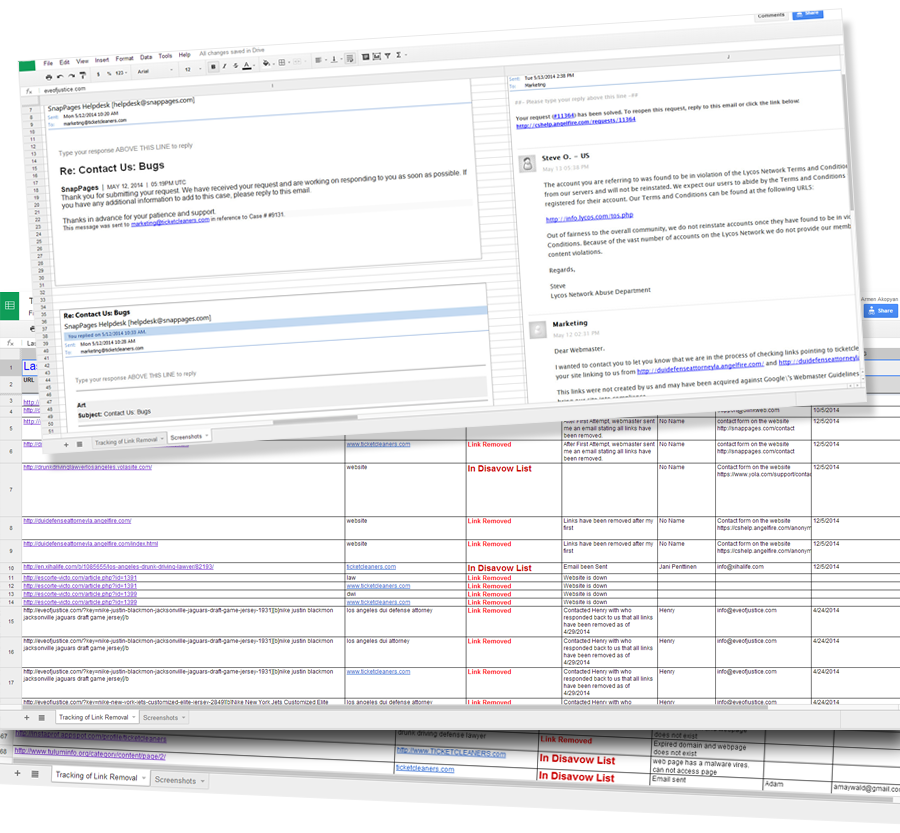 Documentation is an absolute necessity for bringing issues like demotion for bad links to a positive resolution. Once we determined which links needed to come down, our team created a spreadsheet listing the URL of each problem link and the action taken by ourselves and the site owner for its removal. This was labor-intensive and extremely time-consuming, but without it our work would have been pointless. As it stands, we were able to take a very organized approach to a major task and provide the evidence of our commitment to ethical practices that Google needed in order to help us. The status of every URL was noted whether it was successfully removed through cooperation with the owner of the referring site, or the subject of our disavowal request due to refusal or lack of response to our takedown request.
Once you complete your work and send your documentation to Google for review, your request goes into a queue that can take several days or weeks to clear, and it is not uncommon for Google to reject requests if your effort was misdirected or insufficient. Fortunately, our team's no-nonsense approach to resolving this issue met with Google's approval and our request that they accept our disavowals and clear the penalty was accepted.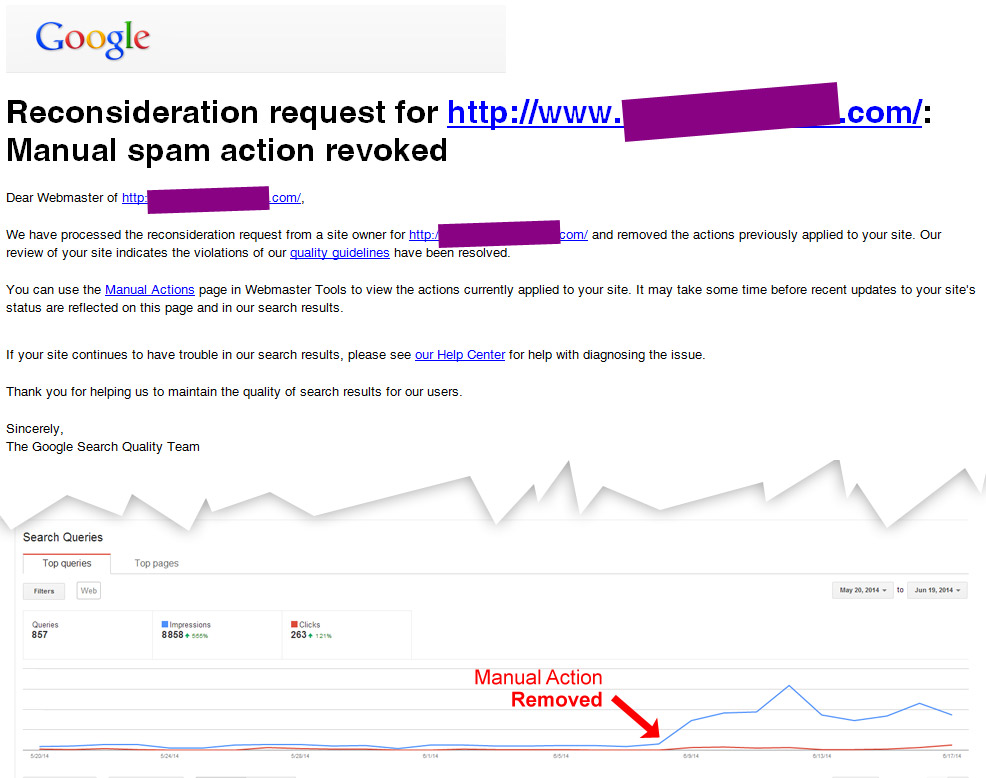 All told, this was a two-month project from the day we first received the manual penalty notification to the day our client's site was restored. While Alecan has always invested time and energy into learning and enforcing best practices for all of our SEO/SEM services, this experience underscored the importance of knowing the right and wrong approaches to boosting a site's rank. Even with a skilled team on the job, this client lost two months' worth of the revenue and page views they were accustomed to, and had we not already had a contract with this client when the issue surfaced, they may have had difficulty finding a knowledgeable, trustworthy SEO expert to resolve the issue and lost their business completely. Meanwhile, others in their industry enjoyed two months of decreased competition and fully regaining the client's lost rankings will be an uphill battle.
SEO tactics are subject to more stringent reviews than ever, both through Google's automated systems and their human anti-spammer task force, and the complex system of rules and procedures that must be followed for practices like link-building campaigns is challenging to navigate without years of practical experience in the field. For business owners without a strong background in SEO, we cannot recommend the services of a qualified professional enough. All of Alecan's team members work under the same roof and participate in weekly team meetings (both departmental and all-hands) to ensure a continued understanding of best practices and immediate accountability should a problem arise. Poorly executed SEO can result in manual penalties and other negative consequences for your business, so it's in every site owner's best interests to secure a qualified marketing team.