Digital marketing professionals worldwide are calling it "Mobilegeddon." Across the web, banners and images have sprung up with ominous warnings like "Are You Ready?" plastered over scenes of erupting volcanoes and nuclear countdown clocks. Industry stalwarts like Search Engine Land, Business 2 Community, Forbes, and The Huffington Post have all written about the devastation set to befall the realm of Search on April 21st.
If you didn't know any better, you'd think the world was coming to an end.
The uproar followed a February 26th blog post on Google Webmaster Central, which unequivocally stated: "Starting April 21, we will be expanding our use of mobile-friendliness as a ranking signal. This change will affect mobile searches in all languages worldwide and will have a significant impact in our search results. Consequently, users will find it easier to get relevant, high quality search results that are optimized for their devices." Google's own Zineb Ait Bahajji added to the hysteria by predicting that the upcoming mobile-friendly algorithm would have a greater impact than either Panda or Penguin algorithms.
(For webmasters that remember the havoc caused by Panda and Penguin, this is a terrifying prospect; the "End of the World" imagery now seems entirely appropriate.)

Though the admission of the April 21st deadline came as a surprise – Google is notorious for releasing algorithm updates in secret and letting SEO professionals figure out just what sort of changes occurred and when – the announcement was not completely unexpected. For months, Google has been taking small steps to warn website owners of the impending crackdown, including testing out "mobile-friendly" icons, adding mobile usability reports in Google Webmaster tools, and even going so far as to send mobile-usability emails urging webmasters to get their dated websites up to mobile standards. With mobile search traffic now eclipsing desktop traffic, the message from Google is clear: Make sure your site is mobile-user friendly, or prepare to suffer a big penalty.
From a business perspective, not heeding Google's warnings or ignoring the April 21st deadline could be devastating. If your businesses website isn't optimized for mobile, you're probably only receiving about 50% of all possible traffic on your site (since around 50% of all web traffic is now mobile); if Google's mobile-friendly algorithm penalizes your website and destroys your ranking, you could lose your desktop traffic as well. Zero traffic = zero leads = zero business.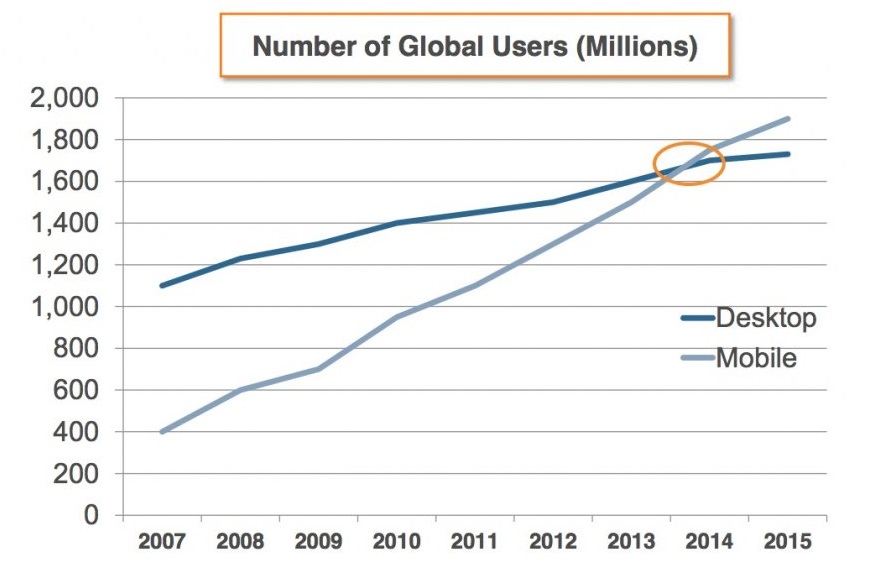 Tips For Making Your Website Mobile Friendly
Though Google has graciously given business owners and webmasters a few weeks to get their affairs in order, it's important that all website changes be made with both Google's mobile compatibility standards AND your website's current SEO structure in mind. To prevent your current ranking from being affected come April, do the following as soon as possible:
#1: Test Your Site To See If It's Currently Mobile-Friendly. If you haven't run a diagnostics test on your site in a while, it's probably high time you did so. This Free SEO Auditing Tool will not only tell you if your website needs to be revamped to meet Google's mobile-friendly standards, it also conveniently lists other improvements that might help your ranking too, such as including appropriate image tags or creating a sitemap.xml to enable better "crawling."
#2: Consider The Consequences Of Having Two Websites. For years, it's been common practice for businesses to have two separate websites, one that could only be accessed through desktop and one that could only be accessed through mobile. It now seems, however, that Google's algorithm is demanding that every website – even websites that have mobile affiliates – become mobile friendly, thus eliminating the need for a separate, mobile-only site. Not only this, but Google may begin penalizing websites for mobile links that send users to the desktop website, and also for duplicating content (as Google sees the desktop and mobile versions as two competing sites).
#3: If Your Website ISN'T Mobile Friendly, Be Careful When Making Changes Or Redesigning. Business owners and webmasters with mobile-unfriendly sites may be tempted to "slash and burn" their old websites, opting for new, mobile-friendly platforms like WordPress. Wait! Before you start torching your old site, take careful inventory of your ranking keywords, your link structure, your website hierarchy, and your on-site content; if you compromise any of these aspects, you might lose your current website ranking regardless of the Google algorithm update. [For more, read How A New Website Design Can Destroy Your SEO.]
#4: Clean Up The Trash. Even if your site IS mobile-compatible and responsive, there are several common mistakes that may still incur Google's wrath. Play it safe, do the following immediately:
Check your robots.txt file to make sure Google has access to JavaScript, CSS, and image files.
Remove all Flash. Videos should play easily on all mobile devices and tablets.
Make sure there are no mobile-404s. If it shows up on desktop, it should show up on mobile, too.
Revise pages so they load quickly on mobile as well as desktop.
Barry Schwartz gives his take on the new Google mobile apgorithm updates on SERountable.com
Need A New or Mobile-Friendly Website? We Can Help!
If you're worried that the new Google mobile algorithm update might torpedo your hard-earned Google ranking, you've come to right place. Don't face the Mobilegeddon alone; Contact Alecan Marketing Solutions today for a free website assessment and consultation!