Are You Missing Out?
Every small business owner worth his or her salt knows that social media is an important, if not necessary, aspect of running a small business. Customers and clients are becoming increasingly tech-savvy, and businesses that want to connect with this online customer base MUST invest time, energy, and money into cultivating an engaging social media presence.
While Facebook and Twitter are great places to start—in fact, if you're not already using these social media platforms, you are already far behind your competitors—ambitious companies are now capitalizing on a host of newer social media sites to appeal to the broadest possible client base. If you're a business owner looking to increase your customers and revenue, not to mention generate powerful "social signals" that boost search engine rankings, then consider fleshing out your social media portfolio with these easy-to-use platforms!
Tumblr
If your website doesn't already have a blog, you might consider using Tumblr to engage users and generate traffic to your website. Like its micro-blogging cousin Twitter, Tumblr posts are usually small and shareable; unlike Twitter, however, the majority of Tumblr posts are image-based, making it perfect for businesses that trade in fashion, food, art, tattoos, makeup, and any other visually-based industry.
Though not as ubiquitous as Twitter or Facebook, Tumblr is no small fry. According to a study by SearchEnginePeople.com, Tumblr grew 74% in 2013, and statista.com reports the currenty number of Tumblr blogs at 227.1 million, an increase of over 45 million from the previous year. Tumblr is now the seventh most visited site in the U.S., and with 35% of visitors drawing an income of $50,000 or more, the site is rife with people looking to spend their disposable cash.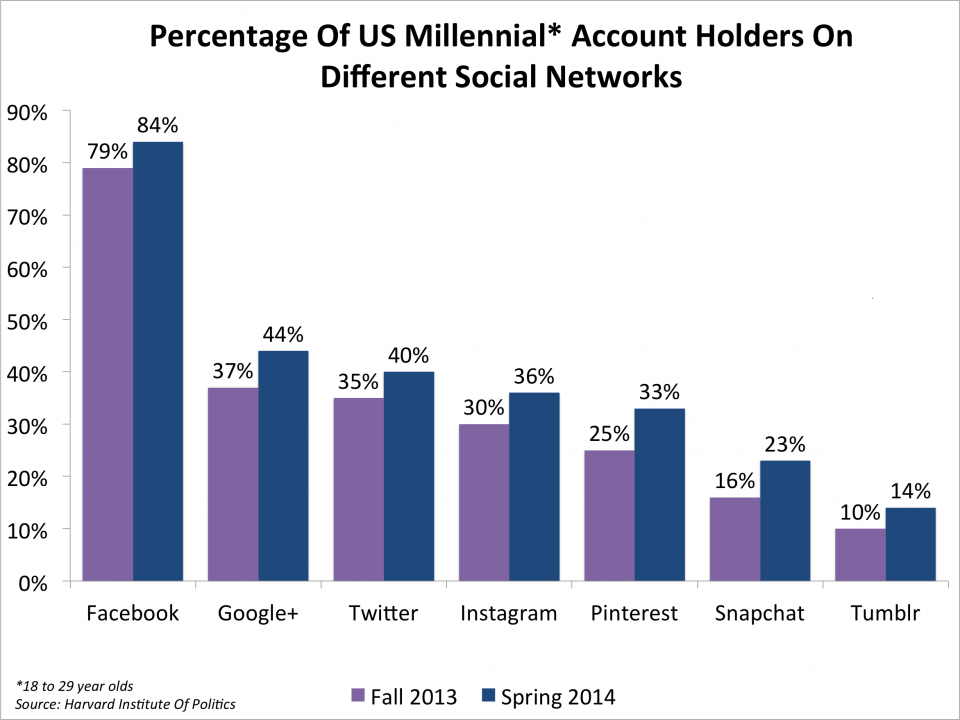 While Tumblr won't pull your company out of a slump all on its own, business owners should approach the social media platform as just one facet of a larger social media strategy. With no sign-up costs or need to invest large quantities of time—posting takes only a few seconds, and Tumblr has a built-in post manager that allows users to post throughout the day or week—it's a relatively inexpensive and effective way to generate engagement and see indirect returns.
Instagram
If you haven't heard of Instagram, you've probably been living under a rock. Sold to Facebook in 2012 for $1 billion, the photo-sharing app is now valued at $33 billion and, according to an Instagram blog post, now has over 300 million active monthly users (i.e. potential customers). While the nature of the platform caters to visual industries like clothing brands, restaurants, and entertainment outlets, even non-visual brands like Redbull and Starbucks have found success on Instagram.
  Like Nike, Disney, and the N.B.A., small businesses, too, can connect with Instagram's extremely active user base by creating engaging photo content that strengthens their brand identities. Sproutsocial.com, a trusted social media marketing company, reported that Instagram posts generate a per-follower engagement rate of 4.21%, which works out to 58 times more engagement per follower than Facebook and 120 times more engagement per follower than Twitter. Companies with younger target markets may also find a receptive audience on Instagram—according to a CBS News report, 76% of American teenagers favor the photo-sharing social media network over any other app.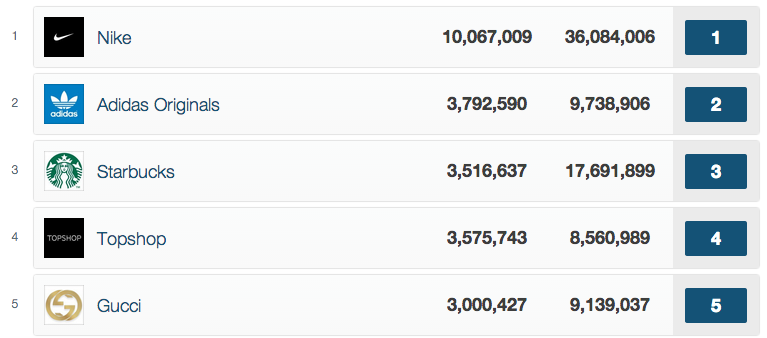 Pinterest
Though relatively new to the social media game, the San Francisco-based "online bulletin board" now ranks 4th in popularity, coming in behind only Facebook, Twitter, and Linkedin (according to ebizmba.com). With over 72.8 million monthly active users and growing at a rate of 25% year-on-year (mashable), businesses and brands are quickly discovering the value of creating boards for visitors to peruse, comment on, and "pin" for other users to see.
According to another article from emarketer.com, 47% of all online shoppers consult Pinterest before making an online purchase; pinning your products or services, therefore, is a great way to make consumers aware of your business and increase traffic to your website. New features like business profile pages, Rich Pins, enhanced search, and Promoted Pins increase the likelihood that customers will find your pins, and including a "Pin It" button on your website requires only one piece of code. Oh, and did we mention it's free?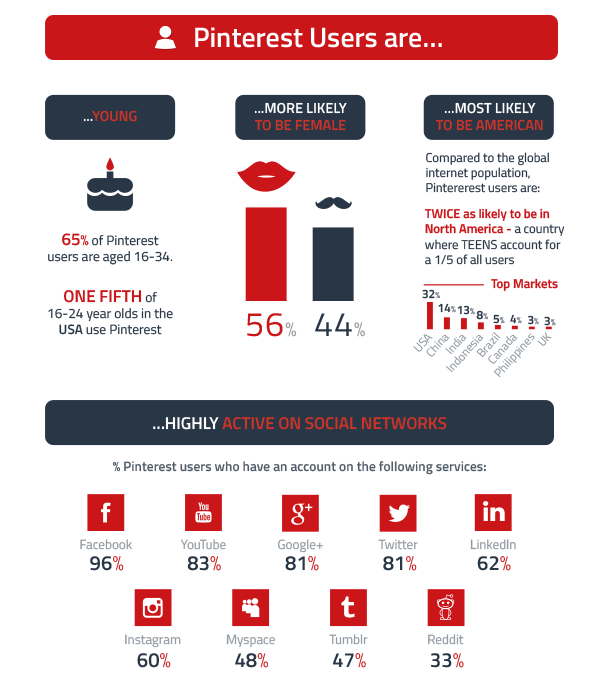 LinkedIn
Though many business owners consider Linkedin useful for recruiting employees (and not much else), the social media site is quickly becoming an invaluable way for companies to establish a trustworthy brand identity and create valuable B2B connections.
According to Linkedin's own blog, over 350 million users visit the site on a regular basis, 107 million in the U.S. alone! And unlike other social media sites, Linkedin's users don't just welcome business marketing and shameless self-promotion—they expect it! With new features that allow companies to highlight projects, post relevant articles, and create in-depth Company Pages, it's never been easier to boost your business acumen and credibility.
[If you're looking for pointers on how to make your Linkedin presence more effective, check out The Best Times To Post To Social Media from the Alecan Marketing blog!]
YouTube
If you've been following current marketing trends, you know that video marketing is huge; according to an article in comscore.com, a digital marketing and statistics website, 64% of consumers are more likely to buy a product after watching a video about it, and visitors who watch embedded Youtube (or Vimeo) videos stay on websites two minutes longer than those who don't view videos. Couple this with the fact that the video sharing site recently surpassed 1 billion users (Youtube)—yes, that billion, with a "b"—and it's not difficult to see how well-curated video content can be a serious boon to your business.
While video content marketing can be time consuming and expensive, a great video can elevate your business above competitors. An article by emarketer.com states that only 9% of small businesses use Youtube, leaving the door wide open to capture a large percentage of your target market. Companies might consider making informative "welcome" videos for websites, producing video product reviews, documenting events, and showcasing the progress of projects through videos, then posting these videos to Youtube (along with Facebook, Twitter, and the above-mentioned social media sites, of course).
Our Conclusion
Billions of potential customers, clients, and patients use social media websites every day. Though not every social media platform works well for every business, serious companies cannot afford to ignore the traffic, sales, and customer engagement generated by the right social media site (or combination of sites). Though it can be confusing at first, discovering the perfect social media strategy can bring an ailing business back to life or boost your company to the next level.
If selecting the right social media sites or managing your Facebook, Twitter, Instagram, Linkedin, Pinterest, Tumblr, and/or Youtube accounts sounds overwhelming, contact Alecan Marketing Solutions today—we'll develop a targeted social media strategy based on your business's specific industry, markets, and products.