Are You Taking Advantage of Social Media?
Social Media sites like Facebook, Twitter, and Linkedin can drive traffic to your company's website and boost your search engine rankings, but only if you are using them correctly. Follow Alecan's easy infographic (you can even print it out!) to make sure your business is taking full advantage of Social Media platforms and leveraging user engagement in valuable shares, likes, retweets, and pins.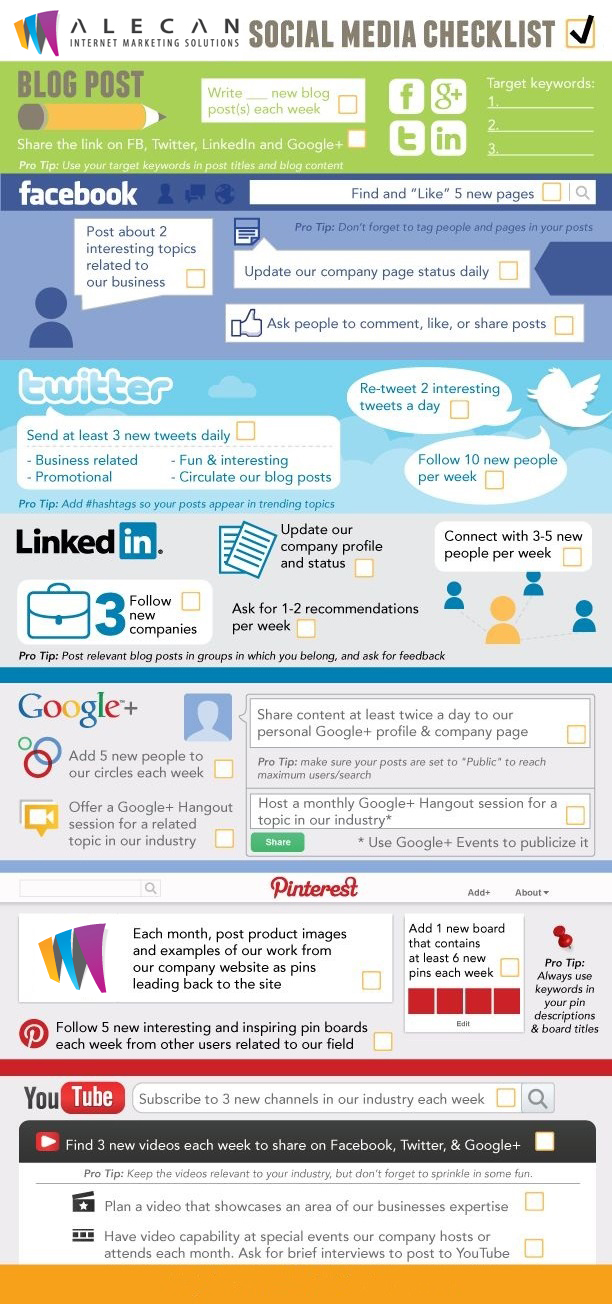 Your Businesses Blog
Write ___ new blog posts each week. (We recommend 1-3 articles, at least) Each article should be at least 400 words in length. and make use of lots of pictures when applicable.
Share links to the articles on your company Facebook, Twitter, Linkedin, and Google+ pages. Tip: It's okay to share each article more than once, but don't kill it. Re-posting two or three times will do the trick.
Try to use your target keywords in your blog posts, if possible. This will help boost your rankings on search engines like Google.
Your Facebook Account
Find and "Like" 5 new pages each week. These pages should be companies or people that relate to your business or industry.
Write 2 interesting posts or link to 2 interesting articles daily. Tip: Don't forget to tag people, places, and other companies in your posts.
Always ask/incentive people to comment, like, and share, and respond to comments immediately.
Your Twitter Account
Write three new tweets daily. Your tweets should be business-related, funny or interesting, or promote some aspect of your company. Be sure to tweet blog post articles as well! Tip: Add #hashtags so your posts appear in trending topics.
Increase engagement by re-tweeting 2 interesting tweets a day.
Follow 10 new people per week.
Your Linkedin Account
Follow three new companies and relevant professionals each week (6-10 companies/people total.)
Keep your company profile updated.
Use your company's newsfeed to post interesting articles and, once again, distribute your business blog posts.
Your Google+ Account
Add 5 new people to circles each week.
Extend invitations to professionals and businesses to discuss industry topics. TIP: Host monthly hangouts to gain "authority" status.
Share content on Google+ page twice a day. (This includes—you guessed it—company blog posts too!)
Your Pinterest Account
Each month, post product images and examples of your business's work as pins. Be sure to link pin images back to relevant website pages.
Follow 5 new pin boards each week, especially if the boards belong to other industry professionals.
Add one new board containing at least 6 new pins each week. TIP: Always use keywords in your pin and board descriptions—this will help people find you!
Your Youtube Account
Each week, find 3 new videos to share on Facebook, Twitter, and Google+ accounts. TIP: Try to keep you video selection relevant to your industry, but don't be afraid to have some fun every now and then. (EVERYONE loves cute animal videos, right?)
Invest in producing a video that showcases your company's expertise.
If your company hosts events, be sure to have video capability at the event. Upload your industry videos to your Youtube page, then remind attendees to visit your page again later to re-watch the videos.
Our Conclusion
As you can see, maintaining a consistent and effective social media presence–not to mention responding to posts and comments from users–requires a large time commitment. If you're unsure about how to manage your social media accounts, allow the experts at Alecan Marketing Solutions to help you navigate the often-confusing social media landscape so you can focus on running your business. Contact us today!