Attack of the Spam Bots!
A few months ago, the webmasters at Alecan Marketing Solutions started seeing subtle increases in the referrals traffic section of our clients' Google Analytics reports—for those unfamiliar with SEO terms, referral traffic is when a person comes to your website through a hyperlink on another website and not via a search engine results page (SERP). Normally, this would mean that more people were linking to the website and our marketing efforts were being met with overwhelming success, but upon further inspection, Alecan discovered that the majority of this referral traffic wasn't from actual people. But from where did the traffic come? you ask.
The answer is: spam bots. Terrible, horrible, ugly, creepy-crawly spam bots.
What Are Spam Bots?
Because monitoring/reading/cataloging the entire internet would be an impossible task if done by humans, programmers have developed little pieces of software called "bots" that scour the internet like spiders crawling over a web, picking up tiny chunks of information along the way. The internet is FULL of bots—according to a 2015 Time Magazine article, nearly 60% of all internet traffic is generated by bots (instead of actual people), and they perform both benevolent tasks, such as indexing website content, and malicious ones, like stealing secure information and passwords. In 2014, about 23% of bots were bad news—of these troublemakers, we call the data-skewing ones "spam bots".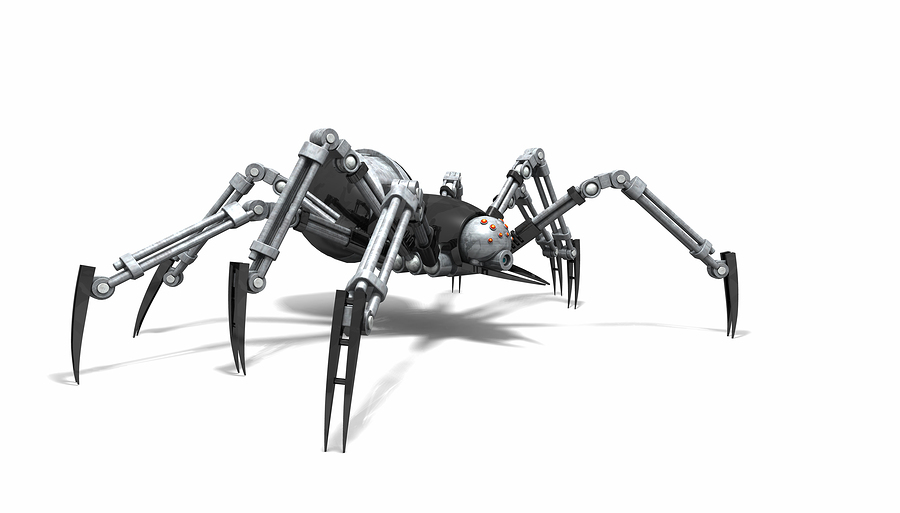 Why Should I Worry/Care About Spam Bots?
Just like a well-placed billboard or a beautifully-designed business card, your website is an investment in the success of your company. The ability to monitor the efficacy of an investment is important—whether by "number of leads generated" or "total sales" or "subscribers," reliable statistics help business owners decide if they should continue putting resources in a particular investment or move them elsewhere.
Spam bots are detrimental to business owners because they skew valuable analytics data that webmasters use to evaluate the success of a particular website or web page. Unlike "good" bots, which identify themselves as bots when they visit you site (and are therefore not counted as visitors), spam bots masquerade as actual people, artificially boosting the number of "referrals" and making the website seem more visited than it really is.
Furthermore, because spam bots only land on a website for a second and then leave, these pesky little crawlers cause a spike in a website's "bounce rate" (which measures how often people "bounce" out of your site because they are unhappy with the results). In the eyes of Google, a high bounce rate is a sign of a poor website, and the artificially-inflated metric may actually cause your ranking on the SERPs to plummet.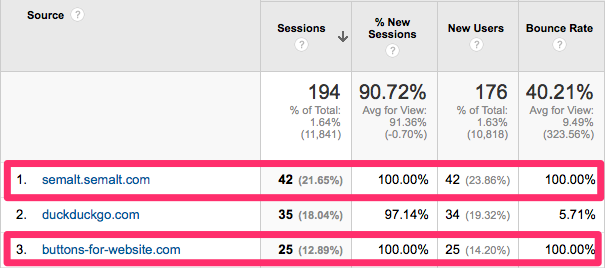 Be On The Lookout For These Nefarious Domains:
darodar.com
econom.co
ilovevitaly.co
ilovevitaly.com
ilovevitaly.ru
semalt.com
semaltmedia.com
buttons-for-website.com
buttons-for-your-website.com
simple-share-buttons.com
free-share-buttons.com
social-buttons.com
see-your-website-here.com
priceg.com
makemoneyonline.com
blackhatworth.com
hulfingtonpost.com
bestwebsitesawards.com
o-o-6-o-o.com
best-seo-solution.com
best-seo-offer.com
Get-Free-Traffic-Now.com
googlsucks.com
theguardlan.com
webmaster-traffic.com
event-tracking.com
100dollars-seo.com
econom.co
humanorightswatch.org
4webmasters.org
generalporn.org
guardlink.org
trafficmonetize.org
buy-cheap-online.org
Ways To Stop Spam Bots
#1: Block Spam Bots Via .htaccess
One of the most effective ways to prevent spam bots from accessing your site is to block them in your .htaccess file in the root directory of your website domain. This can be tricky, though, as one wrong character in the code can cause your whole site to crash. If you haven't worked with an .htaccess file before, we recommend calling or emailing one of our Webmasters right away; Alecan Marketing can help you navigate your website's confusing backend elements and keep everything up and running while we input the spam-blocking text.
#2: Block Spam Bots Using WordPress Plugins
If you prefer not to mess with your .htaccess file and are running your website on a WordPress platform, there are several helpful plugins available that make it easy to block unwanted visitors by IP, IP range, host name, user agent, and URL. Simple and straightforward, the following plugins can be accessed and altered right from your WordPress admin panel:
SpamReferrerBlock
WP-SpamShield Anti-Spam
GoodBye Captcha
Zero Spam
#3: Block Spam Bots Via Analytics Filters
Conveniently, Google has a simple way to block spam bots on Google Analytics, though the filters are a bit limited and may not always catch all the spammers. We recommend setting up filters to disallow traffic from countries like Russia, Brazil, India, or Indonesiaby—spam bots often originate from these places, and unless you expect to get legitimate visits from these countries, you're better off shutting down this foreign traffic entirely. Under the "View Settings," you can also select the "Bot Filtering" check box, though this feature is relatively new and, as of yet, untested.
#4: Call Alecan Marketing Solutions
If you would rather a professional SEO company take care of your spam bot problem, call or email Alecan Marketing Solutions today. Our knowledgeable Webmasters have the tools to eliminate these "bad bots" from your website and keep your Analytics reports true-to-life.
References:
Jared Gardner @ Moz: https://moz.com/blog/how-to-stop-spam-bots-from-ruining-your-analytics-referral-data
Jon Henshaw @ The Raven Blog:http://blog.raventools.com/stop-referrer-spam/
John Patrick Pullen @ Time: http://time.com/3899612/internet-bots/