Facebook advertising can be incredibly lucrative for businesses, but that doesn't mean the advertising process is simple. Despite fierce competition from Instagram and TikTok, the Facebook ad system is strong and offers excellent advertising opportunities if you know how to develop the right strategy and marketing campaign. With so many different options, how should you decide on the best Facebook ad format for your business?
In this post, the digital marketing and search engine optimization (SEO) experts from Alecan Marketing will discuss ten types of Facebook ads and formats, including how they work, the importance of ad objectives, and the best way to leverage them for your campaign.
At Alecan, we pride ourselves on being industry experts regarding marketing and SEO, and we've earned that top spot through years of hard work, dedication, and talent. If you want to utilize paid advertising on Facebook to help grow your brand and reach a wider audience, we'd be happy to help. Just reach out online or give us a call to book a consultation with our team.
Why Is Facebook Advertising Important?
Social media advertising is an excellent platform for businesses to promote their brands and products to a wide audience. According to Statista, 33% of the global digital ad spend in 2021 was for social media marketing. Furthermore, Facebook has a vast and ever-growing number of users that will only increase with time. By implementing Facebook ad campaigns, you can promote your product or service to a huge market of potential customers.
What Is Facebook Ads Manager?
When you start a business Facebook page and create your advertising strategy, the first step is using Ads Manager, a centralized tool you can use to create ads for Facebook, Instagram, Audience Network, or Messenger. Its features allow you to:
Develop, design, and create your ads
Choose the ad formats you prefer
Launch multiple ads simultaneously
Manage ad placement and frequency
Adjust your campaign objective
Monitor and tweak your ad budget
Track performance and key metrics
Plus, you can use the convenient Android or iOS app to manage your Facebook ad campaign on the go, allowing you to adjust Facebook ad placements or campaign frequency.
Which Facebook Ad Types Are Right for You? Check Out the 10 Most Common Facebook Ads
Still not convinced Facebook is an excellent platform for advertising? Consider these data: Experts expect Facebook advertising revenue to grow from $24.52 billion in 2018 to a staggering $65.21 billion in 2023. Before we discuss our top ten picks, we should quickly clarify the difference between Facebook ad objectives and Facebook ad formats:
Facebook ad objectives are the performance goals you set regarding numbers, results, ROI, etc.
Facebook ad formats refer to the creative expression and appearance of your ad (video, image, etc.).
Now, let's dive into the ten most common types of Facebook ads.
1. Video Ads
Facebook video ads showcase your product in a short format and can appear on your Facebook page or regular newsfeed. Videos provide more visual appeal and produce higher engagement than photo ads.
When you compare video ads to static ad types that lack motion, videos produce superior performance, including more content views, shopping cart additions, and purchases.
In addition, users are more likely to stop scrolling and engage with video ads than image ads. Although the max time is 240 minutes, we suggest sticking to 15 seconds or less. Also, don't forget to optimize your video for people who watch with the sound off by adding captions.
2. Photo Ads
We've all seen image ads: still pictures with copywriting/text and a hyperlinked call to action (CTA). Most lead to a landing page or blog post and constitute the most basic ad format.
Despite the popularity of video ads, photo ads are much easier, cheaper, and more practical to make. Therefore, they remain a go-to choice for many marketers who utilize this format via boosted posts or by creating a unique, dedicated ad. While you can add text to your picture, the rule of thumb for Facebook image ads is to keep text coverage below 20%.
3. Stories Ads
Stories consist of full-screen, highly immersive promotional content. Facebook Stories ads can appear on other platforms, like WhatsApp, Instagram, and Messenger, making them an excellent way to boost brand awareness. You can also get creative with this ad type because Facebook Ads Manager lets you add GIFs, videos, images, etc.
In terms of Facebook ad cost, stories are a much more cost-effective option than videos. However, there's one drawback: Stories don't appear on Facebook feeds, so remember that slight disadvantage before you leverage this ad type for your campaign.
4. Carousel Ads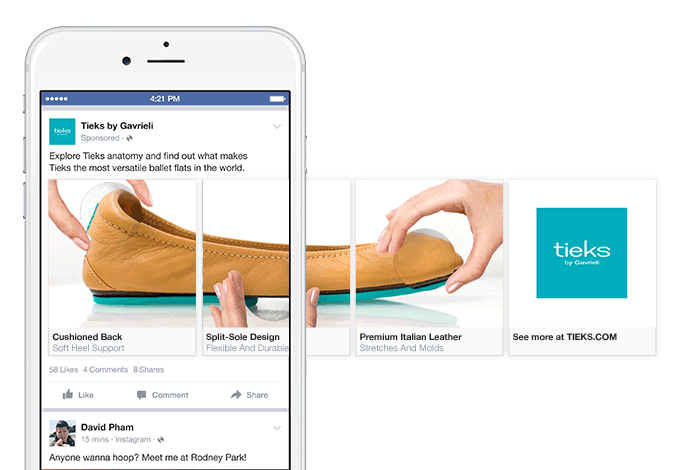 Carousels feature up to 10 images and videos of a product, allowing your target audience to scroll through at their leisure and learn more about your brand. Every image or video in the carousel will have its own landing page, a unique title, an item description, and a product link.
Carousel ads are among the most effective ad formats because they drive up post engagement and compel users to interact with your ad. They're ideal for businesses with a diverse product selection or items with several noteworthy features, as they allow for greater detail than other ad types.
5. Messenger Ads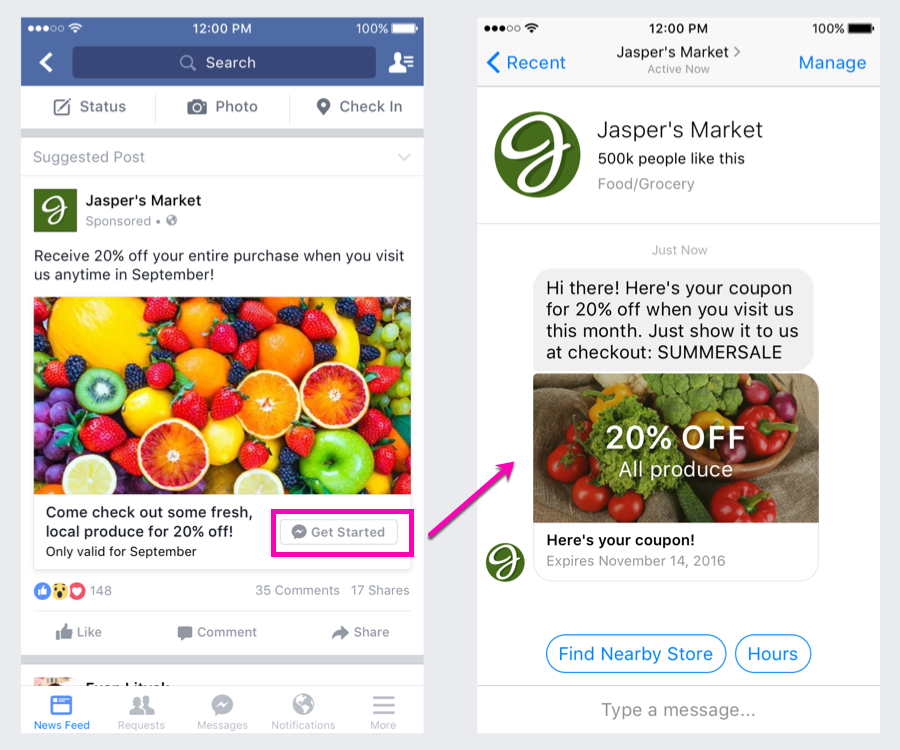 Messenger ads allow you to communicate directly with Facebook users, including prospective leads and current customers. This Facebook ad type appears on the Facebook Messenger app and offers a versatile range of options that let you get creative. You can use carousels, videos, images, and more to create an engaging and informative Facebook campaign. Be sure to define your ad objective and weigh it against your chosen delivery format.
6. Slideshow Ads
Slideshow ads are videos consisting of moving pictures, text, and background music, allowing up to 15 images. Generally, slideshow ads are best for demonstrating a product tutorial, showcasing unique selling points, or telling a story. You can also create them quickly and easily from your Ads Manager. Even better, they use fewer data than videos—up to five times less!
7. Dynamic Ads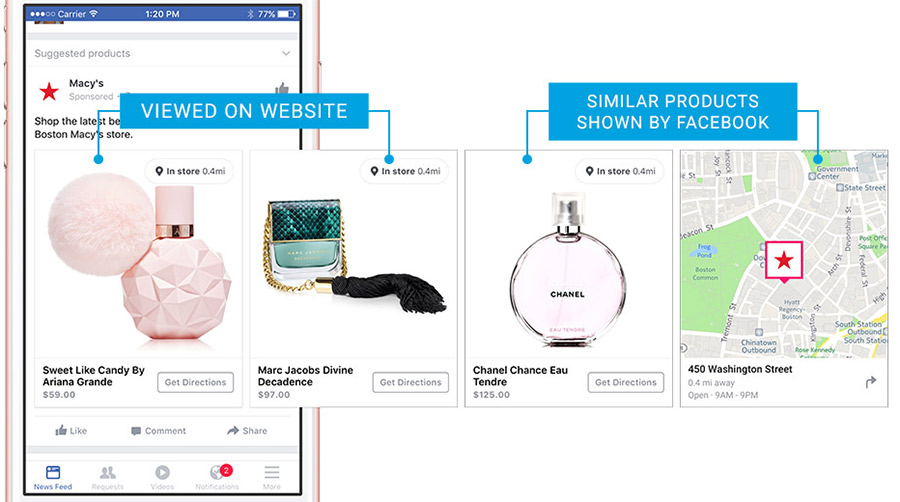 Dynamic product ads are a form of Facebook marketing targeting users who have previously expressed interest in a company's products. Dynamic ads rely on data from the Meta Pixel, which tracks users who have visited certain content on your Facebook page. Then, it analyzes the data and targets those users via dynamic ads.
To utilize this type of Facebook ad, you'll need to upload your shop's product catalog to the Facebook app and website. No need for multiple uploads—users will continue to see those dynamic product ads for the entire campaign.
8. Instant Experience Ads
Formerly known as Canvas ads, Instant Experience ads are full-screen content that varies between several multimedia types. For example, users can watch videos, browse carousels or slideshows, view images, explore products, etc. This immersive ad type combines several assets to create a highly engaging and interactive user experience.
9. Collection Ads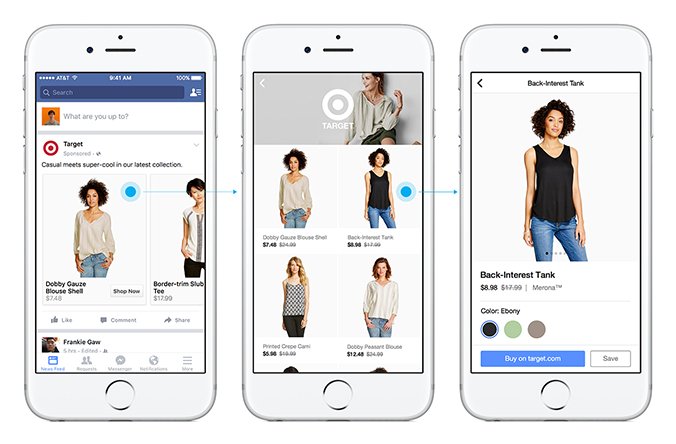 Collection ads have the express purpose of turning page visitors into buying customers. When visitors click a collection ad, the page transports them to an Instant Experience ad full of rich, interesting content. Facebook collection ads utilize three templates:
Instant Lookbook: Best for showcasing products in action and increasing brand awareness.
Instant Storefront: For shops with multiple products that want to focus on driving purchases.
Instant Customer Acquisition: Emphasizes mobile conversion and other actions (purchases, lead generation, etc.).
10. Lead Ads
Lead ads, or lead form ads, are ideal for lead generation. First, choose "lead generation" as your primary ad objective. Then, when users click the lead ad, they'll immediately see a full-screen popup, which Facebook has auto-filled with their information. Implementing a lead form ad campaign is an excellent way to learn more about your audience, improve your lead generation, and meet ad objectives.
Different Facebook Ad Types: Honorable Mentions
We don't have room to discuss every Facebook ad type and how they benefit your marketing objectives. However, we can list a few honorable mentions, including:
Conversion ads
Event ads/responses
Brand local awareness ads
Automated ads
Augmented reality ads
Poll ads
Playable ads
Page like ads
Website visitor ads
Start Advertising on Facebook Today With the Digital Marketing Experts From Alecan
Have you been struggling to reach your business goals and marketing objectives? If so, advertising on Facebook could be your solution to drive growth and reach new audiences. The popular social media platform boasts over two billion active users monthly, providing a vast wealth of potential leads and customers. If you're unsure of the best type of Facebook ads for your brand, let the Alecan team guide you in the right direction. We'll explain all the details, including defining objectives, Google ads vs. Facebook ads, how to boost traffic, and more.
Schedule a consultation with our team of digital marketing professionals at Alecan Marketing Solutions and learn which Facebook ad format might work best for your brand.