Search engine optimization (SEO) is an ongoing process that requires time, effort, and skill to manage successfully. Once you develop a strategy, the next step is to monitor its progress and performance to determine if it's producing results. Fortunately, refining and evolving your tactics becomes easier when you know the most critical SEO metrics to track during each campaign. With the right SEO tools, you can measure those key metrics and then adjust your tactics accordingly to maximize results and ROI.
Read on as the expert digital marketers here at Alecan Marketing Solutions discuss the basics of SEO metrics, including which key performance indicators are the most important and why you should be tracking them.
What Is SEO Metric Tracking?
SEO metrics are indicators or data points that measure the health and performance of your website or marketing campaign. By implementing effective local and organic SEO efforts, you can increase the visibility of your campaign and your website's ranking on the search engine results pages, or SERPs.
All the major search engines have complex, multi-factor algorithms that evaluate and rank the quality and relevance of websites on the internet. For example, Google's algorithm has over 200 ranking factors, and each one is a trackable metric that signifies the progress and ranking of your website in the search results.
By monitoring the right metrics and improving your SEO strategy to reduce crawl errors, you can increase the visibility and ranking of your website in the search results.
7 Top SEO Metrics to Monitor for Your Website and Marketing Campaigns
Now, we'll explore the most important SEO performance metrics you should monitor to determine the progress of your website or SEO campaign. These metrics provide critical data and insights regarding your overall SEO performance, which you can use to improve your strategies to foster growth and success.
1. Organic Traffic
Arguably the most important SEO metric is organic traffic, which refers to the non-paid clicks and page views your website gets from search engines.
Ideally, your strategy should focus on driving more organic traffic to increase page visibility. If you're seeing a month-over-month increase in organic search traffic, you can rest assured that your SEO efforts are paying off and improving your website's search visibility.
You can measure organic traffic using Google Search Console or Google Analytics. For this example, we'll track organic traffic using Google Analytics:
Login to your dashboard and select "Add Segment."
Click "Organic Traffic" and then "Apply."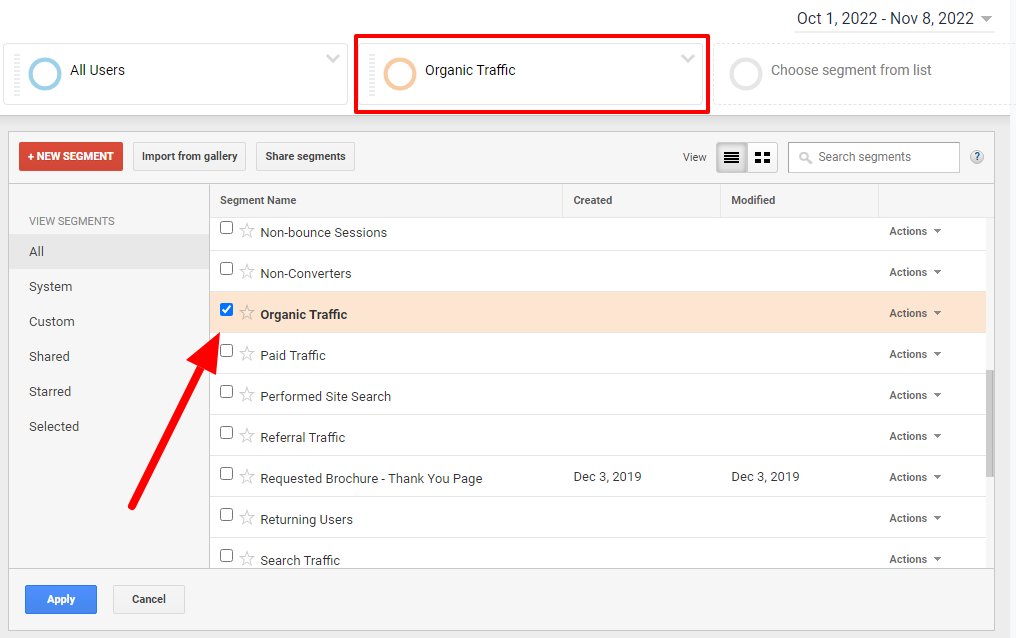 You should then see a percentage of total traffic for that particular page.
2. Keyword Rankings
Determining the performance of target keywords is undoubtedly among the key SEO metrics and an excellent indicator of campaign performance and how your site ranks on Google. When you track keyword rankings, you can learn two critical pieces of information:
SEO Strategy Effectiveness: Hitting target keywords is a general indicator of how your rankings and search engine optimization services are improving overall, particularly for keywords related to your niche.
Keyword Choice: If your other SEO metrics are improving, but you're not hitting those target keyword rankings, you may need to utilize more relevant keywords. Or, try ranking for less competitive keywords first and then move upwards.
To track keywords, use the Google Search Console's organic search positions report. Navigate to "Search Traffic" and select "Search Analytics." Your rankings for keywords will fluctuate based on search volume, and that's normal. However, if you see an unexpected drop, it could signify poor performance.
3. Organic Traffic Conversions
While organic traffic is one of the pivotal metrics you should track, determining the value of that traffic is even more critical. For example, if you have high traffic numbers but low conversions, you're attracting the wrong audience to your website.
To determine traffic quality, you need to track organic conversions, which measure how many visitors generate a lead or make a sale.
Tracking organic conversions is simple with Google Analytics. First, you'll need to set a "Goal," such as purchases, form submissions, email signups, etc. Once you define your conversion goal, you can track it easily using the Google Analytics dashboard.
Navigate into the "Organic Sessions" segment, click on "Conversions," and then select "Goal Overview." You can then see your website traffic and how many page visitors contributed towards your goal, like total sales or newsletter subscriptions.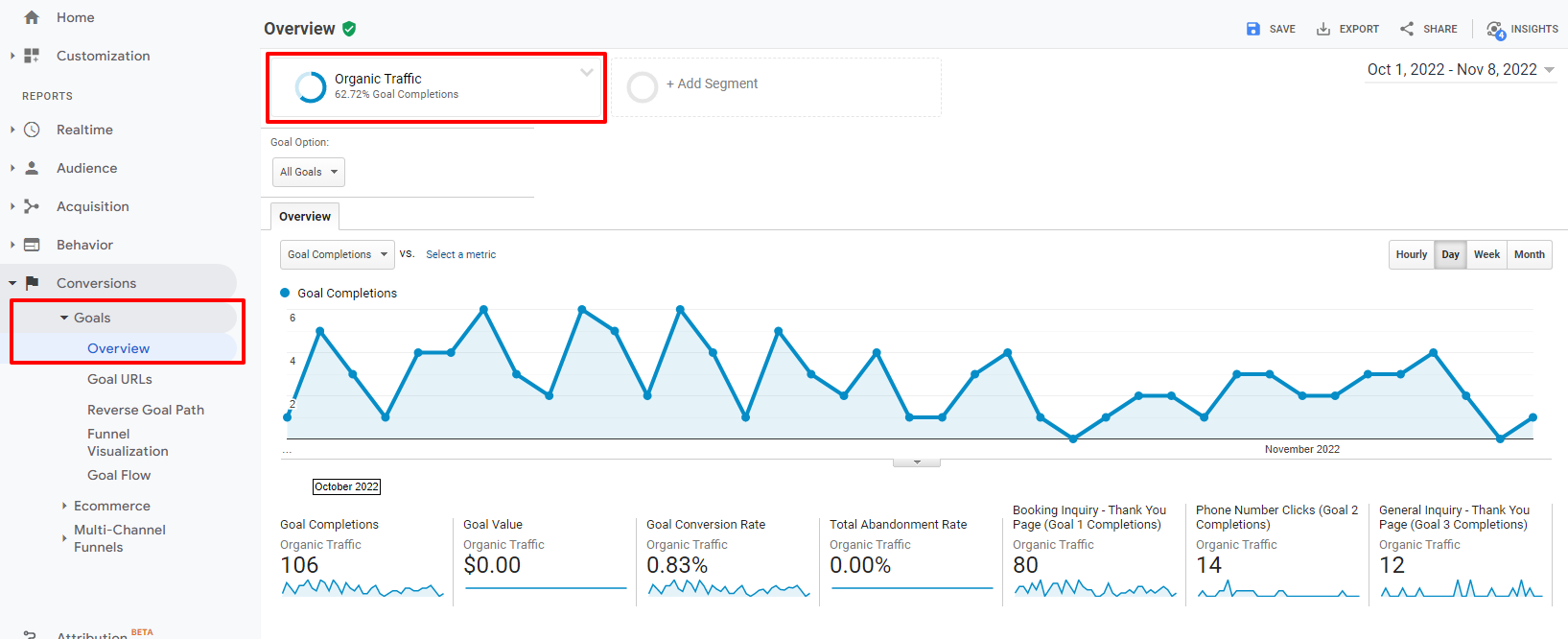 You can also look at your click-through rate (CTR), which tells you how many site visitors clicked on your website from the search results. If your CTR is low, you may want to focus on improving your website's meta description and page title. Use meta descriptions that are clear, concise, informative, and accurately describe the page's content.
4. Referring Domains and New Backlinks
Referring domains are other sites that link back to your own website. Google views websites linking to each other as a vote of confidence, and the presence of backlinks is one of its algorithm's most important ranking factors.
If it's not already, link building should be a core piece of your SEO strategy, as it increases your domain authority and builds credibility for your website. If you can increase the number of referring domains to your website, you can expect a boost in your organic search traffic.
You can use the Google Search Console as a free tool for measuring backlinks and tracking referring domains. In your dashboard, click "Search Traffic" and then choose "Links to Your Site," which will show you the most current links.
By implementing a link building strategy that earns you more referrals over time, you can enjoy the fruits of your labor in the form of stronger domain authority, boosted SERP ranking, and increased online visibility.
5. Core Web Vitals in the Google Search Console
Your core web vitals report consists of three technical SEO metrics:
1. Largest Contentful Paint: LCP checks the loading speed of your website's single biggest visual element.
First Input Delay: FID measures how long it takes your website to respond after a visitor interaction.
Cumulative Layout Shift: CLS evaluates your page layout to see how responsive or user-friendly it is.

Another factor that ties in directly with those three technical SEO metrics is page speed. If your page load time is slow, it will harm your SERP ranking by causing crawl errors that mean Google crawlers can't index your site. Luckily, you can easily track those data points and your overall SEO success by accessing the core web vitals report in the Google Search Console.
6. Bounce Rate
Bounce rate refers to the percentage of single-page viewers, which are visitors who abandon your landing pages without interacting with any content. Measuring bounce rate and tracking the top exit pages on your website are excellent ways to gain important insights regarding user engagement metrics.
For example, a high bounce rate on the most valuable pages on your website is a red flag that its user experience needs improvement. You could try increasing page speed, rearranging the layout, etc. Also, don't forget to check pages per session, which tells you how many pages, on average, a visitor views on your website before leaving.
You can use Google Analytics to track your website's bounce rate. Simply navigate to the "Acquisition" menu, then click "All Traffic" and "Channels." The fourth column lists the bounce rate for each channel, like paid, organic, etc.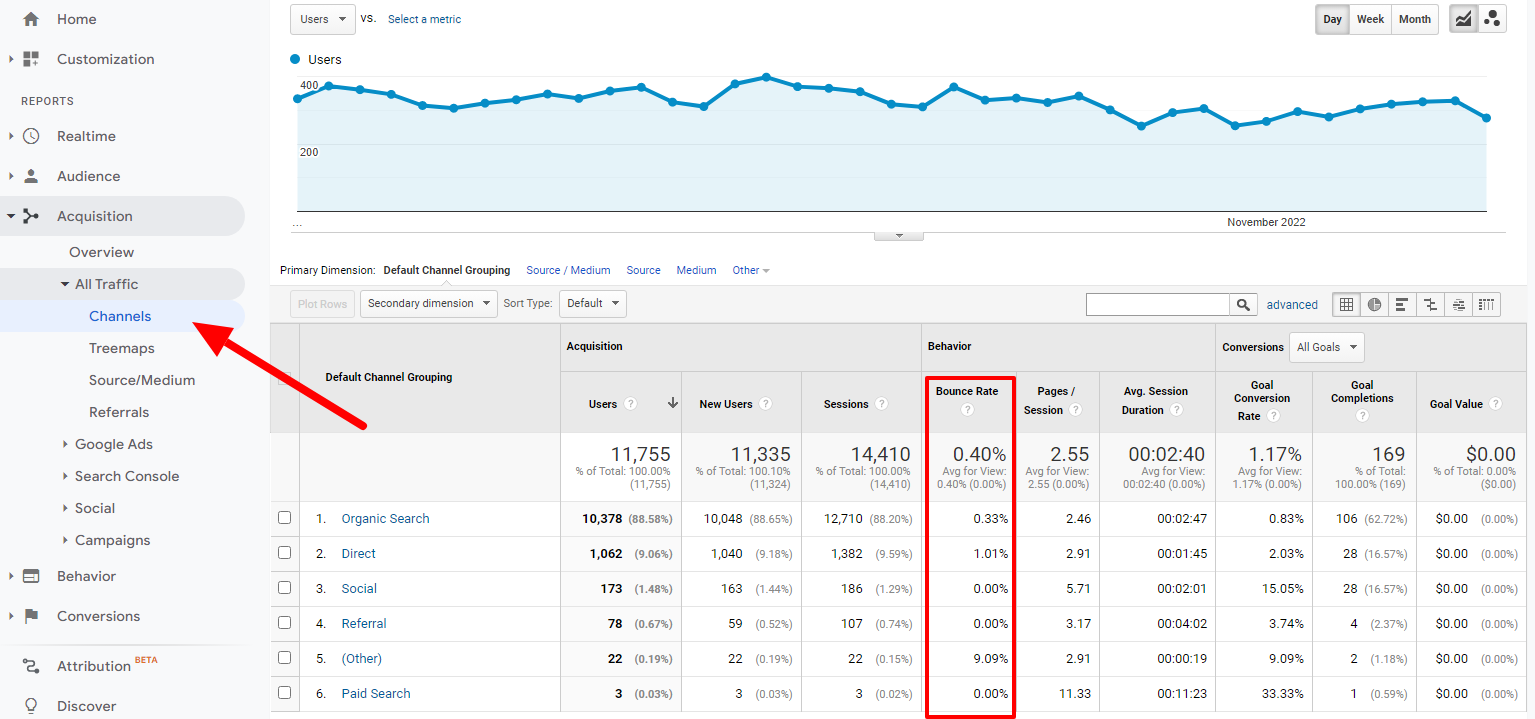 For individual pages, head to "Behavior," then click "Site Content," and select "All Pages."
7. Indexed Pages
Indexed pages refer to the number of web pages Google (and Yahoo, Bing, etc.) have in their index. Before your website can appear in the SERPs, it must be in the index.
When you track this metric, check that the number of indexed pages on your site increases as you publish more content. Be careful, though—too many indexed pages can hurt your ranking and often leads to duplicate content.
Tracking your site's indexed pages is one of the most important SEO jobs for web admins, and it's easy to do. Just head to Google and type "site:www.yourwebsiteURL.com" in the search bar. Or, use the Google Search Console and access your Coverage Report for a more accurate number.
Expand Your SEO Efforts with Alecan Marketing Solutions
While dozens of performance indicators impact the visibility and ranking of websites and marketing campaigns, the seven we just listed are among the most important SEO metrics to monitor. However, many web admins and business owners lack the time and energy to manage the numerous SEO tasks required to run a successful website or campaign.
Fortunately, we can help. At Alecan, we provide a range of marketing and SEO services for countless industries and businesses. You can learn more about what we do by reading this SEO guide for contractors or by continuing to browse our blog.
If you're unsure of the best SEO metrics to track for your website or campaign, and you need help with your website SEO, we'd be happy to help you. Schedule a discovery call with with our team of SEO experts today.