If you're running a small business, then you know that having a website is critical to your success. But what many small businesses don't realize is that optimizing your website for conversions is just as important.
Running paid search ads and performing search engine optimization are certainly good practices to implement in your digital marketing strategy because they drive traffic to your site. However, they'll get you nowhere if your website or landing pages are not optimized to convert.
In this blog post, we'll share 11 of the best practices for website conversion rate optimization. By following these tips, you can dramatically improve your website's performance, drive more sales or leads, and meet your conversion goals. So let's get started!
What Is Conversion Rate Optimization (CRO)?
Conversion rate optimization (CRO) is the practice of optimizing the number of users who perform a desired action on a website.
Examples of desired actions/conversions:
Filling out a web form
Making a purchase
Downloading an ebook
Signing up for an email list
Registering for an event
Adding an item to the cart
Clicking on a link
No matter what the target action is, the purpose of conversion is to move website visitors one step closer to becoming paying customers.
When businesses use website conversion optimization as part of their marketing plan, it can result in more leads, increase sales, and boost overall profit!
What Is The Average Website Conversion Rate?
The average conversion rate varies depending on the industry. A great conversion rate for one niche may be well below average for another.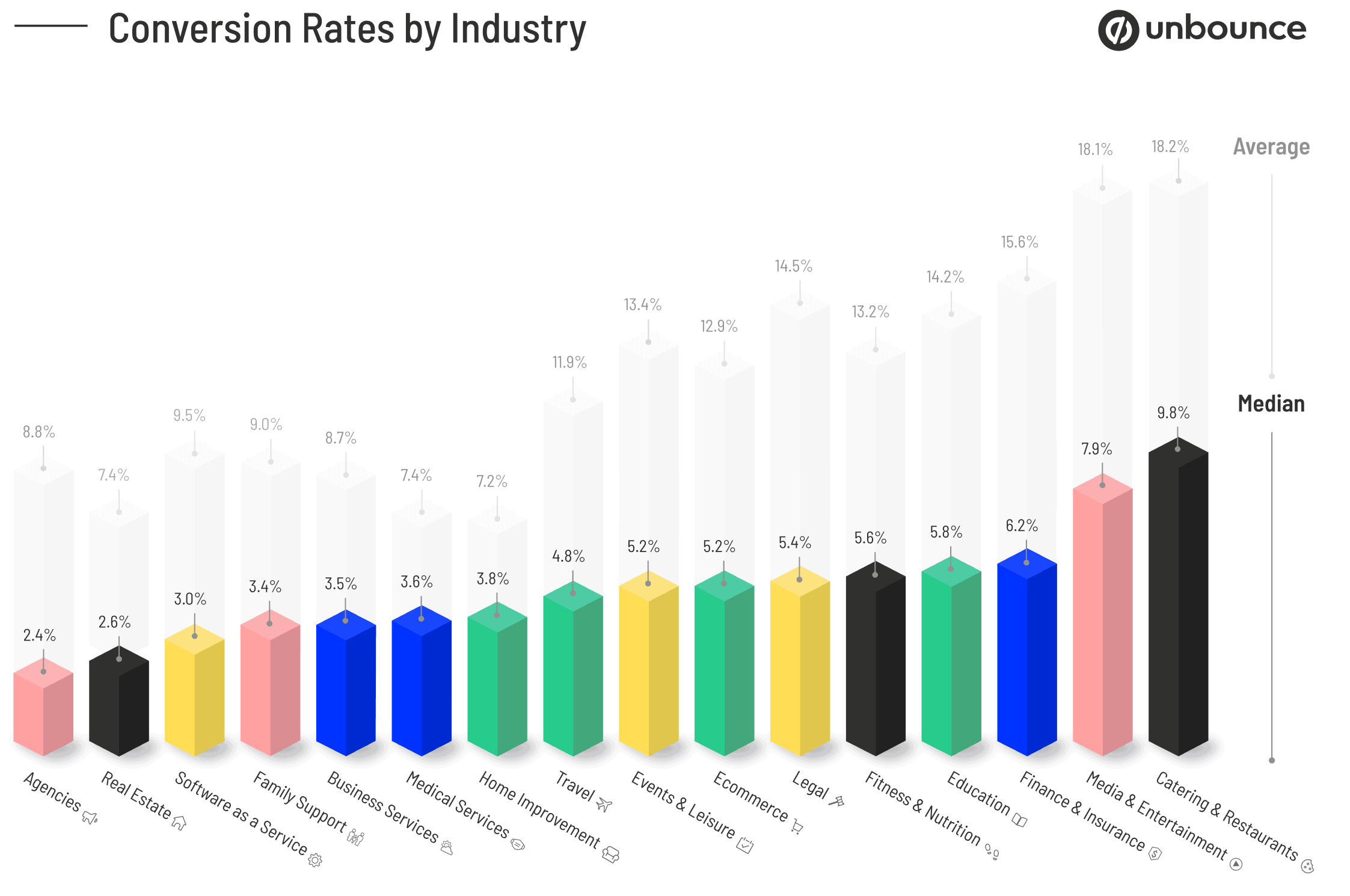 According to a Report by Unbounce, agencies and real estate site pages have lower conversions, while restaurants & catering have the highest.
The estimated conversion rate across all industries from e-commerce to B2B is around 2.35% – 5.31%.
How to Increase Your Website Conversion Rate
To beat those industry averages, there are plenty of ways that businesses can improve their website conversion rate optimization.
If you want to make the most of your website traffic and turn browsing visitors into paying customers, these 11 tips can guide you on how to increase your website conversion rate.
1. Speak To Your Target Audience
When potential leads land on your website, you'll want to directly address your message to your target audience. If you're off by just a little, then you can end up with the wrong users clicking through your site, or your target audience might click away if they don't feel connected with your content on the page.
To ensure you reach the right audience, create an avatar of your ideal customer and clearly define why they need your service.
Ask yourselves these questions:
What is the target user looking for and why?
Why would the target user choose my service or product over the competitors?
What can I do to provide customers with a safer, faster, or easier experience?
Narrow in on the answers, and emphasize your results in your site's messaging.
2. Be Real And Authentic
Customers want to buy from companies they can trust.
Include photos and videos of your team members and workplace on your website to create a feeling of authenticity. On Alecan website homepage, you can find images and videos showcasing our team's friendly faces and our facility.
To improve your optimization strategy, make website visitors see that the entire team has a great relationship with each other, and prove that your company is a relatable, trustworthy business.
3. Leverage Video and Multimedia To Establish Authority
In addition to building authenticity, videos and other multimedia can be used to establish your business's authority and optimize your conversion rate. You don't have to use professional gear for this. Even your smartphone will be enough to capture great photos and videos you can add to your site.
Quality content showcasing high-tech machinery or examples of quality service can prove to potential customers that your business knows exactly what it's doing.
Furthermore, videos, infographics, and other media can be used to provide useful knowledge to potential customers. As a business builds out its educational content, it establishes its place as an industry authority. When site visitors trust a business for information, they'll also trust the business for services in that niche.
When done right, multimedia can help you bring in direct sales, leads, or appointments.
4. Use Social Proof
Reviews, testimonials, and case studies all help reduce the customer's fear when making a buying decision. People feel stronger about their decisions if there are other people backing them up.
Some examples of social proof businesses can leverage:
Collect positive reviews about your business on Google, Yelp, and other social platforms, and highlight them on your web page
Display logos of high-authority businesses that your company works with
Include a recent sales notification popup
Leverage video testimonials from satisfied customers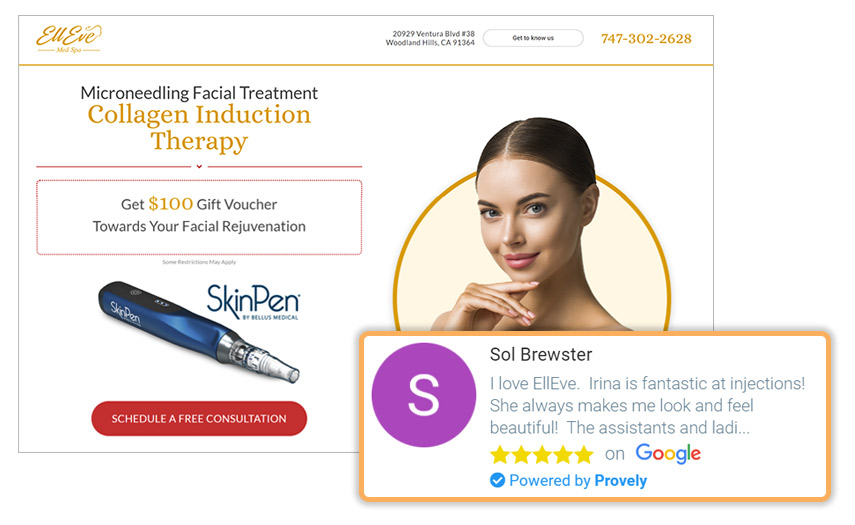 Customers like to know that they aren't the only ones interested in your product. Ease their mind by providing social proof that your services can deliver great results.
5. Get Contact Fundamentals in Place
For starters, always make sure to have your phone number visible on your site, ideally in the top right corner. For customers who don't like to call, it's essential to include a page with a data submission form.
Ideally, it's best to have both of these basic contact methods in an easily accessible place on your site.
Case Study:
One of Alecan Marketing's wedding industry clients had a more traditional communication style: he preferred to take calls. He asked our team to remove the email submission form to encourage customers to call instead.
In the wedding industry, businesses can expect about 20% of potential customers to call in, and 80% to email. Ultimately, we knew the client's request would result in many lost leads, but the client insisted.
When we removed the email form, the client saw only 18% bump in calls. But big chank of inquiries that would come in from lead form were all lost.
Give convenience to your site visitors. Make sure you got both the phone number and data submission form visible on the page.
6. Strengthen Your Call To Action
Prompt your users to take action on your website instead of moving over to the competitors. In each block of text, make sure to remind them to hop on a chat, call, or perform some other desirable action with a strong call to action (CTA).
CTA wording can also play a huge part in their effectiveness.
Generic CTAs like "Sign Up Today," or "Book an Inquiry" won't result in the best conversion rates. Instead, try a few of these great CTAs strategies:
Create a sense of urgency – "Book Now To Secure Your Offer"
Make a promise – "Look Years Younger In Just Two Sessions!"
Use the word "Yes" to paint the offer in a positive light – "Yes, Send Me The Free Guide"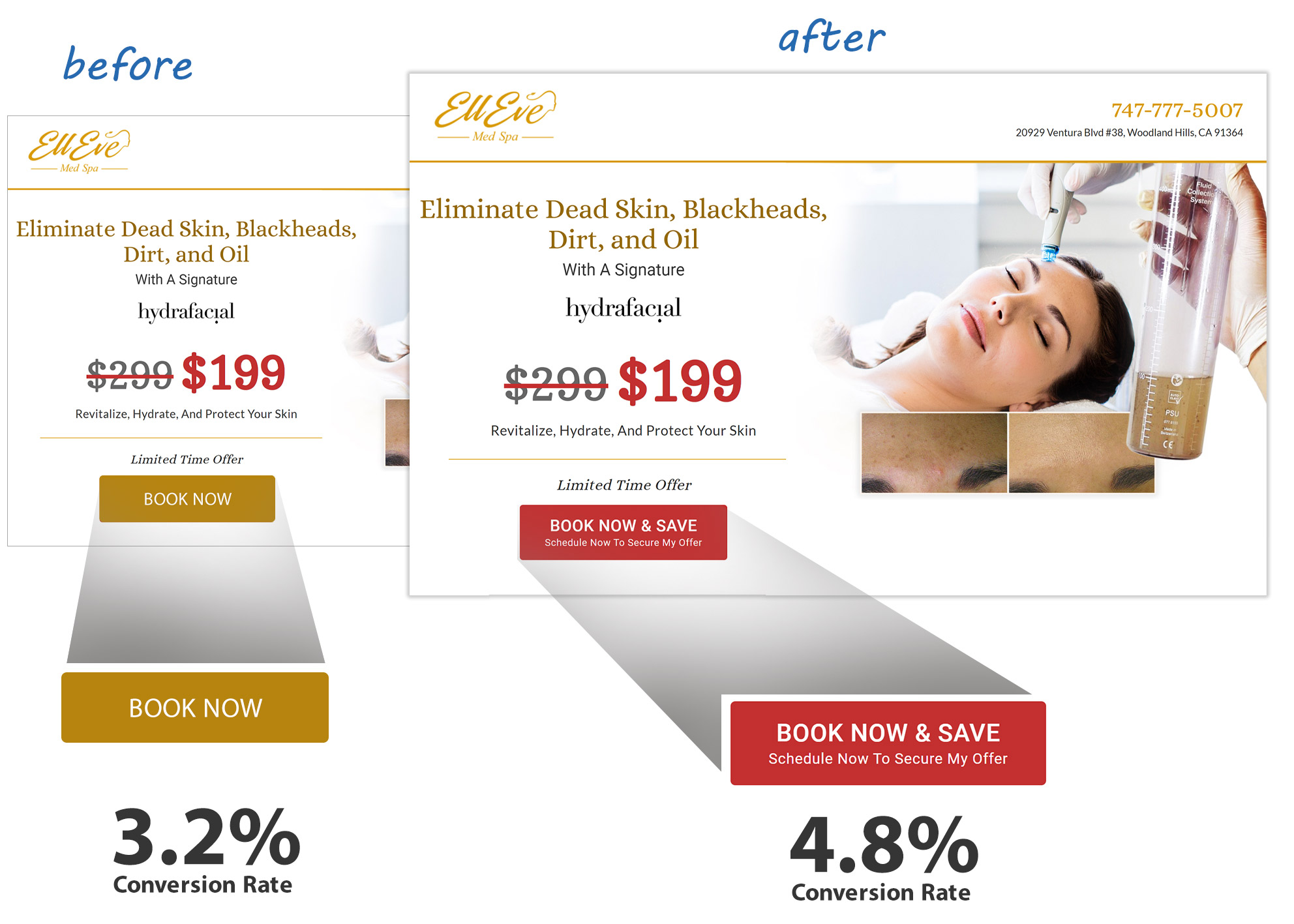 7. Add A Live Chat Or Chatbot
A live chat can ease the mind of any potential customer with lingering doubt or final questions that keep them from committing.
If a user is on the fence about buying a product or service and wants to know more, they can get answers right there and then.
A live chat shows customers that your business can respond quickly to their needs. It saves visitors time and as a result, there are more conversions.
In addition to great communication speed, chats are also a way to make the customer experience feel more personal.
With an effective live chat, your conversion rate can increase dramatically.
8. Use A Countdown Timer
Another great conversion optimization tool is a countdown timer. If you have a special offer going on, you can highlight it on your website with a timer and push users to buy quickly. Expert research shows that adding a countdown timer can increase a business' revenue by up to 9%.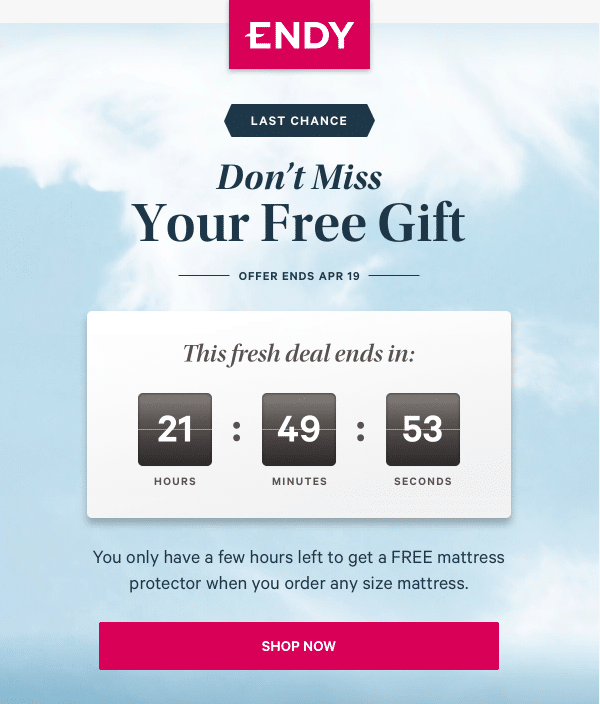 Timers create a sense of urgency, giving users the feeling that "time is running out," and they need to act ASAP.
It plays into two well-known psychological principles: fear of missing out and scarcity. Both create demand, and both push users to follow through.
9. Offer A Money-Back Guarantee
A money-back guarantee is a powerful marketing tool that can increase conversions by soothing the minds of anyone who is averse to risk. Nobody wants to spend money that they think might go to waste.
By offering a money-back guarantee, you show faith that your product will satisfy the customer, and in turn, help them feel more secure.
For potential first-time buyers, this promise of low risk can be the deciding factor that pushes them to convert.
10. Make The Initial Step Really Easy
There's a psychological principle that humans prefer to finish things that they begin. So when it comes to your desired action or conversion, the first step needs to be extremely simple to complete.
For example, to sign up for a newsletter: instead of showing an entire form to be filled out, simply prompt the site visitor for their email to start.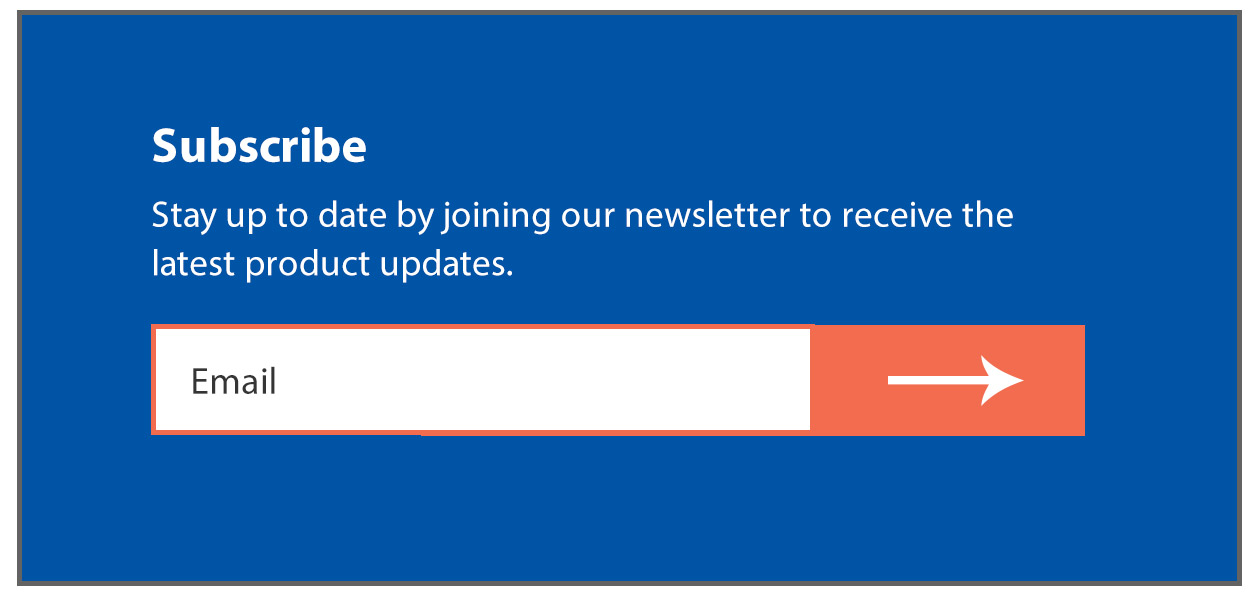 Once the user is asked for the rest of their information, they'll be compelled to complete the form to "finish what they started."
11. Utilize Exit Intent Pop-Ups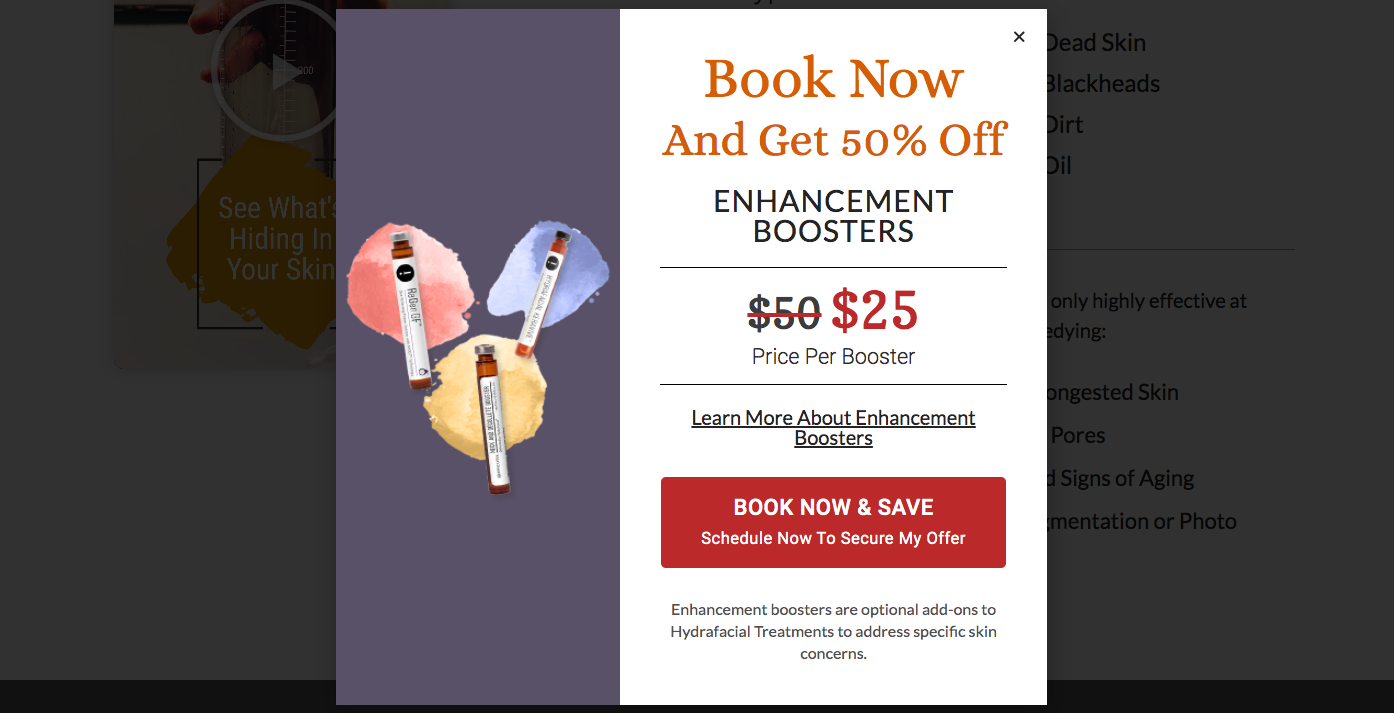 Pop-ups may come off as annoying, but when done correctly they can dramatically improve your site's conversion rate.
An exit intent pop-up is one that only displays when the user tries to navigate away from the page. The pop-up is usually displayed based on the mouse cursor's movement, and it always has the intention of convincing the user to convert or to stay on the site.
Common exit popup strategies include:
Offering a free guide or eBook
Directing visitors to a new site tool
Offering a discount code or coupon
Capturing email leads or social media followers
Collecting visitor feedback
Research on user behavior shows that exit pop-ups can boost conversions by 5 – 10% on average.
Some popular tools to implement exit popups include Ninja, Optinmonster, and Sumo.
Conclusion
Conversion rate optimization is a valuable strategy that every business should implement in their online marketing plan.
Each of these conversion rate optimization strategies on its own can make a small improvement, but a combination of these methods is the best use of your optimization efforts. Using these practices will make sure you get the most out of your existing traffic by maximising the conversion rate of your website.