Testimonials and client reviews can be a great way to attract new customers and increase your reputation in the industry.
A large part of promoting a wedding venue is showing off your gorgeous ballroom and giving people an idea of what their vision can look like. A video testimonial can accurately tell the story of your client while showing great visuals of the decorations and ballroom.
As you plan out how to make an effective client video testimonial, it's important to know that video is a great way to market your brand and create content at the same time.
When you do decide to make video testimonials, make sure you know what to look for when you're about to create an engaging piece of content.
Why A Video Testimonial Is A Great Investment
We use the word "investment" here very specifically. Don't think of video testimonials as an expense rather than an investment into your brand.
The same way you spend hundreds of thousands of dollars on renovations to create a beautiful atmosphere, there's no reason why you shouldn't spend a fraction of that investing into building your online reputation in order to best represent yourself and your brand.
Having a visually appealing client video testimonial can heavily benefit you and your wedding venue to bring in future clients.
A beautifully showcased video testimonial can more accurately tell the story of your client and their experience.
Videos can trigger emotions in your potential clients in a way that text copy simply can't. Videos have 95% retention rate meaning potential clients will remember more of the testimonial compared to only 12% for textual information.
Video testimonials also create trust with future clients. According to Big Commerce, 72% of consumers say positive testimonials and reviews increase trust in a business.
Placing these video testimonials on the key pages of your website can also significantly boost your conversions.
Now that we've gotten the "why" out of the way, let's move onto the "how."
Getting Permission from The Bride & Groom
With any type of testimonial, make sure to first talk to your customer to make sure to receive permission to use their name and image. This is essential since it protects your wedding venue from privacy laws. It's always good practice to notify your customer that you will most likely be using some b-roll of their special day and include videos.
Timing is Everything – When Should You Film It?
A great time to ask permission for a customer to be part of your video testimonial is at least a week before their wedding occurs or a week after their wedding event is over.
You don't want your customers to stress about having a video testimonial for you, especially after having a great time on their special day.
Make sure you ask them nicely for their time and if they refuse, simply respect their decision and move on.
With regards to filming it, we don't recommend filming these reviews immediately after the wedding is done. More than likely the bride and groom are exhausted from celebrating and it won't come off great on camera.
We recommend picking a time slot to film with them, perhaps a few days after the wedding is over. Schedule a time where they can come in while the venue is quiet and you can spend some time asking questions and filming them.
Getting The Right Equipment Or Hiring A Videographer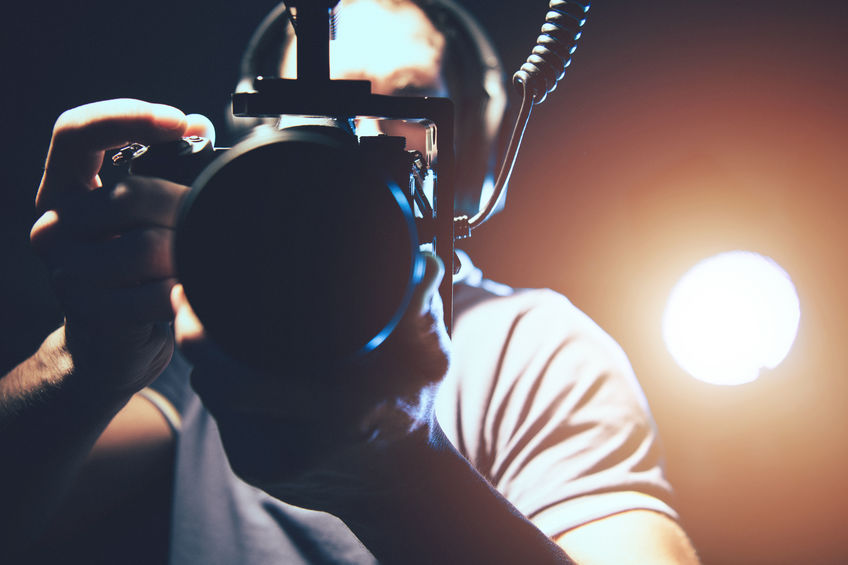 The quality of your video depends entirely on how much you would like to spend. However, keep in mind that this is a representation of your brand.
If you are trying to attract very affluent clientele, your video production quality must accurately represent that.
The more extravagant the testimonial will be, the more likely you will have to invest in video equipment to feature your wedding venue. This can include a script, editing, and even specific camera shots that you want featured.
Sound is also a really important aspect when creating any type of video content. For your wedding venue, make sure you are in a space when there is great sound quality. This means that there is no echo and you can clearly understand what people are saying. Investing in a great microphone, such as a lavalier microphone, is essential to producing a valued video testimonial.
If you don't want to do the filming yourself, we definitely recommend working with a videography team to film for you.
A videographer can come during the wedding night to film a few shots of the decorations and reception and then come back for the interview with the bride and groom. Since they are experienced, you can relay your vision to them and let them execute.
Prepare Questions To Ask Customers During Your Testimonial Video Shooting
With a clear vision in mind, it's now time to set up your questions to ask your customers. Having a series of questions in hand will make the process go by much quicker and makes sure you cover all the key topics that you want.
Some examples of questions to ask are:
How did you first hear about our wedding venue?
What were the key elements you were looking for in a wedding venue?
What was your first reaction when you stepped into our reception halls?
What was the wedding planning process like while working with us?
What did you like the most while working with us?
Would you recommend us to your family and friends in the future?
Your customer's answers to these questions can definitely help your wedding venue showcase your strengths. Make sure to include the responses that are the most beneficial in attracting new customers and strengthening your brand.
Finding the Right Lighting and Location
The location for your wedding venue testimonial video is important to showing off your space. Make sure you pick an angle that shows off how elegant and grand your space is.
Getting the lighting is also essential to make sure your video is the highest quality possible. Having lighting that doesn't work can lower the quality of your video dramatically. Finding the perfect angle, lighting, and location will put you in the best position to create a compelling video testimonial.
Properly Distributing Your Video Testimonial To Promote Your Wedding Venue
Now it's time to have the world see your video by posting on various platforms and distribution channels while also showcasing it on your website. Make sure your video is in the right places of your website depending on the structure and layout of your wedding venue website design.
Post your video on YouTube, Vimeo, Facebook, Instagram, Pinterest pages to ensure your followers and potential future clients see it. Creating a Youtube page and posting it there is also a great idea.
Keep in mind that not every social media platform is built the same, so make sure it's optimized for the platform you're publishing it on.
We also recommend running paid Facebook ads or boosting your video posts. This will ensure to reach more people outside of your followers and streamlining to target your desired audience.
You can spend as little as $5 a day to get hundreds or thousands of impressions. What's great about this also is getting referrals from people who see your video post. We often see people referring their friends in posts for future events they know are being planned.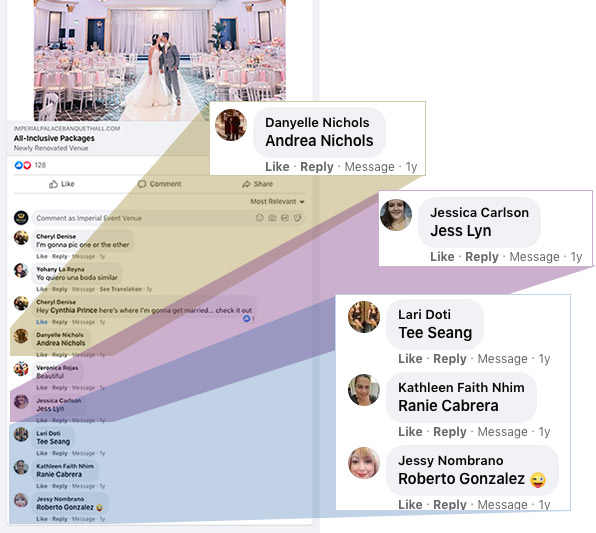 Conclusion
There you have it! You don't need to be a Hollywood director to make effective client video testimonials. All you need is a clear vision in what you want the videos to look like and invest your time and effort into it.
Remember that you know what your customers and guests are looking for. Make sure to target specific bride and grooms that fit your videos and the content that you put on your social platforms and website.
Communicating with your audience effectively and knowing their problems are essential to gaining new customers. Make sure to make a video where you address these customer concerns by showcasing your past customer's wedding experiences.
If you're interested in promoting your wedding venue and would like to work together, contact us.