Over the years, videos have become powerful.
We believe that like any early adopters of new technology, marketers who will leverage video for their marketing campaigns will have a better rate of success.
Our belief is shared by Wyzowl who claims that 81% of the businesses have started using videos to test the waters as of 2018.
Not just that, a whopping 82% of the businesses have realized the importance of video ads and feel the integration of video marketing is a necessity more than a luxury.
Undoubtedly, video marketing has come up to be one of the most exciting and revolutionizing digital marketing trend that is expected to last long.
Yes, the future is here. And if you're not investing in videos already then you're behind your competition.
Let's discuss some of the most exciting reasons to include video marketing to your online advertising strategies and leverage the most out of it!
1. Videos Help Gain More Engagement Rate
The ability to be easily consumed provides video a great edge over other marketing mediums.
While people still enjoy long-form written content, a video has the ability to draw in more people quickly and allows your digital marketing team to be very creative.
All they want to see is the product in action and video can definitely help you give them that.
According to Wyzowl studies, 68% of consumers say they prefer to learn about a new product or service through video. Not just that, video content is known to generate 10 times more engagement in the form of shares, comments, likes, and subscribes.
Also, as various social media platforms start to evolve and improve their algorithms, we clearly see video content coming on top of every other form of content posted on the platforms.
When creating videos, make sure you give enough attention to sound and music as it also creates a deep impact on the person watching your video.
2. Video Ads Give You Better ROI
According to Wyzowl, 78% of marketers claim to have a good Return on Investment from running video ads.
Yes, videos are that good. The great thing about video is that high-production value isn't always needed, especially when you're a small-to-medium sized business.
Videos, in general, have a better rate of engagement and trigger subsequent buying decisions.
As far as tools go, the new cellphones these days are able to record good enough video quality to use for your videos. There are also plenty of video editing tools that are affordable and are a great investment in your business.
Not just that, you can even shoot videos from your smartphone and run ads using them. Where most businesses, especially start-ups, go wrong with is that they want to create high-quality videos almost every time.
Videos don't need to be perfect. It's what you put in it that matters the most! Quality and design subside when you focus entirely on the 'value variable'.
We highly recommend executing A/B Tests while running video marketing campaigns as it will help you understand your audiences' preferences. It will further help you improve your ROI for video marketing.
3. Videos Help To Enhance Your SEO
Since video content is being published at a high rate, it has become important for search engines to engage them as search results as well.
Google and other big search engines understand the usefulness of video content. They know that a user will prefer watching a video than reading text about the product or service they are interested in.
Therefore, these search engines have started to add videos to their search results. This gives more people the opportunity to find out about your product during their web searches.
While creating videos, make sure you back it up with extensive keyword research and create videos on the trending keywords. That will help with your search engine optimization.
Since Google gives preference to video content, the likelihood of your video ranking on top of the search engines increases.
Also, there are many video SEO techniques and tactics that can be implemented to improve the ranking of your videos.
4. Videos Have Greater Reach For Your Potential Audience
As video started to become a more and more popular form of content online, it became important for tech giants to launch video-first online platforms.
Today, we have many video-first online social media platforms that can help you reach millions of active users.
YouTube, one of the biggest online video platforms has over a billion monthly active users and can help you reach out to an audience that is specific to your business niche.
Not just that, videos you create can also be shared on social media sites like Facebook, Instagram, LinkedIn, and many more.
These social media sites have more than 2 billion active users and the numbers keep on increasing.
Thus, sharing your videos on such sites will help you improve the exposure of your content and can lead to an increase in sales for your business.
With the help of better targeting, you can easily target your preferred audience with your content and reap the benefits of video marketing.
5. Videos Help Build Greater Trust
Generating sales will first require building a rapport with your target audience. In order to build trust, it is important for you to provide great value in your content.
Businesses have to understand that the selling pitch they make to their target audience works as long as it has some value attached to it.
Therefore, greater attention has to be given to making people understand everything about the product or service you are selling. It's important to make that information interesting and entertaining.
Videos help you do exactly that!
With that interesting and entertaining content, video is likely to engage your audience and trigger desired actions.
It's much easier to tell your product or service's story with video than it is with photos.
6. Videos Help To Increase Conversion Rates
Yes, it's true. Just adding a video as a testimonial or a guide on your landing page will help you boost your product conversions by a staggering 80%.
That is an insane conversion increase by simply taking the time to create and add a video.
We found out that people get motivated to make a purchasing decision when they really like a video they see on the landing page.
According to studies, a potential customer that watches explainer videos about a product or service they are interested in has a 74% chance of subsequently buying the product or service.
Think about it. There was a time when pictures would improve the success percentage for our campaigns. Video is doing the same thing now but at a higher rate.
7. You Have Many Free Resources At Your Fingertips
With more and more technological advancements happening around us, the process of video production has become much simpler.
Today, you have HD Cameras on your smartphones that can shoot vivid videos of your product or business. With online editing and video creating software, you can create your product video in no time!
Not just that, there are many free video editing tools available on the internet that you can download and start using to create and edit videos. If you have a large enough budget, dont hesitate to hire a video creator or editor for your video marketing campaigns.
Even if you don't have a large budget, don't ignore how far a simple cellphone video can go. There is a value in a simple video done by a business owner trying to get their message across.
As we mentioned earlier, people are looking for the value proposition in the content they consume. If you have enough resources to create videos, make sure you leverage those resources to provide potential customers with value.
8. Google Loves Videos
With the successful integration of video, you are improving the chances of visitors staying longer on your website.
When you have better visitor retention rates on your website, it sends a good signal to Google which then helps your website to rank better on its search engine.
If your audience is engaging with your website for a long duration, it shows they trust you and your business. Google absolutely loves that!
According to Moovly, the likelihood of you showing first on Google improves by 53 times if you have a video embedded on your website.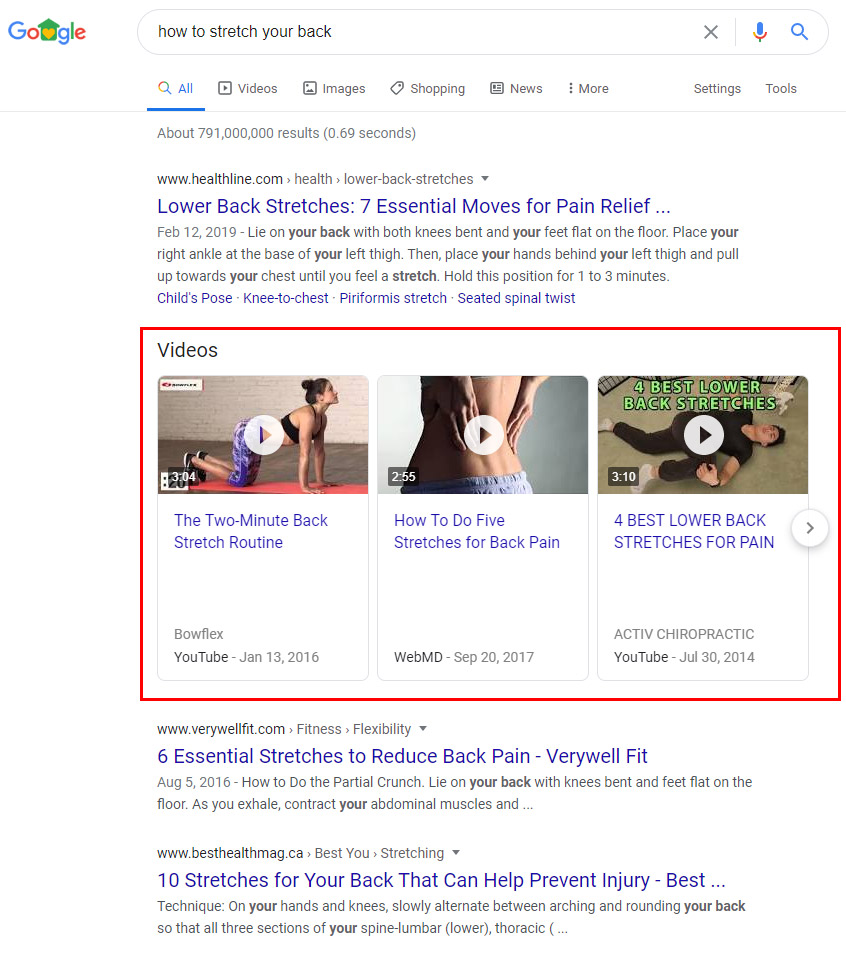 Not just that, when a user watches your video, the chances of them remembering what they saw also increases significantly.
Wrapping It Up
Video marketing is one of the most transparent and effective ways to reach your audience.
It allows you to better communicate the benefits of your product or service to your target audience in a much more thorough way compared to photos and text.
We highly recommend adding video marketing to your online advertising strategies. Chances are your competition already has and is already killing it in their industry. Don't get left behind.
We hope this piece of content brought great value to your business.
Our content provides great value to your business – nothing less, nothing more. If you are looking for a team of experts to partner with your business, contact us.