Are you curating great content, but your posts don't seem to be going anywhere? Are you using long-tail keywords that should be ranking, but you still don't see a bump in traffic or shares? Are you posting frequently, but still fail to see visible returns on your investment in quality content creation?
If your content seems to be disappearing into the virtual void without doing much to increase your traffic, leads, conversion, or social engagement, it's possible that your blog posts are actually too short.
By producing longer, more comprehensive articles – called "long-form content" in the internet marketing world – you establish your company or brand as an expert in your field and improve your search engine ranking all at once.
What Is Long-Form Content?
Though there isn't a set word count that qualifies an article as "long-form," most SEO experts agree that anything over 500 words is enough to make both readers and search engines like Google sit up and take notice.
To gain a competitive edge in an increasingly-saturated "blogisphere," however, firms like Los Angeles Internet Marketing firm Alecan Marketing Solutions recommends publishing high-quality content with no less than 1,500 words. (Note: the key phrase here is "high quality" – no reader wants to slog through 1,500 words of fluff, filler, and re-written information.)
Readers Love In-Depth Resources
For years, digital marketing experts believed that Americans' evaporating attention spans meant that content should be as short as possible; after all, who has the time to scroll through a 1,500-word article on their iPhone, much less peruse a 3,000-word exposé on their desktop computer?
As it turns out, the "shorter is better" dictum which fueled Twitter's rise (Twitter limits their "microblogs" to only 140-characters) hasn't panned out the way journalist doomsayers predicted, and many well-known brands are now luring readers back with extremely thorough, thoughtful, and comprehensive articles.
When one considers the way we consume information, this absolutely makes sense – as someone wanting to find the answer to a question, wouldn't you rather look at one 2,000-word article than five 400-word articles?
As consumers, we trust lengthy, in-depth articles more, and are therefore more likely to read these articles and recommend them to our friends.
QuickSprout.com, one of the industry's leading social media marketing companies, recently compiled data (from a series of studies) suggesting that blog posts of more than 1,500 words receive more shares than posts with less than 1,500 words. In fact, as long as the articles contained quality content, longer blog posts consistently performed better than shorter ones.
SEO Benefits of Long-Form Content
It's now apparent that long-form content contributes to a better user experience (UX), but what about the SEO benefits of channeling more resources into creating longer, more in-depth articles?
According to leaders in the ever-evolving field of Search Engine Optimization, longer content can help boost your business in other ways too!
Long-Form Content Makes Google More Likely To Consider You an Authority (And Rank You Higher)
Though the algorithm Google uses to determine its SERP rankings remains a closely-guarded secret, the theory that long-form content is a boon to SEO efforts is not a new or radical one.
Pandu Nayak, a technical staff member at Google and creator of the Panda algorithm update, even posted the following quote on a Google Webmasters Central Blog post in August 2013:
Users often turn to Google to answer a quick question, but research suggests that up to 10% of users' daily information needs involve learning about a broad topic. That's why today we're introducing new search results to help users find in-depth articles.
To reinforce Mr. Nayak's claim, keyword research specialist serpIQ.com conducted a study involving more than 20,000 keywords. The results of that study found the average content length of each of the top 10 results was more than 2,000 words, and the average number of words for the content in Google's coveted #1 spot was 2,416.
No need for analysis; we'll let those numbers speak for themselves.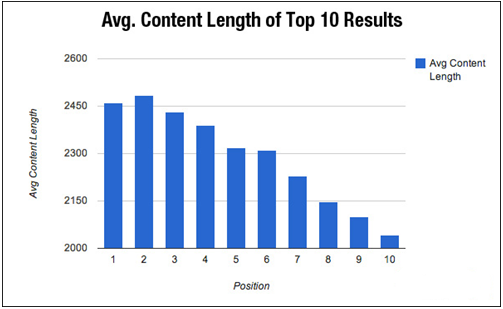 Long-Form Content Encourages More Backlinks
Here's a simple question: Would you rather create a link to a 1,600-word article with tons of great information, pictures, and infographics, or to a 350-word flash-in-the-pan post that leaves you with more questions than answers?
Because other websites (and their blogs) want to give readers high-quality information, the webmaster that run these sites are more likely to create a link to a long, comprehensive article instead of a short, quick read.
By earning more backlinks, websites send a strong signal to Google that they deserve to be considered an authority domain. In short, long-form content = more links = more credibility (in Google's eyes) = higher rankings.
Learn why link building is important for businesses in 2015!
Long-Form Content Increases Conversion Rates
While many digital marketing companies still believe that potential customers would rather read a short, catchy paragraph than a 1000-word product description or company ethos statement, several recent anecdotes fly in the face of that assumption.
According to one marketing firm, their conversion rates increased by 37% when they employed long-form content on the home page, and the popular website CrazyEgg.com saw conversion rates increase by more than 30% when using the same tactic. In Crazy Egg's blog, the company stated:
The media would have us believe that people no longer have any capacity to concentrate. In reality, you cannot have a page that's too long — only one that's too boring. In the case of Crazy Egg's home page, visitors wanted their many questions answered and that's what we delivered.
The "long-form sells" argument is echoed by renowned advertiser David Ogilvy, who said, "All my experience says that for a great many products, long copy sells more than short […] Advertisements with long copy convey the impression that you have something important to say, whether people read the copy or not."
Dr. Charles Edwards, former dean of the Graduate School of Retailing at New York University, backed up Ogilvy's assertion by saying, "The more facts you tell, the more you sell. An advertisement's chance for success invariably increases as the number of pertinent merchandise facts included in the advertisement increases."
Long-Term Performs Better on Social Media
We've long considered social media outlets like Facebook and Twitter as the ideal place for short, simple articles that users can scan through in seconds, not minutes.
Even on these platforms, however, long-form content typically performs better than short articles or posts that give no real information or inspire no thought.
Take the popular digital marketing blog QuickSprout.com, for example — of the 327 blog posts the company surveyed, the ones under 1,500 words received an average of 174 tweets and 59 Facebook likes, while posts over 1,500 words garnered an average of 293 tweets and 75 likes.
NewsWhip.com, a company specializing in social media engagement, also found that long-form content is the more shareable than short, succinct articles; of the thousands of pieces the company sifts through each day, one of the most widely-shared articles was a 3,500-word speech by science fiction author Neil Gaiman. (If you're wondering, that article was shared more than 220,000 times!)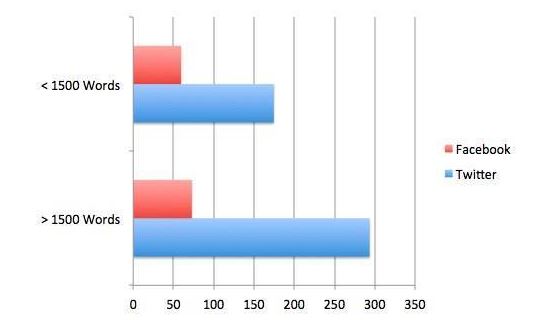 Long-Form Content Encourages More Time Spent On Your Site
When you've got good, long content for your users to read, the chances of them sticking around on your website increases.
Having clearly labeled sections will allow your user to scroll through the page to find the relevant information that they're looking for. And the more sections you cover with more content means they'll be on your page for longer periods of time.
When users see the in-depth content you've given them it will help to build both a relationship with them as well as trust and authority.
With longer content, you'll have more room to link to various pages on your site and increase the number of page views you'll receive per user.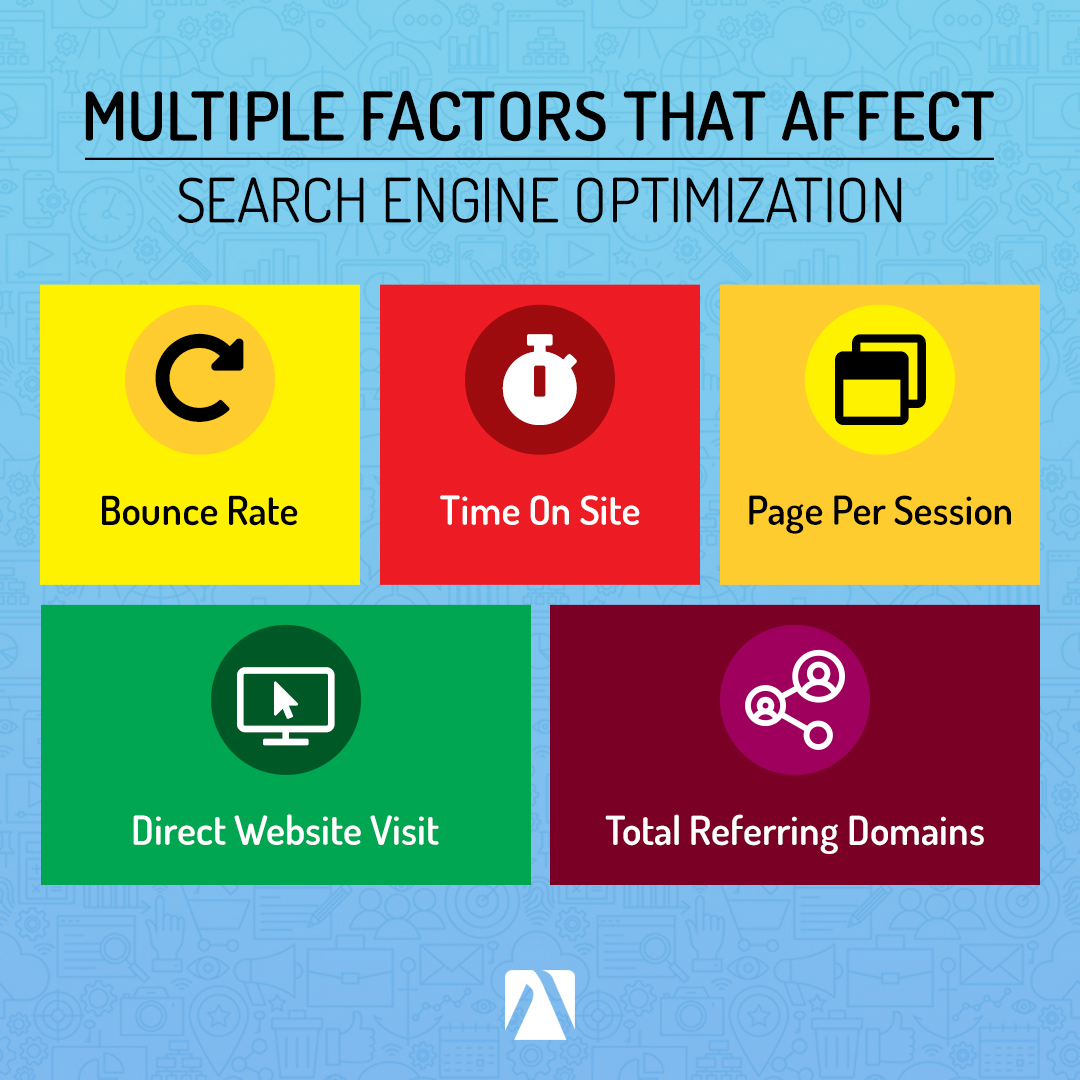 What does all of this mean? Well, one of the most important factors that helps improve your website ranking on the SERPs is the time spent on your site. By providing good, in-depth content you'll slowly increase the time on your site which in turn will help improve your ranking.
How To Write Long-Form Content: Quality Over Quantity
The first thing that you should decide before you dive in and write 3,000 words on a subject is: does it really need it? Not all content needs to be long-form.
Sure, there might be someone who wants to read 10,000 words on when to use a hyphen and when not to, but those readers are going to be few and far between.
Take some time to make sure that the topic you'll be writing about deserves to be long-form.
Research Is Key
In order to give your readers the most in-depth and impactful read on your topic as possible, you'll need to spend a lot of time doing proper research.
Just because you're able to write 3,000 words doesn't necessarily mean it's informative to the reader. You want to give them something that they can use and later on think, "Wow, that was a really informative article. Those guys know what they're talking about."
What you'll want to do is start off with keyword research to find the topics that users are searching for. My two favorite sites to use are Google's keyword planner and Ubersuggest
Keyword research is going to give you an idea of what terms users are searching for as well as the frequency.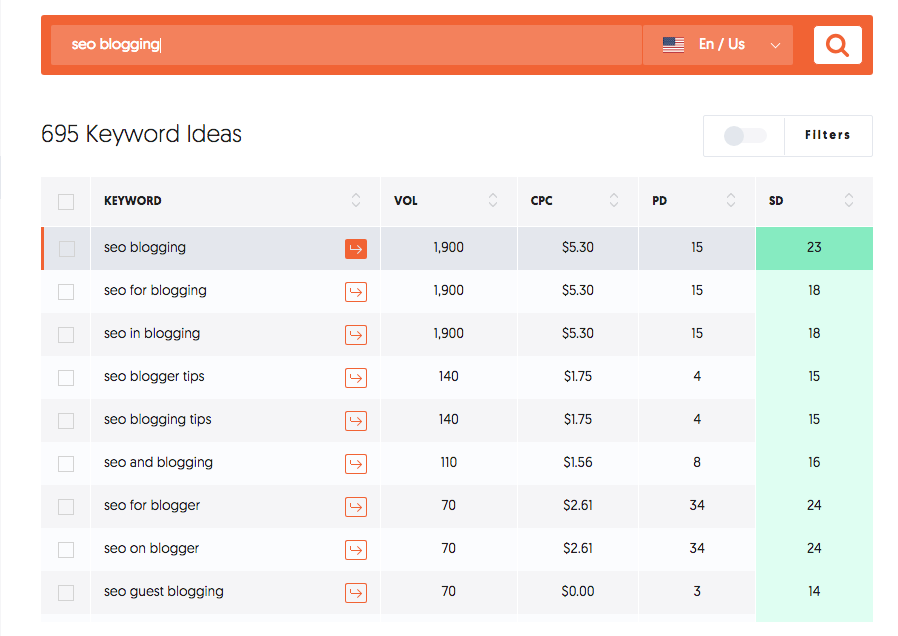 As you can see above, I searched for the term "seo blogging" using Ubersuggest to get an idea of what users are searching for as well as the frequency. The higher the volume, the more often that specific phrase is searched for during a month to month basis.
When you're covering a topic, you'll want to use that specific keyword phrase throughout your blog.
Try to make it as natural as possible and use variations of. Users will be able to tell if you're simply just doing keyword stuffing.
For example, if your keyword search term is "social media marketing benefits" try and use other variations like "benefits of marketing with social media". Search engines have become smart enough that you can use variations and it understands that these are all related to social media marketing.
There isn't a need anymore to use the exact same phrase over and over and over again.
Answer Questions Related To Your Topic
If you want to write good long-form content you'll need to answer questions that your users will likely have.
When doing your keyword research for your main topic you'll be given other search-related topics that users are searching for.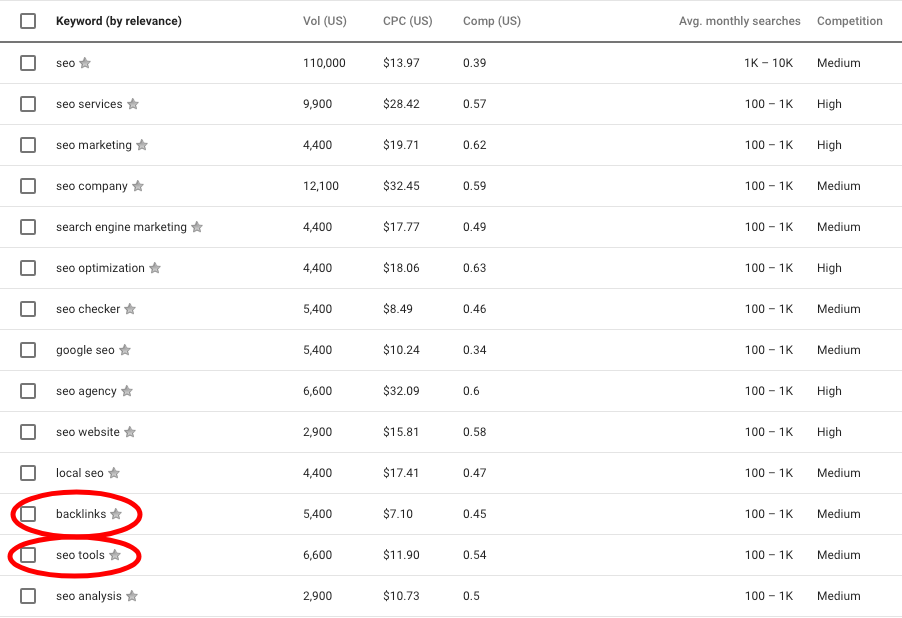 So let's say you're writing an article on a broad topic such as SEO. When doing a quick keyword search you're going to get results for search terms that are similar to your topic.
In the picture above you can see I highlighted two keyword searches that would be optimal to use in your long-form content. Not only are you going to write your article on SEO, but it would benefit your user to write on relatable topics such as backlinks and SEO tools.
Users are already searching for those topics so why not include them in your article.
Users will see that you've given them an in-depth look at what they're asking for and are more likely to share your content as we stated earlier.
Choose Your Topic Carefully
You don't want to simply write for the sake of writing.
You'll want to have a specific purpose for why you're writing certain content.
When you're coming up with a topic idea you'll want to think about two specific things:
Can I be more in-depth than the competition?
Who is my target audience?
Knowing your target audience will help shape the type of long-form content (or even short form) that you're writing.
It also helps to see what the competition is doing. Do a quick search on your topic and keyword phrase and see what comes up.
Take a look at the articles on the first page. Now you'll have a better idea of what you'll need to produce in order to have your article be of the same caliber.
Break It Up With Images
You need to understand how users read content online now.
You can't simply have 2,000-3,000 words in a giant block of text.
You need to break up your sentences and paragraphs (like we're doing here) with pictures.
Users will have an easier time both reading and continuing to read your long-form content if you break up the text with relative images that back up what you're writing about.
Conclusion
If you want to start creating longer, more in-depth articles, you'll need to allocate the appropriate resources to ensure posts are of the highest possible quality.
Start by doing lots of research, using subheadings to make your content scannable, and consider posting a short summary at the top of the page to entice readers to continue. Also, as with any article, a great title and images are a must — try incorporating one image for every 300 words of type.
For more articles about content marketing, visit the Alecan Marketing blog or contact our Los Angeles based internet marketing firm today!