Digital marketing trends can apply to various industries, especially this year, since so many companies are trying to claim consumers in the digital field. Medical and healthcare companies can learn much about the different digital marketing tactics today to grow their business from looking at the marketing trends. Being aware of these trends as a medical and healthcare practice can help separate your practice from your competitors.
Discover these following digital marketing trends that you need to know to take your medical and healthcare practice to the next level.
1. Multi Channel Approach To Increase Visibility
As people start to communicate more online, so does the amount of marketing channels medical practices can take advantage of. Effectively looking into multiple marketing channels can increase visibility for your brand and services.
A patient's buying journey has multiple stages and almost all of them begin with the research phase. This typically begins with a search on Google. This means it's important that your practice uses search engine optimization, content marketing, or paid search ads to improve your visibility at this stage of the buyer journey.
Once the user has found a few practices that they like, they will typically begin to read reviews on various review websites and then typically check the practice's social media pages to see their activity. Your social media page is a window into your practice that builds confidence in potential patients.
The more active your medical practice is on these social media platforms, the more likely people will find you and earn your trust. This can be great when new customers are merely checking out your practice and want to learn more about it. The increase in visibility of your practice means customers want to learn more about who you are and how you compare to the rest of the competition.
Make sure your company is not only present in these public marketing channels, but also active with the users that use them. This means liking and commenting on public groups, following other influencing users, and commenting back to people who comment on your posts. This type of communication can be daunting, but it is worth it to build visibility for your brand and medical business.
Another important channel that your practice can use as a strategy is paid Facebook ads. Facebook advertisements allow you to place your service in front of a highly-targeted group of users that fit your ideal audience. Running promotions with attractive visuals is a great way to generate qualified leads for your business.
The more channels your practice is able to use the more visible it is. Every channel brings is able to generate leads, increase visibility, and build a perception of your practice in a patient's mind.
2. Using Hyper-targeting to Market to Your Specific Audience
Knowing who your audience is and their problems are essential to understand how to target them. With the innovation of multiple social media sites, it is now possible for medical businesses to hyper-target specific groups of people for their marketing efforts. This hyper-targeting tactic means that companies can target people based on their demographics and characteristics.
As we mentioned above, Facebook advertisements allow you to be very specific with who you want to see your advertisements. This means less of your marketing budget is wasted. The last thing you want is your marketing efforts to be put to waste targeting the wrong people. If you target people that have little or no interest in your service, then it is almost impossible to convert them into potential customers.
Being able to hyper-target an audience also allows your specific advertisements to cater to their exact needs, wants, and pain points. Creating entirely specific advertisements and deals with certain people using hyper-targeting is more effective.
Invest In Facebook Paid Ads Today And Receive $1,000 In The First Month Of Advertising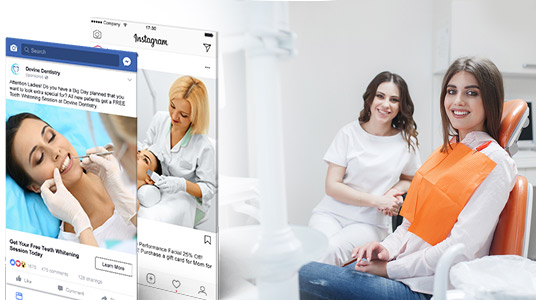 We develop a deeper understanding of your customer journey and use this to produce more effective social ads. And as a result, our clients not only stop wasting their money, they see improved results such as increased lifetime value of customers and more revenue!
See How We Can Grow Your Practice
3. Machine Learning Data to Learn Behavior
Just as data is important in the medical and healthcare field, it's also extremely important in the digital marketing industry. The amount of data within the digital world is growing by the second.
This means machine learning programs are starting to become more sophisticated in learning what people are searching for. As a medical business, you have to understand that this machine learning technology plays a crucial role in learning about how your potential patients behave.
For example, understanding the keywords that patients search for your type of practice is key to creating content that will drive those patients to your website. The better you understand the data produced by the machine learning, the better content you can create. The more traffic you drive to your website increases the likelihood of generating qualified leads.
Similarly, machine learning is absolutely crucial in paid social media advertisements. The longer you are able to run campaigns, the more data the algorithm gains. The algorithm then starts delivering your advertisements to potential patients that are more likely to inquire about your service.
Machine learning is continuously innovating to find the patterns and systems in how people think and act. This can be behavior data linked to how long they stay on your website, how much money they are willing to spend, and even if the advertisements being presented to them are worth it. It's data that can identify who your marketing can best be used for.
It's also important to understand and read the data properly. Our team at Alecan Marketing takes what the machine learning process has gained and adds the human touch to it to continuously improve your campaigns.
4. Increase in Voice Search Popularity
Voice search is not a recent innovation, but it is starting to become a more household tool thanks to Siri, Alexa, and Google Home. It's easier and faster than any before to find the answers to any of your questions.
According to Google, approximately 20% of all searches are voice.
So how do you take advantage of the rise in voice search?
The key is to begin created content with keywords that are more streamlined to how people search with their voice. Currently the way most content is created is by targeting typed keywords, but how you search something with a keyboard is different compared to how we speak to search.
By beginning to create content based around how people use their voice to search, your practice can begin to rise in voice search rankings.
5. Live Chat and Chatbots for Customer Service
As a medical business, you want to have excellent communication with your customers. Since most of the time you will probably be busy attending to patients, live chat or chatbots are a great way to have your practice still communicate with customers.
According to 99firms, 79% of consumers prefer live chats because they offer instant responses.
By having a live chat you're able to make access to answers much easier for potential patients. Instead of filling out a form and waiting for an answer, they are able to directly speak with one of your staff members about their issue. Research also suggests that people are starting to prefer live chat rather than calling on the phone. When growing your medical business, think about applying live chat onto your website since it is quickly becoming a significant trend.
Chatbots are customizable chat widgets that can be included in your website or phone app to tend to customer questions. Although it doesn't have the quality of talking to a real person, chatbots offer businesses help in guiding customers throughout your website.
This means that if your customer has a question, the chatbot can directly answer it for them or send an automatic message to redirect them to a page if they don't have the answer.
6. Producing Quality Educational Videos
It's not a surprise that many people prefer videos rather than text-based content. The reason is, a large number of people prefer to have visual content and the power of video marketing.
According to Hubspot, 72% of consumers would rather learn about a product or service by video.
Medical professions can include educational videos to help their customers understand about specific procedures and practices that are done within their office. These videos act as a guide for your patients and can help increase their positive outlook on your company.
Video creation can help advertise to your patients about what to expect in specific procedures. Medical videos can be used as a marketing strategy to gain authority for your business and increase your brand's awareness. Studies suggest that 90% of users say service videos are helpful in the decision process.
Creating high-quality video content will market your company as an authority in the field and outcompete other medical businesses that might not provide video content. All in all, video content is an excellent method for increasing communication with your customers, positioning your practice as an authority, and ultimately generating leads.
7. Investment in SEO Marketing
Now more than ever, companies are competing with one another to show up in search engine result pages. This is where SEO marketing plays a crucial role in making your business discovered by customers.
Most patients will begin their buyer journey by searching on search engines such as Google. Having your practice rank high in the results page increases the chances of qualified traffic coming onto your site.
Here at Alecan marketing, we have years of experience in SEO marketing for medical businesses. We can have your business ranked in competitive keywords and help your business grow. Whether you want more leads online or through a phone call, we'll make sure that you get an increase of patients walking through your door.
Be There for Your Patients With The Power Of SEO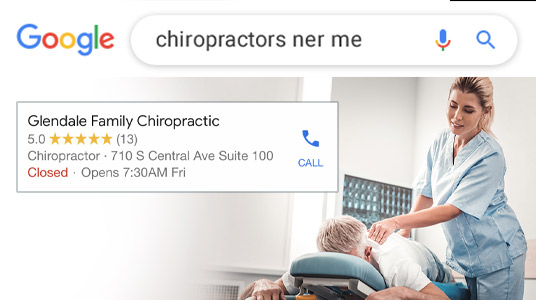 Your patients search for everything online. Use this to your advantage with comprehensive search engine optimization (SEO) to maximize organic and local rankings, keeping your practice visible and relevant.
Request Free Consultation
SEO is a long-term investment for your practice. It takes time to build up enough content and continuously optimize your website. However, the beauty of SEO is that it will continue to bring in qualified traffic compared to paid ads which stop the moment you turn off the campaign. SEO marketing is a continually changing field. You need experts to help you strategize to grow your business and take it to the next level
8. Having Mobile-Friendly Compatibility
As the number of smartphones surpasses the number of people in the world, your website and marketing efforts must be mobile-friendly. This means that your medical website must be optimized to fit any screen, most importantly, mobile.
Approximately 62% of people accessed the internet using their phones.
This means you have to have a website and customer experience that can work with mobile. All the images that you are using, the videos that are produced, and even specific pages, have to be optimized for mobile. As the increase of traffic to mobile grows stronger, new innovative marketing trends will start to happen within the channel. Make sure your business positions itself in having a strong mobile interface that users can easily interact and use.
Not having a mobile-friendly website for your medical & healthcare practice might mean you're losing out on potential patients. It's just one of the indicators that you might need a new website.
9. Reputation Management within Marketing
Sites such as Google My Business, Facebook, and Yelp has given users the opportunity to voice their reviews on the companies they have experienced. These reviews can do a lot of harm and good for any type of company. Today, you don't have to be a famous critical reviewer to have people take notice of your review.
About 85% of consumers trust online reviews as much as personal recommendations. In other words, your reputation matters based on the amount of reviews people give your website.
As a medical practice, you always have to strive for the best value and experience for your patients. Routinely having lackluster reviews can lead to a loss of patients and sales, and even your practice as a whole.
More companies are finding ways to include the positive testimonials on their website so people can see the value their company offers. Remember that people believe these reviews, so they have a certain expectation when working with your business.
Managing your reputation can be hard. When there is a bad review posted on your medical practice, make sure to communicate with the patients and the rest of your audience to find a solution to the situation. Caring about your practice's success means caring about what your patients say about it.
Conclusion
There you have it, list of marketing trends that all medical and healthcare providers need to know. Remember that to grow your business, you have to attract new patients of all ages and demographics. These marketing trends are a glimpse of an always-changing market and innovative ways companies are communicating with their customers.
As the year goes on, there might be new trends within medical marketing that your business can take advantage of. It's important to know when and what type of trend to participate in. If a certain trend does not fit within your brand and its mission, it's probably best to leave it alone.
Keep in mind that if you want to do your medical business to thrive, you have to position yourself on these trends.