Instagram has become a staple in quick storytelling and promotional platform that provides companies and users a large amount of engagement.
It's considered to be one of the mostly used content sharing methods with over 500 million people posting content every day. For that reason, we put together wedding venue Instagram tips to help you successfully promote your venue.
What Is Instagram?
We know it might be shocking, but there's definitely some people that still aren't fully aware of what Instagram is. So just a quick breakdown, Instagram is a social media platform that is largely based on beautiful visuals such as photos and videos. Users post photos and videos of themselves or their business and receive engagement from their followers and you can see this in your feed.
Instagram offers 4 major post types:
Feed Post
Story Post
Instagram Live
IGTV
For wedding venues, it's a cost-efficient way to show off the beauty and wedding planning process of your venue. We definitely recommend using Instagram in your wedding venue marketing strategy.
With that being said, let's get to our 11 wedding venue Instagram tips to help you promote your venue.
1. Using Correct Dimensions
Before you dive into creating Instagram posts for your wedding venue, make sure you're using the right dimensions for your posts.
You might be tempted to post the same size images that you use on your feed as on your story but that's a big mistake!
Instagram stories and feed posts both use different formats. Stories are vertical where as feed posts are typically landscape, with some minor variations. Posting regular feed images on stories looks awkward, is a poor use of screen real estate, and shows potential clients you're not up on your social game.
Story Dimensions: 1080px (width) by 1920px (height)
Story Aspect Ratio: 9:16
Feed Post Dimensions: 1080px by 1080px, 1080px by 608px, and 1080px by 1350
Feed Post Aspect Ratio: 1:1, 1.91:1, 4:5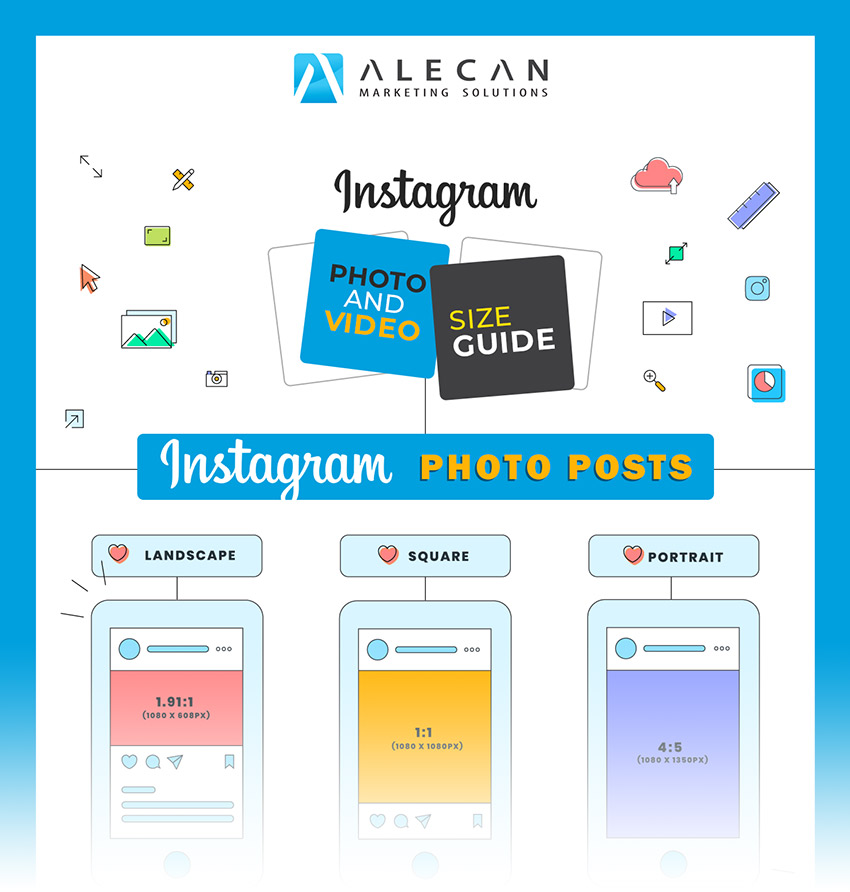 It's important that you follow these dimensions because if you create something too big, Instagram will zoom in on the image causing a loss of quality which ultimately reflects on your brand.
2. Show Off Behind-the-Scenes
Not many people know what goes on behind the scenes of a wedding venue. It's the secret work so many people pull off every single day. Planning a wedding is difficult work, and showing off that process helps tell that story.
Think about including some behind the scenes on how the decorations are set up, how the food is cooked, and even how the table arrangements are set up. Instagram stories let your company show off what many people don't see.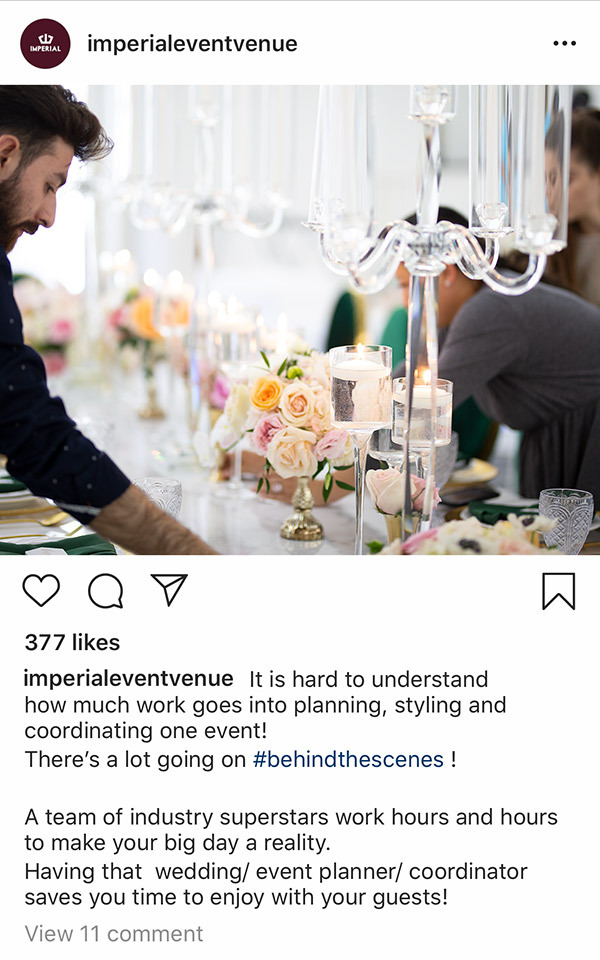 By showing off the hard work you and your staff does, this provides a visual to potential clients as to what type of quality they can expect when renting your venue. This is one of the simplest wedding venue Instagram tips to take advantage of.
3. Make Special Announcements
Instagram is also great for announcing company updates. You can post an image or video on both your Instagram stories and feed posts. Whether it's announcing a change in operations, or just an upcoming event, take advantage of this wedding venue Instagram tip.
If you're posting on Instagram stories you don't ALWAYS have to produce something really high quality. Instagram actually gives its users the ability to create text postings from scratch through stories. It's easy and not stressful at all.
So if you don't have the budget to have fancy graphics created you can still keep your audience up to date on any changes or specials that you are running.
4. Share User Generated Content (UGC)
Wedding venues should definitely take advantage of sharing user generated content on their Instagram story and feed posts. Resharing posts of previous bride and groom's weddings are a great way to show new customers the work you have done and thank previous guests for choosing your venue.
Not only does sharing UGC count as a customer testimonial, it also is a way of social proofing your wedding venue. Social proof is a psychological influence that happens when users see how other clients have enjoyed their experience at your wedding venue.
Many of our clients have used this wedding venue Instagram tip and they see tremendous engagement with their followers.
5. Showcase Time-Sensitive Offers and Deals
If you're deciding to offer a promotion for your wedding venue make sure to not only post it in your feed, but to also post it as a story.
The sheer number of people that view their stories makes it a logical place to share your promotion while the feed post is something that can stay there permanently if you choose.
This way you're creating multiple access points for people to see your offer. Since stories disappear in 24 hours, make sure you repost the story again for people to keep seeing.
6. Focus More on Visuals
Remember that whether it's a picture or video, the less text on an Instagram stories and posts the better. No one wants to read an article, especially on stories.
Creating a visual aspect and aesthetic for your story is a great way for people to stay longer and gain attention. Visuals should be easy to look at and the main message should be in the spotlight. If it's a branded visual message, make sure it fits the colors and theme of your wedding venue.
Using videos in your stories and feed posts is an incredible way to capture the feeling of your venue. Video helps build trust which is one of the main reasons why we highly recommend implementing video into your marketing campaign.
If you are posting text, get creative in the font and design of the text. Having plain text with a boring font is a recipe for a fast swipe and no attention. Although it may be a small detail, it can separate you from the rest of the competition.
Focusing on great visuals might be the best wedding venue Instagram tip that we can recommend.
7. Mix Inspirational Tips and Ideas in to Your Posts
Finding inspiration for wedding ideas and tips can be a great Instagram story or post campaign for your wedding venue.
As experts in the industry, we know that wedding planning can take months of preparation. Showcase pictures about past wedding venue ideas that worked great. This can tell people what your wedding space is capable of and how you can customize the venue for your guest's needs.

By providing helpful tips and ideas to brides and grooms they will start to look at your venue as an ideal choice for their special day. The more insightful your ideas are, the more they are to trust you to host their wedding.
8. Incorporate Interactive Elements to Your Stories
One of the cool new innovations for Instagram stories are the interactive elements which can greatly increase your engagement. Your wedding venue can put on polls about comparing wedding themes and decorations. Questionnaires can be an opportunity to let your followers ask you questions about the whole wedding process and the services you offer.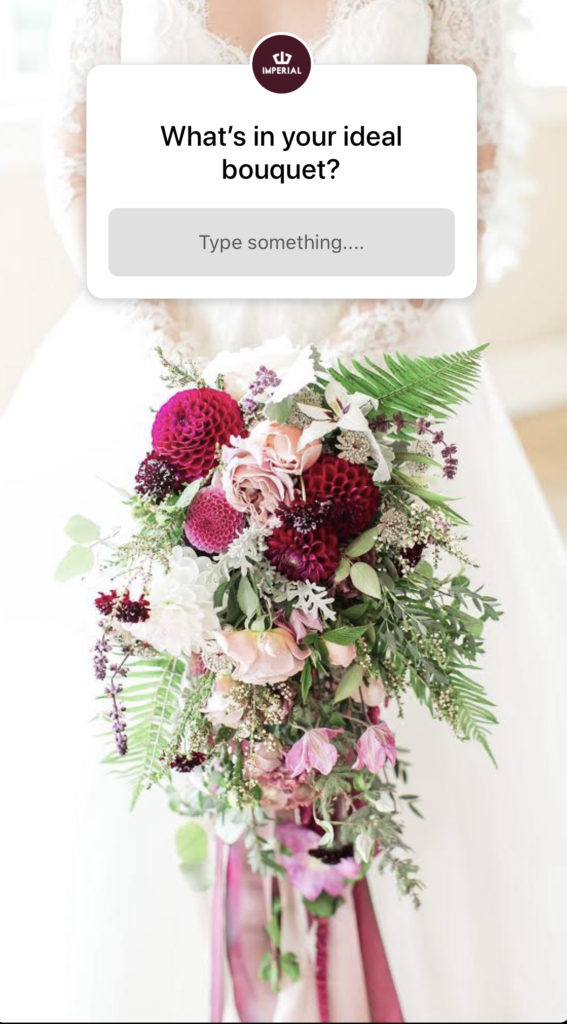 Some engaging questions can be:
• What are your favorite wedding flowers?
• What season would you like to have your wedding?
• What music genre will you have playing at reception?
• What song will be playing during your first dance?
9. Use Instagram Highlights Feature
While we did state that stories disappear after 24 hours, that isn't entirely true. You can add add your stories to what are called "highlights" that are located on your Instagram page.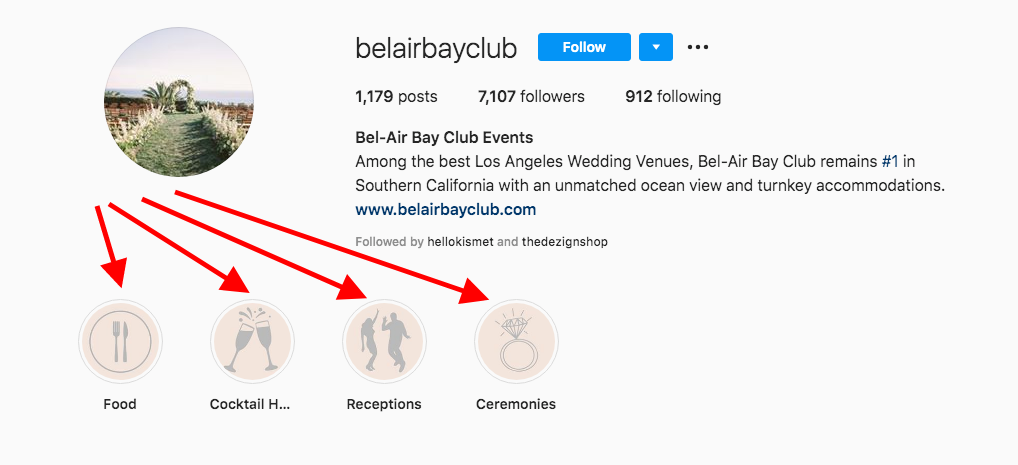 Say for example you posted a number of different seating arrangements that your venue can do. You can create a "highlight" of these seating arrangements and those individual stories you have added to that highlight will be there forever for users to continuously see.
Highlights work great for content that you know new and current followers will want to see. Incorporating this wedding venue Instagram tip will help new followers quickly get an idea of the content you post.
10. Use Proper Hashtags To Be Discovered
Part of getting your wedding venue's name out there and getting discovered by others is to use hashtags in your posts. Hashtags are a way of identifying what a specific post is about and Instagram users can search for specific hashtags they're interested in within the app. By doing this it will populate posts that use that hashtag in the caption. Instagram currently allows you to use a maximum of 30 hashtags in a feed post.
Currently 66% of posts use hashtags. Meaning posts have a higher likelihood of being discovered by users other than their followers.
Popular Instagram Hashtags For Wedding Venues
Download our list of popular hashtags to use for your venue and see a boost in views & followers.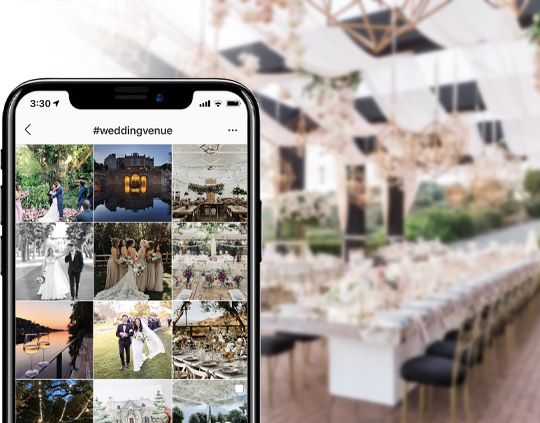 11. Run Paid Ads
With the amount of people interacting with Instagram stories and posts, it's no wonder that paid advertising is a big opportunity. Brands are allowed to use 10 forms of photos or videos to specifically target their audience. Target audiences can be customized by targeting the user's gender, the accounts they follow, and the posts they like.
This can be an opportunity for your wedding venue to garner more likes, comments, and shares on a single post. People are also more likely to see it on their main feed when scrolling.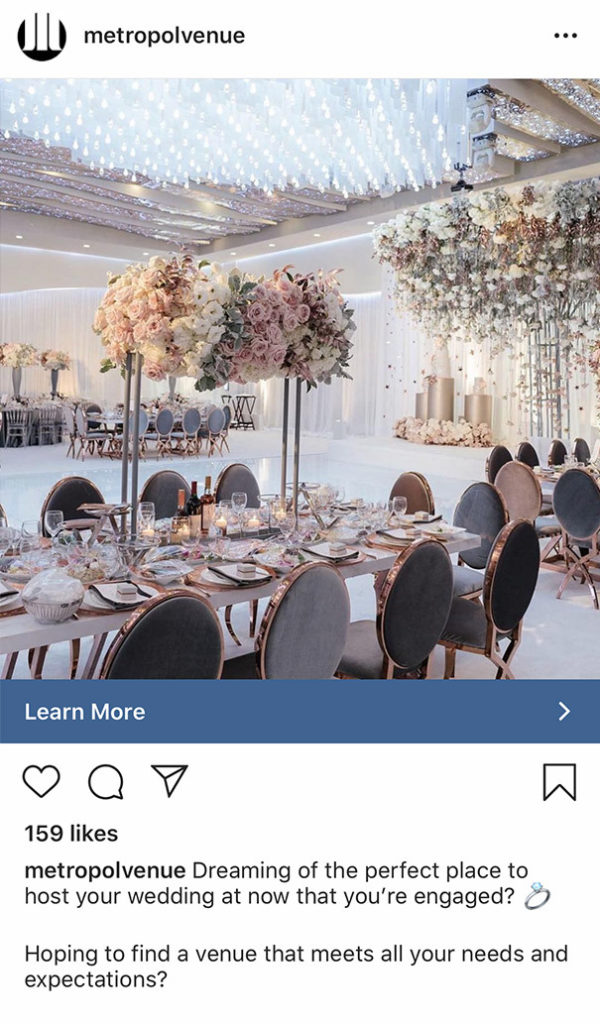 Aspect Ratios For Story Ads:
• High resolution (1080px x 1920px recommended)
• Your text-to-image ration must be no more than 20%
• Avoid relying on sound since many people don't view stories with sound.
Aspect Ratios For Post Feed Picture Ads:
Landscape: 1200px x 628px
Square: 1080px x 1080px
Vertical: 1080px x 1350px
Aspect Ratios For Post Feed Video Ads:
Landscape video: 600px x 315px (minimum)
Square video: 600px x 600px (minimum)
Vertical video: 600px x 750px
Conclusion
Make sure to be consistent. If you're posting something once a month you're letting your followers forget about your venue. By being consistent you'll be able to stay on top of their minds and show that your business is always active. An active social media marketing campaign keeps your brand on top of their mind and allows you to build a relationship with potential clients.
As a wedding venue owner, your mission is to properly showcase your venue to the digital audience on how beautiful your venue looks or how it can transform to fit with anyone's desired theme. With that in mind, using these wedding venue Instagram tips will help you create better content to increase engagement, followers, and potentially leads.