The importance of having a good website is to have customers interact with your business from the moment they land on a page. To Get information about your services and offerings. Make purchases or inquire for those services.
No matter what business you're in, online or offline, the ultimate goal is to take the potential customer to a website where he or she can get acquainted with the services and products you sell.
Executing great digital marketing strategies become much more difficult if you don't have a presentable website that sells your brand and provides an excellent user experience. A website's landing page is as important as the ad you run in the digital space.
Therefore, you shouldn't underestimate a website's role in digital marketing as a quality website will is crucial to getting results from running your marketing strategies.
In this blog post, we are going to discuss the importance of a website for all your digital marketing campaigns and to help you understand the role it plays in your business's success.
So, let's cut to the chase and dive right in!
Websites Are Important For Branding and Building Trust
One thing online that speaks volumes about your business and personality is your website.
Your website just might be the first impression that many new customers get to see. It's important that the ad copy, images, and overall look properly portray your business and brand the way you want others to perceive it.
You want your potential customers to trust your business because that is exactly how you will take the conversation forward and potentially convert a website visitor into a customer.
When talking about branding, the role of user experience cannot be ignored as the trust between a user and business goes a long way towards the perception a potential customer has about your business.
It's quite simple. Let's say your brand boasts of being simple and quick, then the user experience on the website should reflect the same. From navigation and website structure to content and visuals, everything should be aligned to meet the branding guidelines created to serve the user.
Your website is a window to your business's credibility. It allows your potential user to know about you. Not only that, building a proper website helps you set your business apart from the competition. Therefore, it is important for businesses to use their website in order to establish authority.
Remember, this is the first impression a potential customer has of your brand. If your website is poorly designed and offers an awful user experience, you are less likely to convert a website visitor into an actual customer.
Regardless of the kind of business you have, there's a good chance that your potential customer does his or her research which involves going through your website and typically your social media.
This is where the importance of a website comes into play. You've landed the visitor onto your website, now it's time for them to browse through your site and hopefully convert into a customer.
That's why we highly recommend having a professionally built website because of the vital role it plays in your business.
Conversion Optimization
Conversion rate optimization is a process used by businesses to improve their chances of getting a potential customer to complete an action that eventually leads to a better conversion rate.
When building a website, it is very important to make a list of objectives you want the website to fulfill and then prioritizing each objective.
A conversion doesn't necessarily mean a product purchase. It can be a successful contact form submission, an email address submission, booking completion, account creation, or transaction completion.
How yow you're able to guide those visitors towards those conversions is where the importance of a website comes into play.
When designing a business website, you will have to place proper Calls-to-Action that trigger the user to take certain actions. You want your website to strike the right balance of appearance and efficiency.
Doing this in the planning stages of the website development will improve the likelihood of users converting on your specific goals. It's the planning stages when you will be in the best position to draft a website design that resonates with your goals.
It's Important For Your Website To Be Relevant To Your Audience
Businesses are run for their customers. Regardless of what any business sells, the customer will always be the biggest factor that will determine the success of that particular business.
Therefore, it is our responsibility to determine the characteristics of the audience we are targeting with our website. In other words, you want to know more about the users who will land on your website.
To be able to successfully do that, website analytics will play a crucial role. You can distinguish between various audience types by segregating them with respect to demographics, psychographics, location, industry, and various other factors.
When you have ample information about the visitors to your website, you can start making changes to the website interface and design.
The changes should reflect the characteristics of your visitors and should trigger emotions that help you make them convert easily. This is where the importance of updating your website really comes into play. Taking that data and applying changes can make a world of difference.
The moment you crack the user persona and intent, you can start designing content that is relevant to your potential customers. Achieving a high level of relevancy with your audience will boost the chances of them converting through your digital marketing strategies.
The content on your website also plays a major role in the relevancy to your audience. If a user is searching for a specific term and then lands on your page, you'll want to ensure that your website provides the answers that they're looking for. If it doesn't, your website becomes less relevant to them.
The relevance of the content on your website also goes hand-in-hand with paid advertising. The more relevant your content is to the specific paid keywords and topics, the lower your per-click cost will be. This is both true in paid search advertising and social paid advertising.
Your Website Is The Most Important Asset For Search Engine Optimization (SEO)
Search Engine Optimization is the process with which businesses can improve the visibility of their website on various search engines. There are many techniques and tricks involved in SEO which can be categorized into On-site SEO and Off-site SEO.
Making an SEO-friendly website is crucial for the success of your online business given the fact that almost 93% of all online activities start on a search engine.
More SEO Statistics
75% of searchers never click past the first page of results.
As many as 46% of all Google searches are local.
70% to 80% of users completely ignore paid ads.
Google holds 74.19% of the search engine market in 2019.
61% of marketers say growing SEO and organic presence on their websites is one of their top inbound marketing priorities.
51% of all website traffic comes from organic searches.
Companies that blog have 434% more indexed pages than those that don't.
Leads from SEO are eight times more likely to become paying customers than those generated through traditional ad campaigns.
The US SEO market is projected to reach $80 billion in 2020.
Designing a website that is SEO friendly will increase the likelihood of your site popping up on the search results page which in turn increases the chances of a user clicking onto your site.
When it comes to SEO, making a mobile responsive website should be the topmost priority. Today, 69% of the searches are taking place on mobile devices like smartphones and tablets.
Build A Strong Internet Presence With The Power Of SEO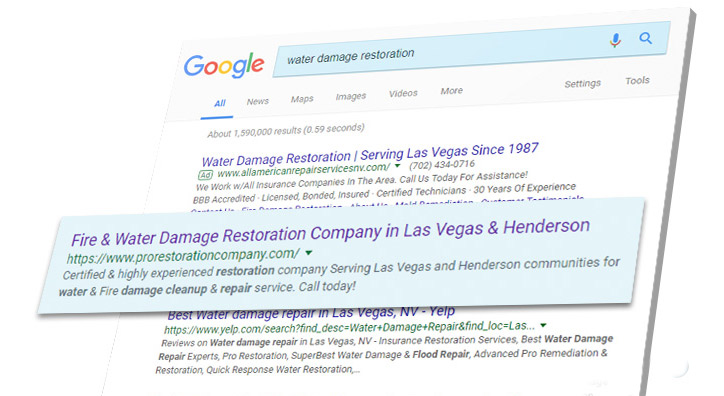 People search for everything online. Use this to your advantage with comprehensive search engine optimization (SEO) to maximize organic and local rankings, keeping your company visible and relevant.
See How We Perform Organic SEO
It's essential for your web team to always be on their toes as more and more devices are coming up in the market and therefore, the challenge of making websites responsive and compatible for each of them is becoming even more critical.
Not just that, you will have to consider many on-page search optimization activities like content optimization, navigation, and various other technicalities to make a winning business website.
Given that your website will require optimization every now and then, we highly recommend you to experiment with various SEO techniques to figure what works best for you.
Showing up in the search engine results page takes many strategies coming together to boost the performance of your site. If your site isn't properly optimized for SEO you'll have a difficult time ranking for the right keywords. Here's another example of the importance of your website and how it can help grow your business.
User Experience and Aesthetics
You want to make your website highly usable and accessible. User experience is very important to website design as it is closely related to SEO and CRO.
Today, search engines are trying their best to provide the most relevant results to their users. User experience is one of the major variables that search engines like Google factor in. Not just this, it is equally important to have a website that ranks high on visual appeal.
You want your website users to have a desirable emotional response to your website. This can only be accomplished by creating a website design that triggers the emotions of your targeted persona. But that doesn't mean you should focus only on the looks. Functionality is of equal importance for a website.
There are many websites that focus on looks and not so much on functionality. This is dangerous because, at the end of the day, you want your website to convert for you.
If your website is not functional it increases the chances that the user will get annoyed and leave your website for your competitor. You don't want that to happen.
Having a website with a high user experience rating and one that strikes the perfect balance between functionality and looks will definitely make your digital marketing efforts worthwhile.
Easily Scalable Website Design
When designing your business website, it is important to prepare for making it scalable for the future. As your business grows in the future, your business website will scale as well. This is where the importance of a well developed website comes into play.
As the business scales, there will be a need for more storage and speed while still offering the same aesthetic and functionality.
Users want instant access to the information they are seeking which means that your website should still offer a pleasant experience despite adding more pages and information.
The same goes for hosting. Initially, you might think that a managed hosting solution will suffice. But in the future, as your website grows and demands increases, you will feel the need to move from traditional hosting solutions to private servers. You might even consider using a dedicated server for that matter.
If your website is created in such a way that it is not easily scalable for the future, it only makes the eventual redesign much more costly and tedious for your web development team.
By having a smart agency in place that takes into account the future of your business, you will save a lot of headaches down the road when it's time to make improvements.
The Importance Of Website: Let's Wrap It Up
Things are not going to be hard initially when you have just started with creating a professional website for your business. But as you grow into it, there will be decisions that you will have to make which will decide how your digital marketing efforts are going to be executed.
If you already have a website and are wondering why it isn't performing the way you want to, you might very well need a website audit done today! All your marketing channels might show poor results if you don't have an effective website.
Hopefully, this piece of content provided enough value to help you understand the importance of a website for digital marketing and sheds some light into the amount of work that needs to go on behind the scenes to help your business out.
We provide great value for your business – nothing more, nothing less. If you are looking for a team of experts to partner with your business, contact us.