Website Design & Development Services
Focused On User Experience And Behavior
The Importance Of Professional And Mobile-Friendly Website Designs
As the "online face" of your company or organization, an attractive, user-friendly website is the single greatest tool for reaching new and existing customers and representing your brand to the world.
While pre-packaged web design tools from the likes of Wix and Squarespace may be useful for individuals creating personal websites and blogs, going the "do-it-yourself" route is not effective for businesses trying to get noticed in today's hyper-competitive digital marketplace. At Alecan, our team takes the guesswork out of website design by working with clients one-on-one to create beautiful websites with powerful SEO methods that generate traffic, maximize engagement, and increase your business's credibility.
Is your company ready for a new, mobile-friendly website that you can proudly show to your customers?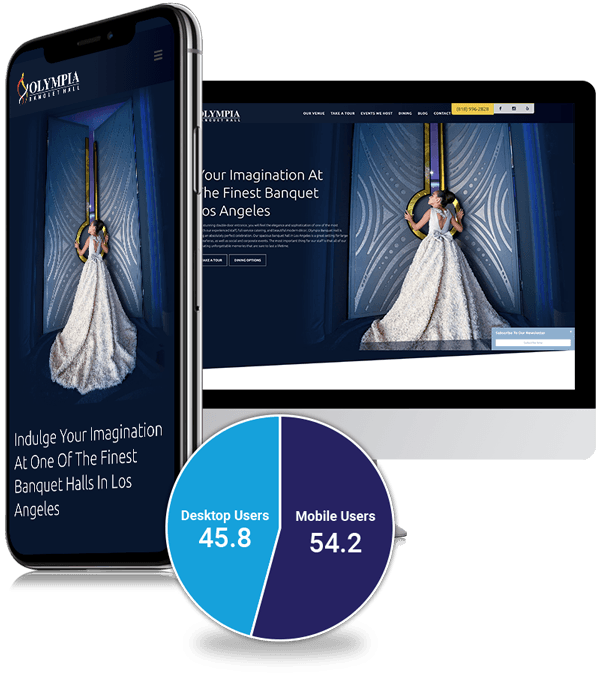 We've Perfected Website Design
When a customer finds your brand online, the aesthetics of your website represent the product or service you offer. At Alecan, our website designs employ attractive layouts, high-resolution graphics, and vibrant colors to make a positive first impression.
The simple, intuitive website and page designs are a must for business owners aiming to attract new business and engage past or current customers. An easy-to-navigate site with a simple user interface keeps visitors on your site longer and creates positive feelings about your brand.
Relevant, informative, and engaging content attracts qualified traffic to your website, but today's content creators must also keep search engine algorithms in mind. At Alecan, we get results by optimizing high-quality content for both users and search engine algorithms, in turn boosting search traffic and engagement.
Today, approximately half of all web traffic comes from mobile devices. To help your business reach the ever-growing number of mobile users, all of Alecan's website designs are fully-optimized to look great on mobile devices like smartphones and tablets as well as desktops.
During Alecan's initial meeting with clients, our team identifies the major profit centers and creates a custom plan to generate leads and increase revenues using your website. From there, every aspect of our service is designed to convince website visitors to complete a purchase, make a call, or fill out a form, putting them in direct contact with the business.
Positive growth rates, measured in the numbers of visitors to your website and the size of the site itself, tell search engines that your business is worthy of a high ranking. To help your website grow, our team blends cutting-edge digital marketing strategies with consistent content creation.
We Build Websites On WordPress And Other CMS Platforms
Keeping your company website up-to-date often requires adding and editing material at a moment's notice—and the right content management system puts the power to expand and adapt in your hands. The world is changing faster than ever, and anticipating and allowing for those changes is the key to maintaining a thriving brand. Selecting and understanding the best back-end capabilities empowers you to keep your site current while seizing new opportunities the moment they're presented.
Every business is unique, and Alecan is here to help you choose the content management system that best suits your needs. We work with the most popular platforms like Drupal, WordPress, and Joomla, and our professional developers can even create a custom CMS that will allow your site to grow along with your business and quickly adjust to new scenarios.
Your Business In The Palm Of Your Customer's Hand
Mobile Websites Grant Immediate Access And Facilitate Immediate Action
Mobile searches officially surpassed desktop searches in 2015. This means that more than half of all Internet users are now browsing websites, shopping for products and services, and consuming content on their smartphones and tablets. A mobile-friendly website may have been optional before, but today businesses simply cannot afford to ignore the ever-increasing number of people that prefer to access the Internet while on the go.
Alecan's mobile-responsive websites—that is, sites that automatically adapt functionality and resize content for smaller touch screens—put your brand at the fingertips of millions, regardless of their device, while a separate mobile site can be effective for portraying your company's information attractively and succinctly.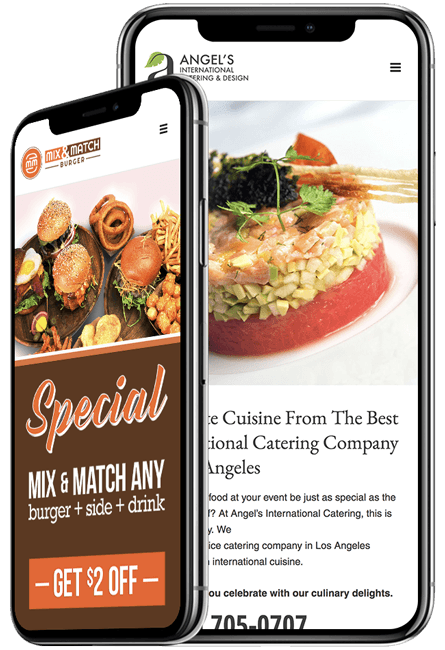 Responsive Websites Vs. Mobile Websites: What's Best For My Business?
The rise of mobile Internet browsing has left many business owners to wonder: Is my company website truly mobile-friendly? Is my business accessible on all devices? Do I need a separate mobile website in addition to my desktop site? The answers to these questions vary from website to website and business to business, but in general, most existing sites can be made mobile-friendly with just a few minor tweaks. However, some websites may benefit from a complete re-design, or it may be more cost-effective to build a separate mobile website to complement your existing desktop site.
At Alecan, every website that we design is coded to be mobile-responsive. This means that you'll never need to worry about hosting multiple sites, or customers claiming that your website won't work on their smartphones. Older sites, however, may need to be re-designed or edited to achieve full mobile functionality.
A separate mobile website is sometimes the right choice, particularly for companies whose primary site hosts large media files or uses advanced coding.To save users from pinching and scrolling to see microscopic text, photos, and other assets, Alecan's mobile websites detect when someone is using a smartphone or tablet, and automatically redirects them to from the original site to its mobile-friendly counterpart.
Target The Devices Your Customers Are Using
At Alecan, we rely on analytics data to learn as much as we can about your customers. By determining what devices, operating systems, and screen sizes they typically use, we can develop strategies that maximize engagement and create the best user experience for your company's site.
Interested In Our Website Development Services?
Call Alecan Internet Marketing Solutions Today For A Free Consultation. (800) 208-5458