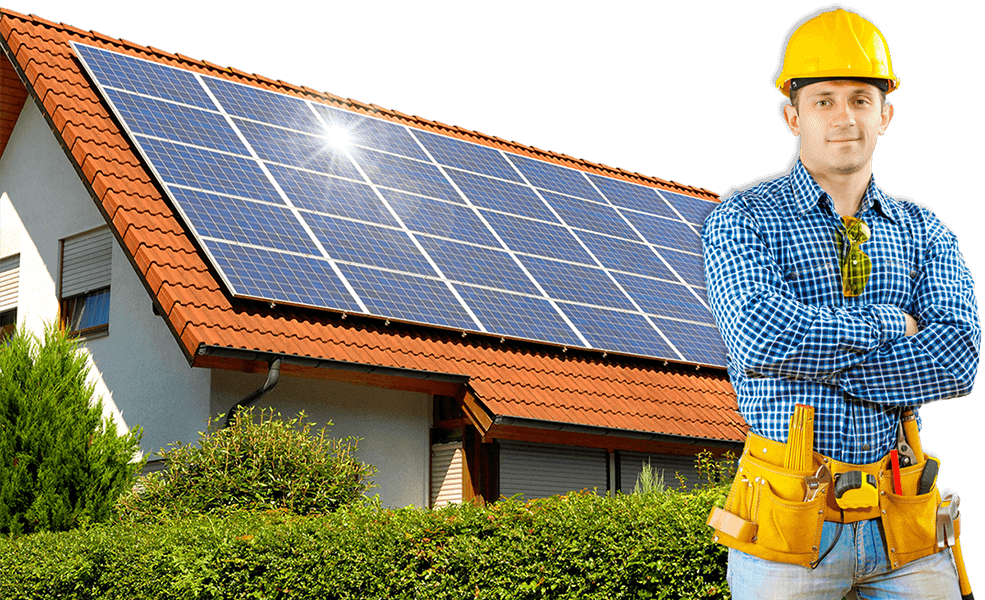 "Their leader, Armen, has over 15 years of experience in the digital marketing era and has put together a great team of professionals that are committed to our success in business.
With over 12 years in the wedding venue business, our main source of leads are being generated by Alecan."
– Rafi H, Founder of De Luxe Banquet Hall

Industry Trends & Insights
The latest in home improvement service and digital marketing
We Generate Solar Leads That Turn In To More Jobs
Grow Your Solar ENERGY Company with online marketing strategies and measurable results
Work With Us
With more and more Americans understanding the importance of alternative energy, growing your solar energy company is more important than ever.
Our team specializes in your field and works with you to create a plan that works with your goals and needs—whether you want to dominate the market or work within your set budget. We develop multi-channel digital marketing strategies to take your business further.
Receive $1,000 in First Month of Advertising
Sign up by November 02

REQUEST FREE QUOTE
$1,000 in online advertising could be the difference between a busy season and a quiet one.
Effectively Delivered Over 10,000 Leads To Our Home Improvement Clients in the Last 2 Years Alone
Our Marketing Approach To Meet Your Solar Energy Company's Goals And Needs
Before we develop a digital marketing strategy for your solar company it's important to get a grasp of your business goals and objectives. That allows us to develop a solar marketing plan for your company that will allow you to thrive and grow. However, it doesn't stop there. Our agency consistently analyzes the data we receive to make changes that will strive towards meeting and exceeding your company's expectations.
Discovery & Research

Strategic Planning

Creation

Development

Launch & Evaluation

Engagement & Conversion

Management & Optimization
Pro Restoration
As a company that offers 24/7 emergency services, Pro Restoration company needed a high-positioned search presence in order to compete with the franchises that surround them and have compelling call-to-action messages, so that their potential customers could quickly find and reach them in the event of a disaster.
In order to meet our goals we used a cross-channel approach consisting of:
Website Redesigning
Search Engine Optimization
Paid Search Ads
Content Marketing
View Case Study
Solar Company
Website Design
Purchasing a solar panel for a home is a major purchase. It's important that your customers feel confident in your brand and abilities. Having a well-designed solar panel company website that's easy to navigate, search engine friendly, and informative will allow customers to feel confident in your services. Your team at Alecan has years of experience designing websites by understanding the psychological needs of your customers. With a beautifully designed you'll be able to earn more jobs and grow your business.
Work With Us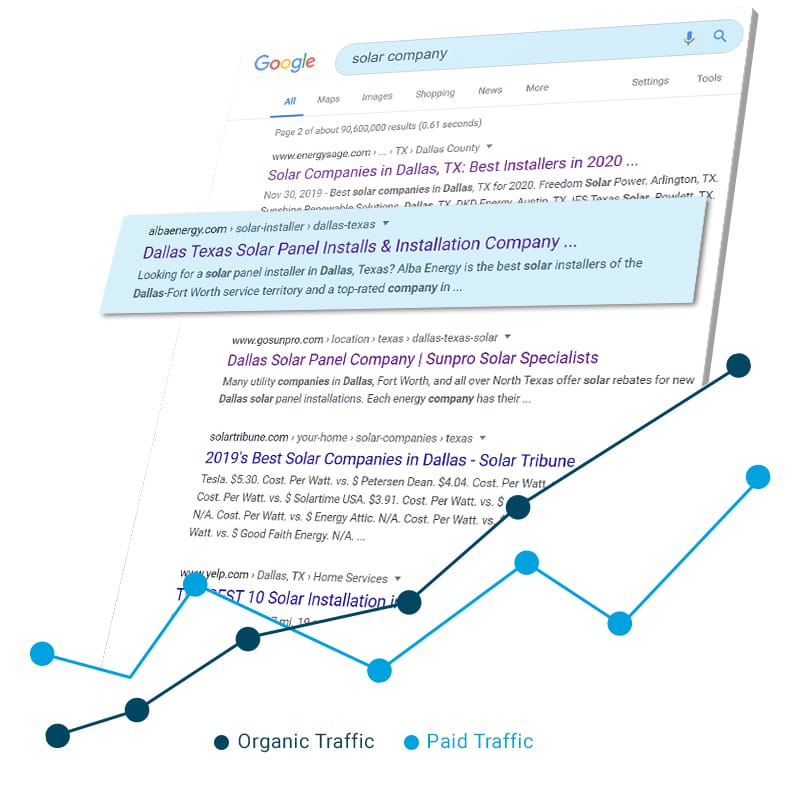 Work With Us
SEO Service
Solar Energy Companies
The majority of your customers will begin their research on solar panels starting with a search engine. Our SEO services for solar companies will help your website rise in the search rankings to increase your visibility. The higher your company ranks for specific keywords related to your business, the more likely you will gain qualified traffic to your website that can convert into customers. SEO for solar companies is a long-term investment that will have a major impact on the growth of your business. SEO is the best investment in your overall marketing that wil give you the highest ROI.
The Benefits of SEO
A cost effective and sustainable strategy
Generates traffic to your site
Increases your firm's local visibility online
Increases brand awareness
Provides information on how your website is being searched for, found and used by prospects, clients and/or colleagues
Gives you the highest conversion rate
Paid Advertising
Results Focused Media Buying Ads For Solar Energy Companies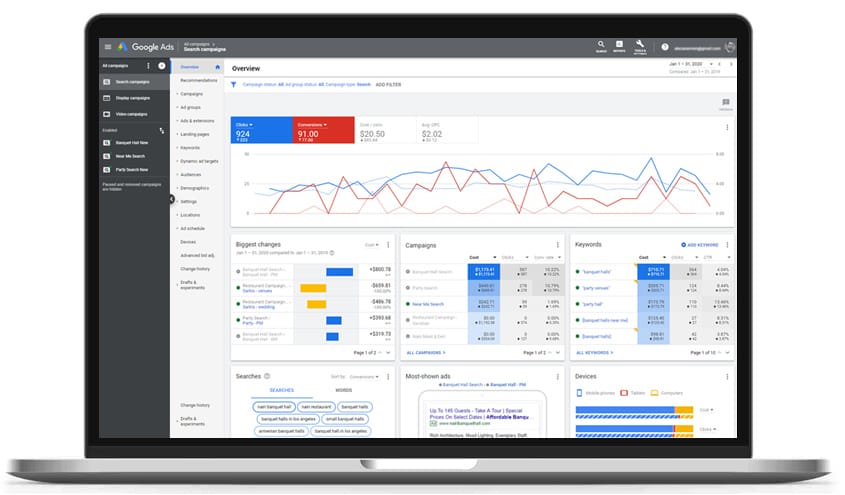 Pay Per Click (PPC) Marketing
Generate qualified solar leads by using Pay Per Click (PPC) Marketing. There are over 12,000 searches for "solar panel installation" every month which is traffic that your website could be taking advantage of. PPC marketing focuses on specific keywords related to your business that will generate leads and grow your company.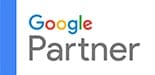 Attempting to manage your own Paid Ads to save money will actually cost more marketing budget dollars due to a lack of knowledge and experience. Most importantly, you will be missing out on potential new clients through improperly run paid campaigns.
---
Google Paid Search Ads

Paid search ads are ideal for solar panel companies because many of your customers will start their buyer journey with a search engine. Paid search ads will place your company at the top of the search results, which brings in qualified traffic because these users are actively searching for your service. Once they click your link they'll be taken to a website that is informative and properly optimized for conversions.
Google Remarketing Ads

Remarketing ads are banner ads that users who have visited your website will see on Google's network of sites. These ads are a constant reminder of your solar panel company to those users and increases brand awareness and ultimately helps convert them. The Marketing Rule of 7 states that a prospect needs to "hear" the advertisers message at least 7 times before they all take action to buy that product or service.
Work With Us
Which Services Are Right for You?
Digital marketing for solar companies requires a multi-channel approach to ultimately meet your business goals and objectives. By knowing your objectives our team can create an all-encompassing solar panel advertising strategy that can include SEO, paid search ads, and more. By attacking multiple channels your business will always be in front of potential customer's eyes.
At Alecan, we take a look at the whole picture and constantly innovate to help your solar panel company meet your goals.
Work With Us
See Case Studies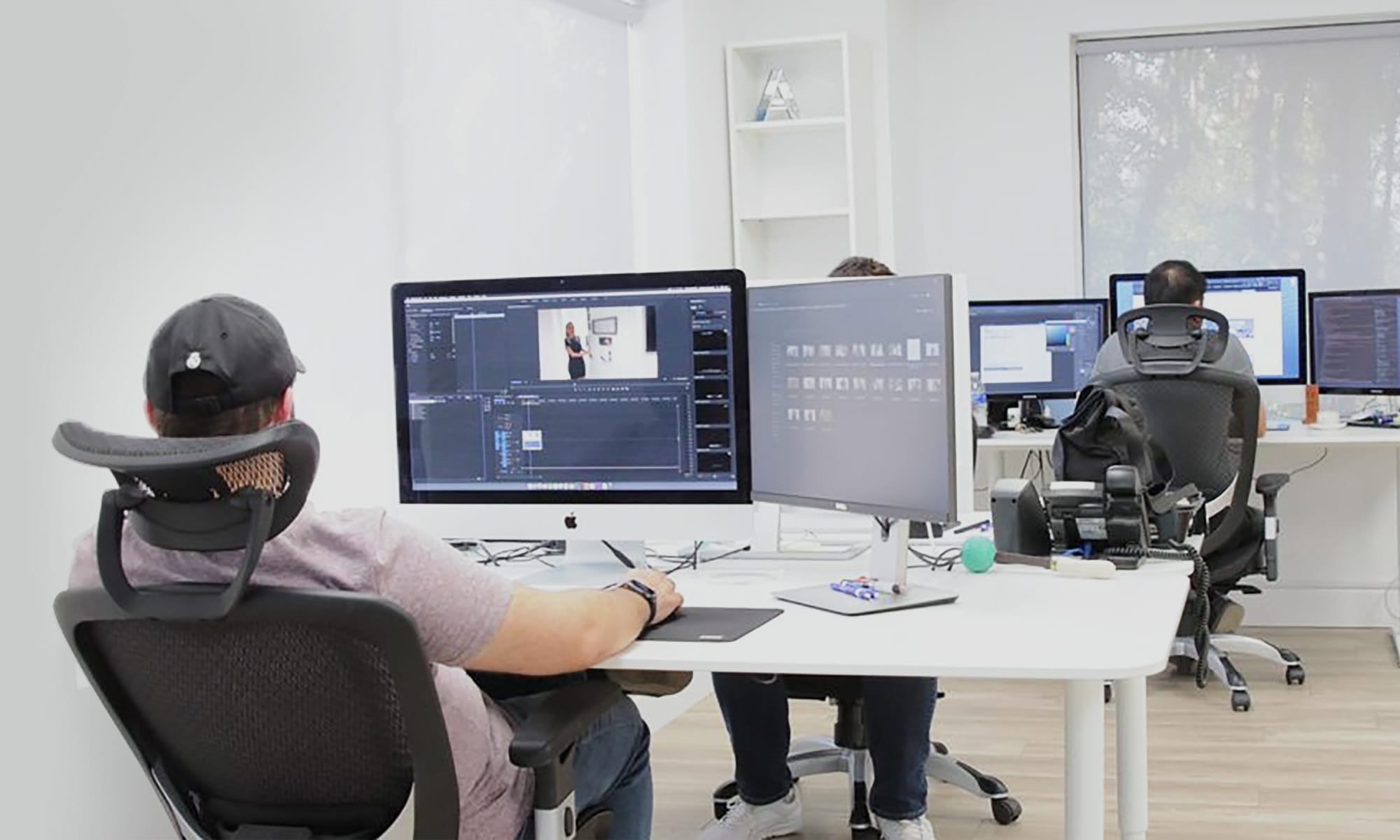 Industry Trends & Insights
Award-Winning Digital Marketing Agency For Solar Energy Companies
At Alecan, we're always looking towards the future with innovation in mind. That's why we love working with forward-thinking businesses like solar panel companies. We believe in sustainable energy and believe that marketing your solar company is one of the best ways to help it grow.
Your personal team at Alecan is filled with designers, web developers, marketers, search engine optimizers, writers, and more. Every team member handles a specific task that is all geared towards helping you achieve your business goals and thrive in your industry.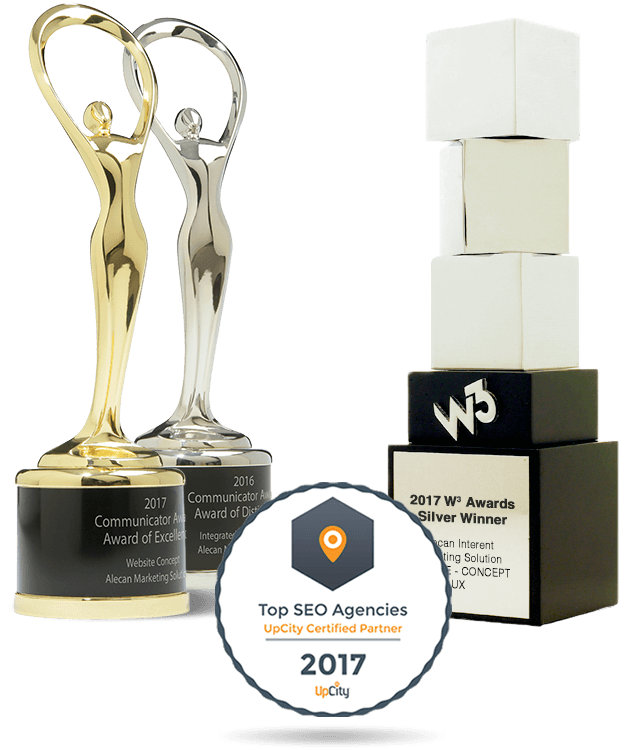 Industry Leaders In Digital Marketing

Creative And Effective In Design And UX

Content Marketing Professionals

Search Engine Optimization Experts

Constantly Researching New Strategies

Social Media Marketing Managers

Engaging And Creative Copy

Testing Across Multiple Devices

Visually Appealing Websites

Relevant Data Collection And Research

Customized Digital Strategies And Design

A and B Testing

Excellent Care And Customer Support
OUR APPROACH TO GROWING BRANDS
Drive Qualified Traffic To Your Website

Convert Visitors Into Leads And Customers

Generate Brand Loyalty And Repeat Business
Contact Alecan Marketing
To learn more about how Alecan Marketing can grow your small business,
fill out the form below and a representative from our small business marketing division will contact you shortly.