A new year provides the perfect opportunity to re-evaluate your digital marketing techniques and implement changes. When done right, paid search strategies will help drive traffic to your site and ultimately grow your business. But how can you build an effective paid search strategy?
In this guide, our team from Alecan Marketing Solutions covers how pay-per-click (PPC) ads work and how they specifically benefit companies. We'll also dive into 10 practices you can use to ramp up your PPC ad campaigns as 2023 gets underway.
What Is Paid Search Advertising?
A paid search campaign is a digital marketing method that uses ad groups to generate website traffic. Building credibility and climbing up the search engine results pages (SERPs) to get noticed can take years. However, you can pay Google, Yahoo, Bing, and other search engines to place ads that will increase visibility and promote web traffic.
PPC advertisements come in various forms, but they all work toward the same end: drive traffic for business growth. Some of the most common PPC ads include:
Search ads
Display ads
Video ads
Remarketing ads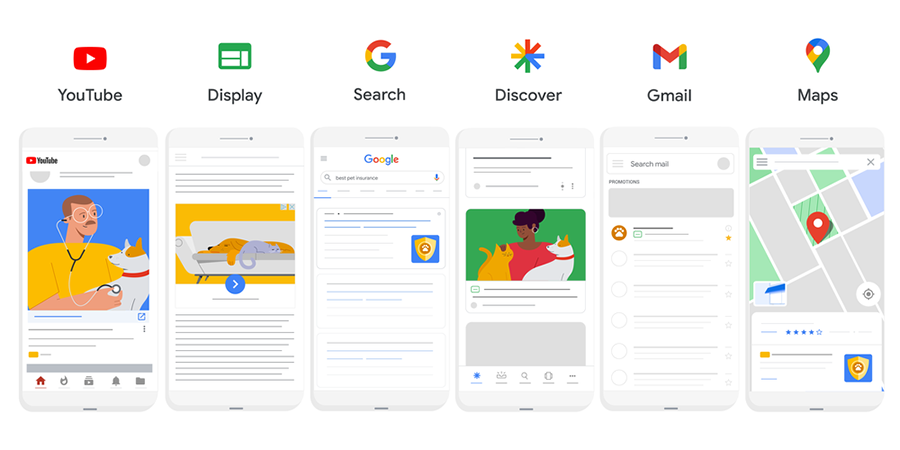 What Are The Benefits Of Paid Search Advertising?
It doesn't take much to implement a paid search strategy and see instant results. Once in place, you can let the ads do all the legwork and keep track of the data for valuable marketing insights. Paid results offer many incredible benefits, such as:
Increasing web traffic: Google Ads showcases your brand on the Search Engine Results Page (SERP) and helps drive traffic to your business online. The more relevant your ads are to consumers searches, the better the chances of having high clicking through rate (CTR) of your ads.
Boosting brand awareness: If you're struggling with visibility, paid ads might be your number one solution. You can use Google Ads, display ads, video ads, etc., to get the word out about your products or services and quickly boost brand awareness.
Targeting specific demographics: It can be challenging to measure results from more traditional paid advertising strategies like TV and radio ads. However, paid ads are easily trackable and enable you to reach customers in your target audience.
Marketing cost-effectively: Many marketers struggle to manage their ad campaign budget. With an effective paid search strategy, you only pay for what you need and can maintain control of your advertising budget.
Buying Intent Traffic: This means that the users who click on the ads are actively searching for a product or service that they are interested in purchasing. This high level of intent makes Google paid search traffic highly valuable for businesses, as it has a higher likelihood of resulting in a sale or conversion compared to other types of online advertising.
The 10 Best Practices For Paid Search Campaigns
At Alecan Marketing Solutions, our professional team has the tools and know-how to help you attain successful paid search ad campaigns. Read on to learn our top tips for building a killer PPC strategy.
1. Automate Regular Tasks
You have to perform certain daily tasks to ensure that your PPC campaigns stay on point. Testing, reporting, and bidding can take a lot of time out of your work week. However, you can streamline many of these processes by automating them.
Automating regular, manual tasks can save you a ton of hours, effort, and money down the road. With numerous technologies and innovative tools at your fingertips, you can optimize campaigns and lower the costs per click.
2. Customize Google Search Ads and Display Ads for Mobile
Successful, high-authority websites understand that most traffic comes via mobile devices. Their search engine optimization (SEO) strategies and marketing campaigns reflect this. If you don't have a mobile-first mindset, you're a step behind in the Google Display Network.
One of the best paid search practices involves customizing your ads for mobile users. Don't simply focus on creating ads for desktop search engines and ignore a significant percentage of consumers. Mobile-friendly advertisements can help you bid higher, tap into a major demographic, and generate valuable leads.
3. Switch to First-Party Cookies
Third-party cookies have been at the core of online advertising for a long time, but that's about to change. Google Chrome plans to discontinue third-party cookies by mid-2023 and start transitioning to first-party cookies soon thereafter. Switching your marketing focus now can help you prepare for these pending shifts in the world of marketing.
4. Incorporate Bumper Ads
Bumper ads are short, non-skippable video promos that appear before a video on YouTube and other platforms. Businesses use them to promote their brand, product, or service without taking up too much of the user's time. In six seconds or less, you can grab the viewer's attention and direct them to product pages, resource pages, or landing pages.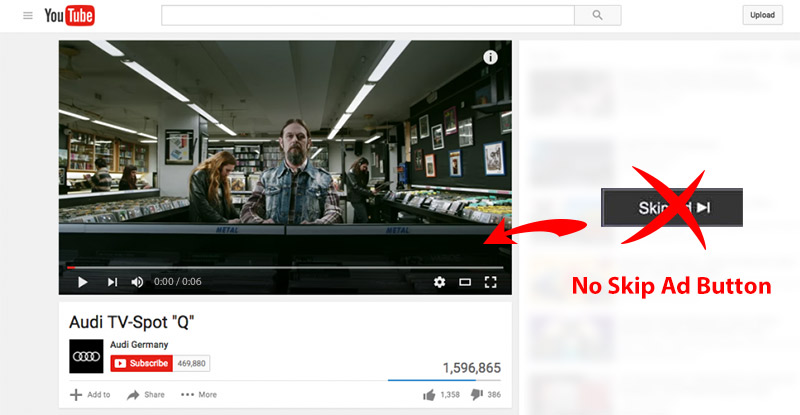 Incorporating bumper ads is an excellent way to boost your PPC strategy. Short video promos are typically much more effective than a quick paragraph at the top of the search results page. You can attract potential customers and drive conversion rates by designing high-quality bumper ads.
5. Evaluate Your PPC Campaign Budget
Every outstanding PPC campaign starts with a well-developed budget. If you don't set aside enough money for marketing, you won't be able to design top-notch ads. If you have an excessive ad spend, you detract funds from other departments.
There's no better time to evaluate your budget than right now. Take a long look at the numbers and see how your search marketing performed throughout the previous year. Doing this will help you determine how valuable your strategy is and whether you should increase or decrease the budget.
6. Target Your Specific Audience Better
The key to effective marketing is knowing your target audience and creating ad copy that's relevant to them. You don't want to target everyone, but you also don't want to be too narrowly focused and miss out on great opportunities. With paid search advertising, it's critical for the ad copy to strike a balance between exclusion and ambiguity.
Marketers should always look for new ways to target their audience better. Segmenting your audience using the following categories can help you determine the best way to reach them:
Age
Gender
Location
Device
Income level
Life stage
Purchase history
7. Revamp Your Reporting System
A solid reporting system provides insights with clarity and precision. It reviews data accurately and presents it in an easy-to-follow format. With a well-rounded, organized Google analytics report, you can immediately put more data to work in your ad campaigns.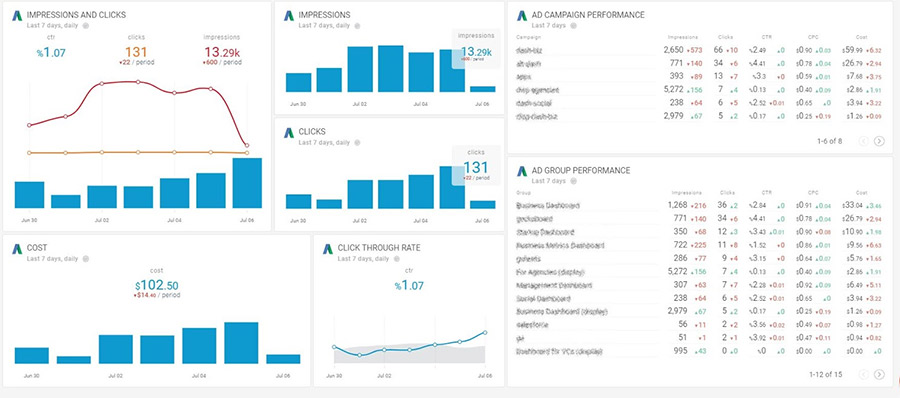 8. Use Smart Bidding
Smart Bidding is an automated system that uses machine learning to track consumer behavior and improve quality scores. It keeps tabs on current users to see where they go and what catches their eye. Then, it gives you vital insights into how to adjust bids to retain customers and attract new ones.
If you want to make the most of your PPC ad campaigns, consider using Smart Bidding. Automated bidding systems have targeting capabilities beyond that of any human. These tools can increase conversions and get you the best cost per click.
9. Explore New Features & Tools
Change can be a scary thing, especially when your marketing strategy seems to work well. Many digital marketers get stuck in a rut and bristle at the thought of switching up their approach. After all, why fix something that hasn't broken?
Your PPC ad strategy might be fine—in fact, it could be pretty effective. However, exploring new features and trying new tools like ad extensions could make ads even more effective. Software and technology are advancing at alarming rates, and keeping up can give you an edge in the target market.
10. Get Creative
As you construct digital marketing campaigns, remember to think outside the box and get creative. You may gravitate toward templates and traditional techniques, but don't feel like you have to follow the crowd. Multiple ads with unique ad placement and an eye-catching product image can help you stand head and shoulders above the competition.
Consider, for example, doing keyword research to learn the different types of matches. You'll want to utilize them to ensure the highest chance of click-throughs and conversions. Some of the most common match types include:
Exact match: With this type of match, keywords match the search query almost word for word. Ads with exact matches typically have a higher average position in the organic search results and generate more clicks.
Phrase match: This match type involves keywords that match a phrase in the Google search query. For example, when a user searches "Chicago HVAC repair" or "business programs in Los Angeles, CA," it might trigger the keywords "HVAC repair" or "business program."
Broad match: With a broad match, keywords can trigger a wide variety of search queries. Your ad may pop up even if the keywords match a related search or synonyms of the search terms. (Tip: If you don't want to join the bid, use negative keywords.)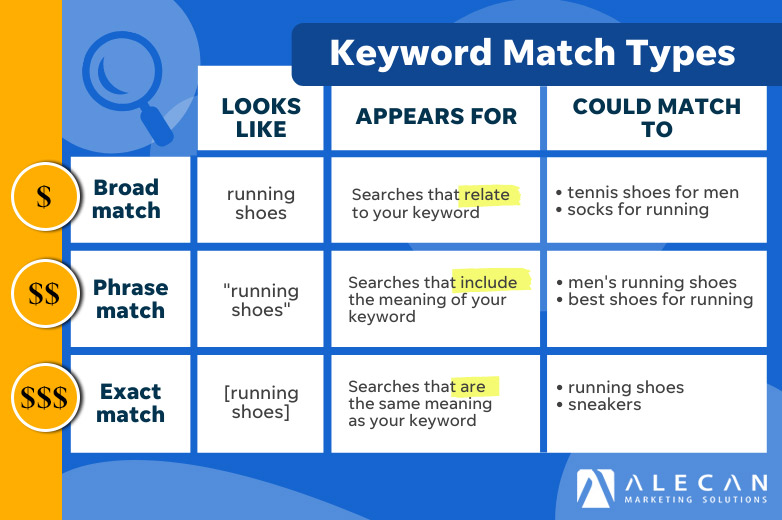 Take Your Paid Search Strategy To The Next Level
Small businesses, corporations, site owners, and content creators use paid searches to attract potential customers and ramp up web traffic to their websites or landing pages.
If you need help planning and constructing a search campaign using best paid search strategies for growing your business, our team at Alecan Marketing Solutions can help you choose the best solution between PPC and SEO that can better fit for your goals. We will also share expertise in remarketing campaigns, text search ads, Google Ads, ad platforms, and many other aspects of your marketing strategy.