PPC vs. SEO: the strategic battle continues.
It's 2019, and there are no more excuses. Your company absolutely must be promoted the right way in order to be recognized.
These days, company owners utilize different digital marketing strategies to promote their company and their products or services.
In this article, we will dive into the world of digital marketing and focus on the two giants of online advertising: pay per click advertising and search engine optimization.
Let's Get Into The Content!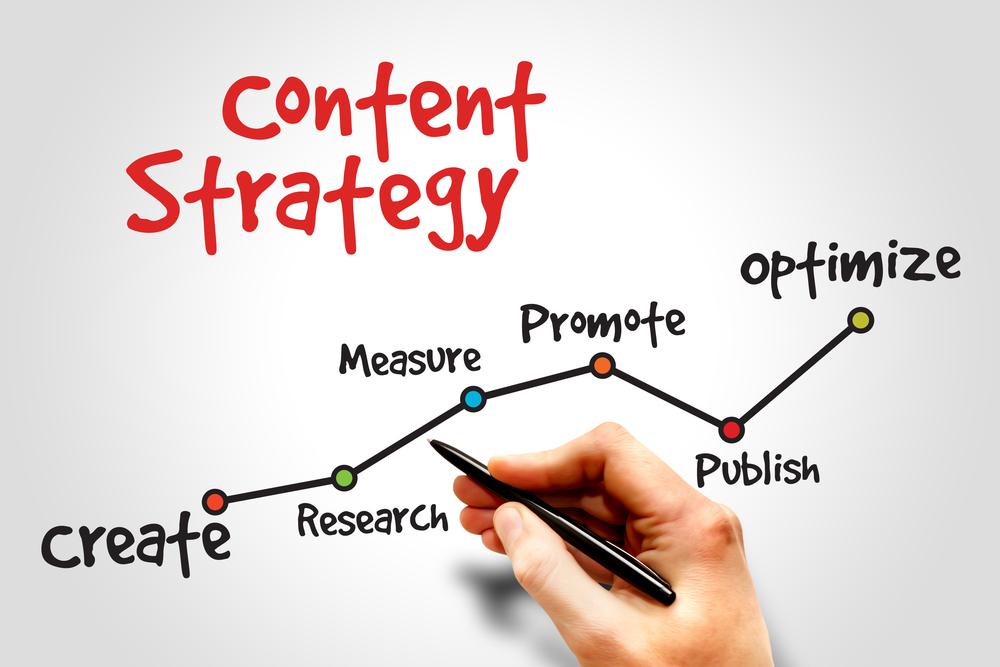 Before getting into the PPC vs. SEO battle, it's important to set up the context.
Digital marketing involves businesses and personal brands promoting their services via the Internet with the help of social media marketing, search engine techniques, or through the help of websites, email marketing, and mobile apps.
Every online advertiser needs to know the concept of SEO, as well as PPC.
When you add content to your website to give an effective description of your business and services, it's important to utilize the concept of search engine optimization.
This is done to improve the visibility of your content at the top of the search engine results pages (SERPs).
People use various relevant keywords and strategically insert them into their own content in order start ranking their specific pages around those keywords.
Don't think SEO can do it for you?
Let's try giving PPC a shot.
Another online method to enable quick promotion of your website is understanding and utilizing the concept of pay per click advertising.
PPC is considered an effective way to jump-start a small-scale business by directing a huge amount of traffic to their website.
We will provide a better understanding of both the concepts a little later on in this article.
For a deeper and more complete look at what digital marketing is, check out our digital marketing overview and how businesses can leverage it.
What Is Search Engine Optimization?
Let's understand what search engine optimization is all about.
Search engine optimization is a technique which increases the number, as well as the quality, of visitors to a website.
It's used to increase the traffic on a website and its visibility via organic traditional ways.
About 90% of Internet users use Google to begin their search for different products or information all over the Internet.
Instead of directly inserting a domain into the search bar, users utilize search engines in order to search for websites that are related to what they're looking for.
The visibility of a website on organic search engine results can gradually be increased by the effective utilization of the SEO strategies and keyword integrations.
You must properly understand the concepts of search engine optimization while writing your content for the website. If you don't understand these concepts, it's smart to hire someone who is an expert in the field of SEO to write your content for you.
This will ultimately lead your website to be effectively optimized for the search engines.
Pros and Cons Of Search Engine Optimization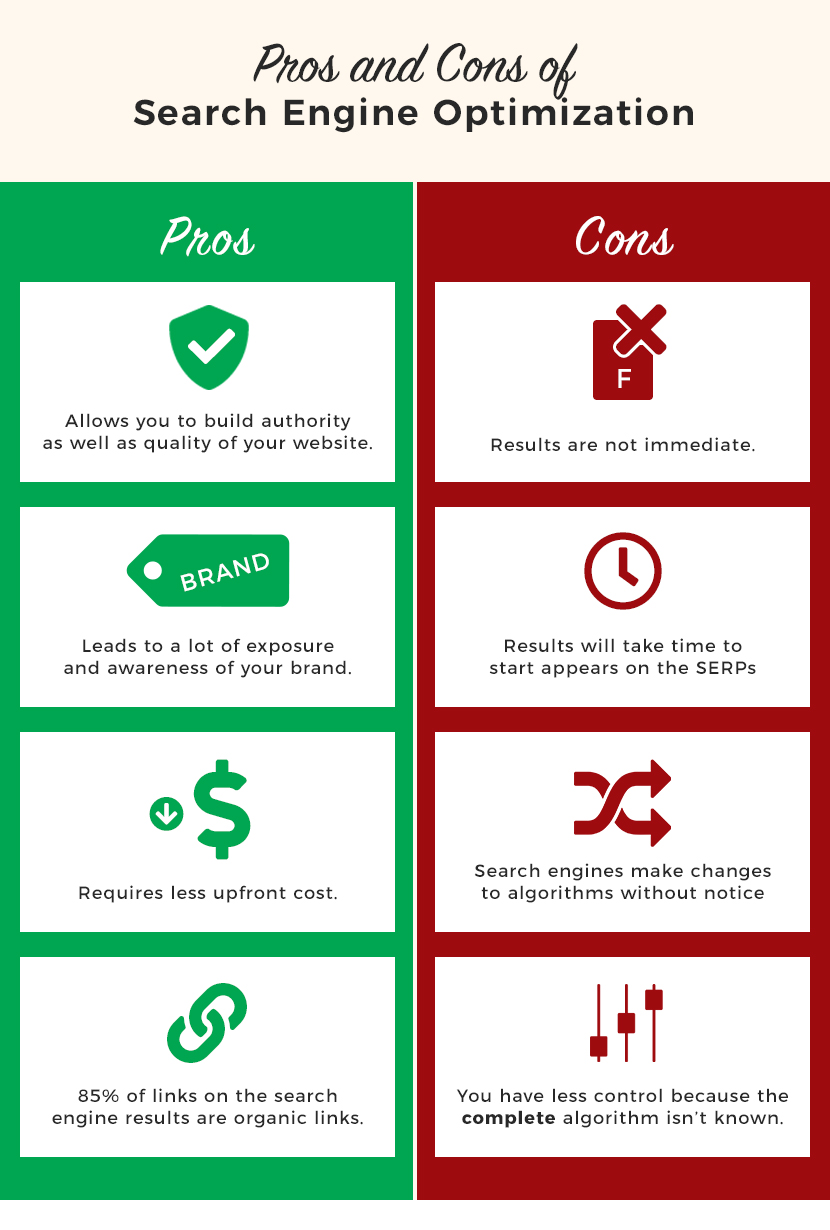 Varied pros, as well cons, of search engine optimization are listed below:
Pros:
Allows you to build authority, as well as quality, of your website.
Leads to a lot of exposure and awareness of your brand.
Requires less up-front cost.
85% of links on the search engine results are organic links.
Cons:
Results are not immediate.
Results can take time to start appearing on the search engine results page.
Search engines can make changes to their algorithms without any notice, which can effect your progress.
You have less control because the complete algorithm isn't fully known.
Different ways to improve the ranking of your website through SEO:
Content needs to be updated on a regular basis, which will increase the relevancy of the website.
Content on the website must be link-worthy (shareable).
Utilization of alt tags is a must.
The loading time of the website must be fast. Slow loading will negatively impact your SEO efforts.
What Is Pay Per Click?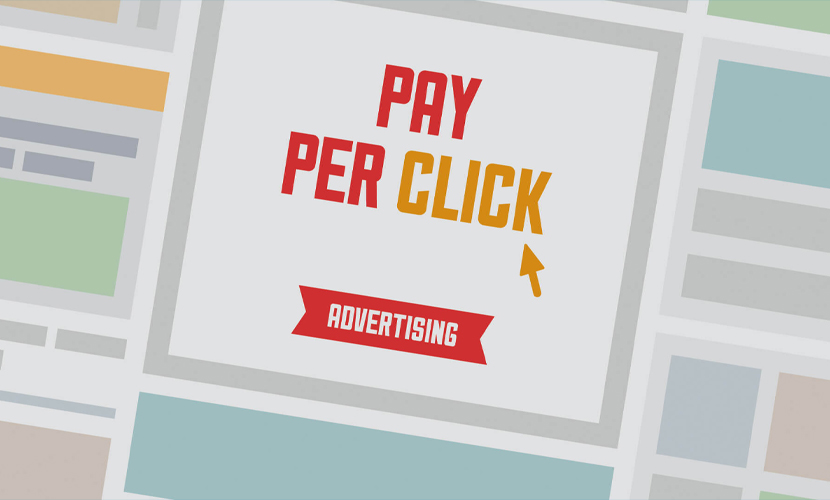 Now we'll talk about the concept of pay per click advertising (PPC).
Pay per click is when you as a business owner pay a fee whenever a user clicks on one of your online advertisements.
This kind of promotion allows the business to gain a large audience, and leads to making sales.
PPC often results in lots of visitors to your website, which leads to a high traffic rate—and more traffic to your website can also help with your SEO efforts.
Ads that display your services or products can also be displayed on the search engine results.
But in order to make a sale, you need to create an attractive website that provides value to your customers.
A bigger amount of consistent traffic allows your product to be more widely recognized online.
This feature is affiliated with popular search engine advertising platforms like Google Ads, as well as Microsoft Bing Ads.
Proper use of PPC can lead to a boost in sales and leads, especially when your digital marketing team has great knowledge of your business and target audience.
According to Wikipedia, "Cost-per-click ($) = Advertising cost ($) / Ads clicked (#)".
And if you're worried about users clicking on your advertisement multiple times and racking up your bill, most PPC platforms have preventative measures to ensure that doesn't happen.
How Much To Invest Into PPC Ads
The percentage of SMBs investing in PPC search advertising has grown to 65%! This is majorly due to them directing their ad spend to Google Ads, which is known to offer some of the most impressive returns on investment.
Last time we checked, the online advertising platform provided a return of $8 for every $1 spent. Still, there are many small businesses that have their apprehensions about how much Google Search Ads costs and if it will provide the returns they were promised.
Click here to learn more about how much to invest into Google Search Ads.
Pros And Cons of Pay Per Click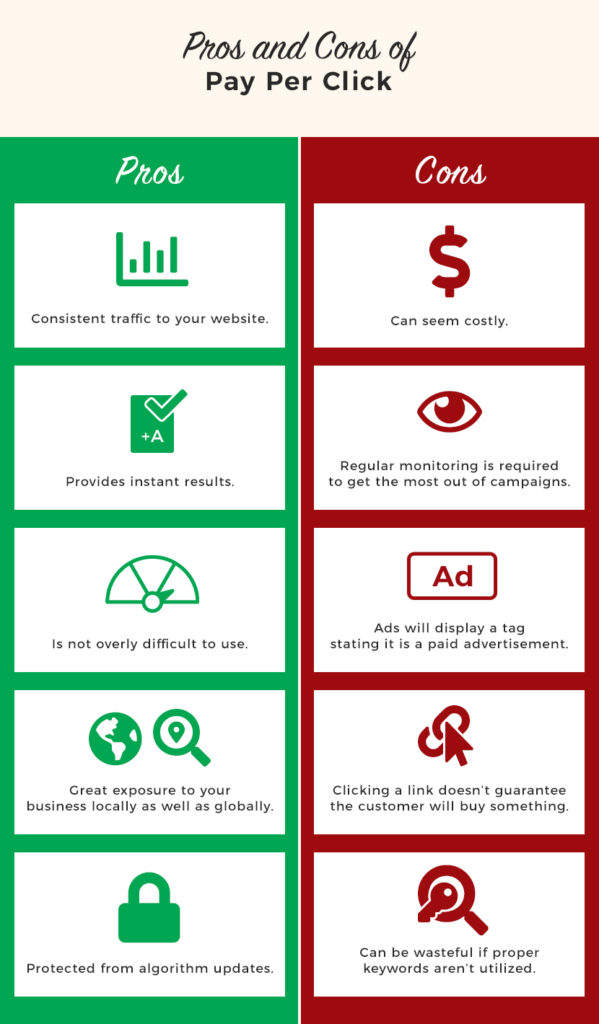 Pros:
Consistent traffic to your website.
Provides instant results.
Is not overly difficult to use.
Great exposure to your business.
Protection from search engine algorithm updates.
Cons:
Can seem expensive.
Regular monitoring is required to get the most out of campaigns.
Ads will display a tag stating that it's a paid advertisement.
No guarantee that a consumer will buy the product or service after clicking your link.
Can be wasteful if proper keywords aren't utilized.
PPC vs. SEO: Which One Should You Use?

Now that you've got a better understanding of the two distinct digital marketing strategies, which one is right for your business?
Analyzing the information provided in the previous sections, we will now compare both the concepts of online advertising.
This is your opportunity to judge whether SEO or PPC marketing is best for your business long-term in order to achieve brand awareness and digital presence that you want.
You can always choose pay per click to reach an audience by paying for the services provided by Google Ads, as well as other marketing channels.
Or…
You could gain knowledge in the field of SEO and create content for your website, which would allow your business to rank well in the search engines. Some factors that are needed to be taken into consideration before judging which feature to be used for your website include:
What is your digital marketing budget?
Before coming to the conclusion about which method to use, you'll need to analyze some points for an effective strategy.
You will definitely need to figure out your marketing budget.
If you have a fairly large marketing budget, we recommend that you use both SEO and PPC. Using both of these methods together will help your business get off to a great start.
How PPC And SEO Can Work Together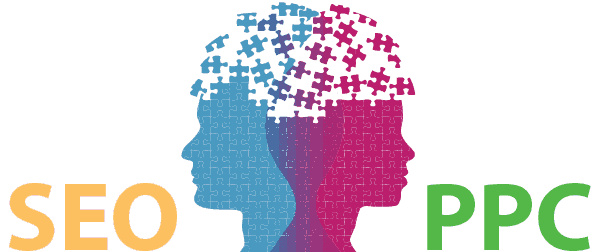 How PPC Helps With Your Organic Ranking
The qualified traffic that flows into your website from PPC will also help with your SEO efforts. Similarly, the SEO-optimized content that you've created on your website will keep those visitors on your site, navigating through various pages. This helps with what we call "session duration".
Search engines like Google like to see traffic on your website, and they study how that traffic reacts to the content on it. The boost of traffic that PPC will provide gives the search engines a better understanding of how to rank your website for specific keywords.
If the search engines see that users are sticking around and engaged with your website, it helps greatly with your SEO ranking.
If you have a smaller marketing budget, then we recommend you start educating yourself with the principles of SEO.
Utilizing SEO is a great choice for long-term business goals. You won't see the results right away, but once they begin appearing, these results stick around for a long time. It's best to think of SEO as a long-term investment for your business.
SEO is similar to slowly buying up real estate. Once you've gotten a hold of it, it's yours forever—as long as you continue to maintain it.
How SEO Helps Reduce Cost Per Click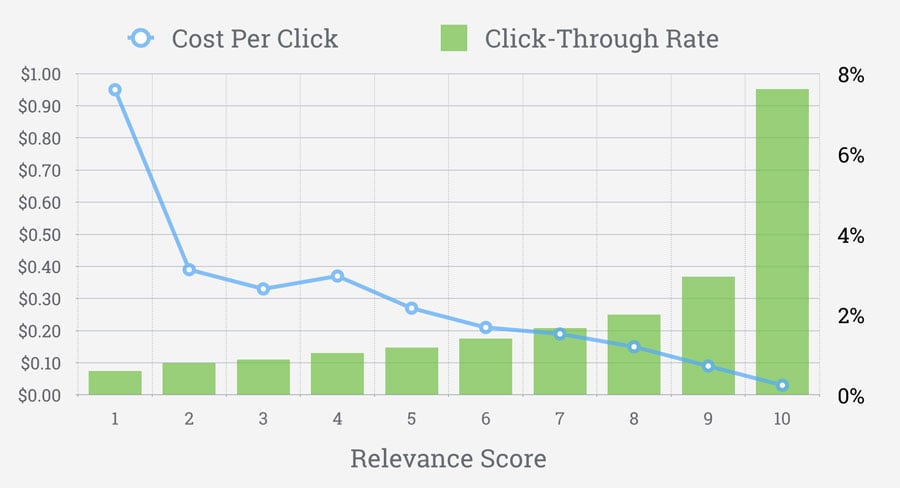 Just as PPC helps with your SEO strategy, SEO can help with your PPC campaign.
When keyword research, page structure, and mobile optimization is conducted and applied to your website, it can help with your PPC campaign.
Each specific web page is designed and optimized around keywords and topics that users search for.
When a user clicks a PPC ad after a certain keyword search, it's important that your web page is relevant to what you advertised it to be.
When a user sees that your page is relevant to what they searched for, they will more likely browse your website for a longer period of time, which will help increase the time spent on your site and lower your bounce rate. (A bounce rate is when a user clicks out of a web page quickly.)
When a user is on your website for a longer time, Google gets a signal telling them that your page is relevant to what the user searched for. As a result, your relevancy score and click-through rate will go up, making your cost per click lower.
Conclusion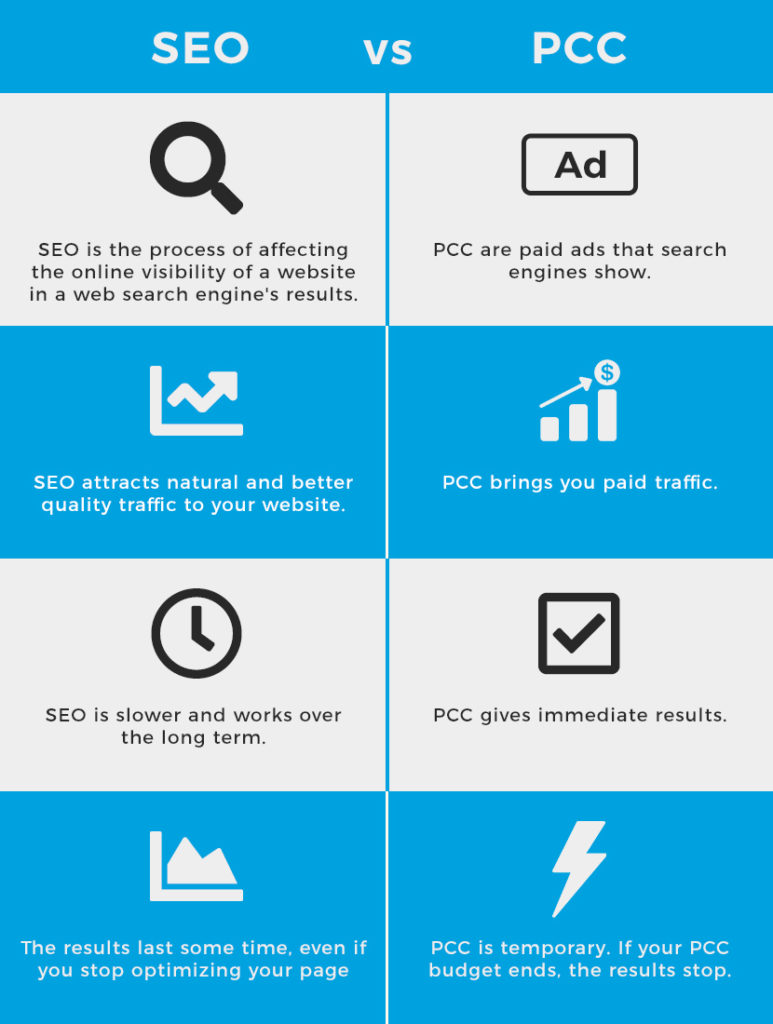 If you ask us the verdict on PPC vs. SEO, we absolutely suggest to use both together. The way they both work hand-in-hand will give your website and business a great start.
If you're simply looking to get a quick jumpstart and generate early traffic to your website, then PPC is the way to go.
If you're looking at a good long-term scenario for your business, then SEO is a great option for you to consider as a digital marketing strategy. SEO does take time, but it definitely takes you where you want your business website to be.
Both of these digital marketing strategies have a lot of ins and outs that need to be considered. While on the surface they may seem simple, it can be easy for an inexperienced person to spend a lot of their resources with very little ROI if these strategies aren't done correctly.
With properly implemented optimization, organic positions on the search engines will rise. Once they move up through page one, we've identified numerous ways in which PPC costs reduce naturally, and how they can be strategically managed.
If you're considering either SEO or PPC for your business, contact us and let us start helping your business grow! We are recognized as a top California Digital Marketing Agency on DesignRush, with proven strategies to help improve your digital presence.