There's a misconception running in the legal world.
Someone has gotten the lawyers and attorneys into believing that skills and reputation are all that it takes to succeed.
Well, keeping a steady stream of clients is important.
We get that.
But, is that it?
Is that all a legal firm needs to improve business, reputation, and profits?
Overlooking the online world and not being a part of the online conversation is a disaster for any business today.
Our experience in the marketing field says,
Law firms, lawyers and attorneys can improve their business opportunities and revenue with a solid digital marketing strategy.
Strong online marketing is the need of the hour.
Therefore, we have compiled a checklist of 11 critical attorney marketing tips and ideas to incorporate in 2020 and beyond. These will help your firm stay ahead of your competition and create a powerful online presence.
So, without further ado, let's dive in!
1. Invest in Local SEO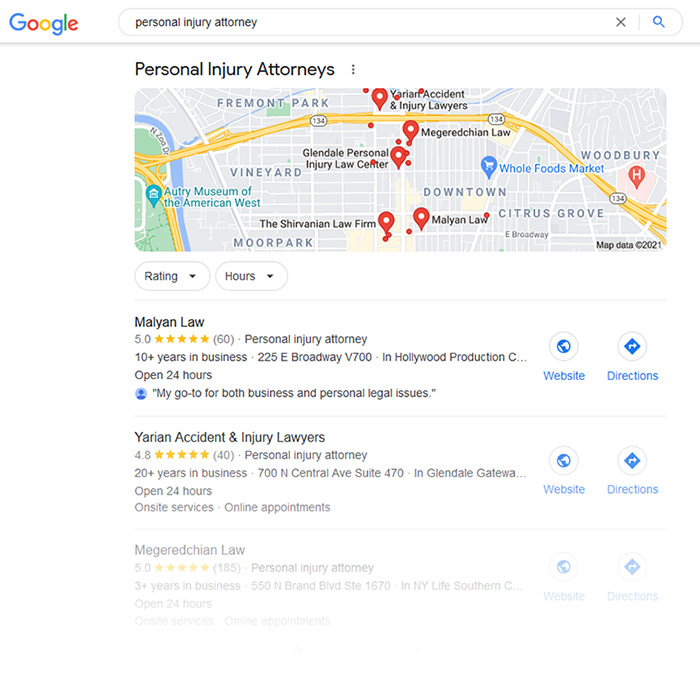 Whenever a person searches for a lawyer nearby, you want your business website to show up at the top of the search engine result pages (SERPs).
SEO helps you do that.
SEO or Search Engine Optimization is the practice of executing online tactics to optimize your website in order to make it rank higher on various search engines including Google.
When it comes to digital marketing, SEO has one of the most important roles to play – improve website's visibility on search engines.
SEO is very technical which adds to its complexity. Essentially Google tells you if you play by our rules well enough and provide the proper answers to a user's question, you'll continue to rise up our charts.
Just like you, Google has a reputation to maintain for its users. If every time a user entered a search and the results that came back were not what they were looking for, they'd eventually switch over to another search engine.
Therefore, just like you with your clients, Google is looking to provide its users with the best possible answer for whatever they search.
And when your website is designed properly and offers quality content, it will be more visible to users every time they search keywords related to your law firm and practice.
Therefore, we recommend law firms and attorneys to hire experts who will make sure the SEO game stays on point.
Some of the best SEO practices are as follows:
Getting more and more quality backlinks with the help of great content.
Putting Outbound Links to other high-quality sites.
Thorough keyword research and placing relevant keywords in website copy.
Use YOAST SEO plugins and other SEO plugins to improve the website's SEO quality.
Some of the best SEO Tools to use are:
Ahrefs
Google Search Console
SEMRush Site Audit Tools
KWFinder
MOZ: SEO Software
It's important to have a detailed analysis done of your website to help it get properly optimized.
Ready To See Your Law Firm Climb Higher In Search Engines?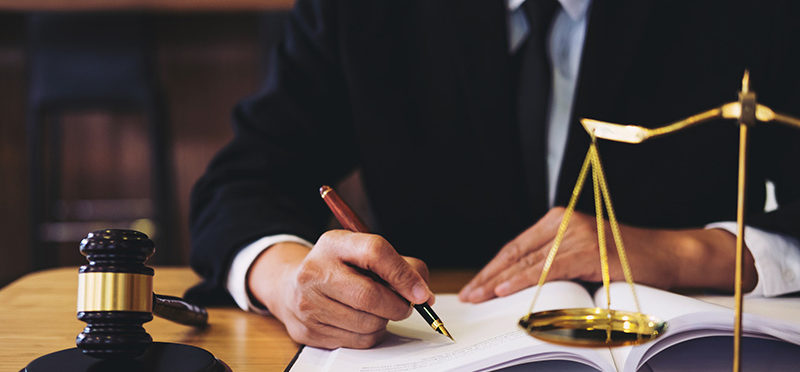 Follow SEO best practices that will help your firm rise in the search rankings.
SEO Guide For Attorneys
Also, make sure you use all the White-hat SEO tactics to gain prominent results.
2. Dedicate Specialized Pages for Each Service
There are many law firms that like to diversify the services they offer.
It's important for your law firm to make your customers aware of the multiple services and specialties you offer.
Users are going to search for a specific type of lawyer whether that be a personal estate lawyer, bankruptcy lawyer, criminal lawyer, and whatever else they need.
When a potential client is looking for a specific type of lawyer, it's important that your website properly highlights that by having its own page.
Not only does it signal to clients that it's a specialty for you, it also signals to search engines that you are providing a ton of content for searches related to that specific discipline.
When that happens, you want your website to be ranked near the top!
For example, if you have a firm that specializes in family law, you might have services like divorce services, prenuptial and postnuptial agreements, estate planning, or custody arrangements.
Although these services fall under one category of family law, it's always great to have different pages set up to cover all these services and specialties.
You want the customer searching for these services find you quickly.
Along with that, make sure you have each specialty mentioned clearly on a drop-down menu or in a clickable call-to-action menu.
It's also imperative that your meta titles and meta descriptions for these individual pages all accurately reflect the proper keywords that each specific page has been optimized for.
But it's not only just about filling in your meta title and description with keywords, there needs to be an element of enticing a potential client with an attractive title and description.
3. Emphasize Your Branding
Law firms try to differentiate themselves on the basis of client benefits and services.
But, doing this will not help them differentiate themselves from the competition.
As a business, you want your law firm to stand out from the rest.
Don't you?
You got to ask yourself –
What do people think of when they hear your law firm's name or see your logo?
Law firm branding and building trust online are imperative if you want to stay on top of your client's mind.
To do that, law firms and attorneys need to create and cultivate a strong brand image.
This leads to stronger brand recognition, reputation, and trust with current and prospective clients.
Branding elements like logo, website design, and social media content should be given due attention.
When a potential client is looking to hire you it's important that you portray trust, confidence, and competence to them. Having a strong website and web presence sticks in their mind and makes them think, "Ahhh these guys know what they're doing."
While you put a significant amount of time on visual aspects of your brand, make sure you practice simplicity and correspond to the persona you want to maintain for your law firm.
4. Create Valuable Content
When explaining the content and its value to run a successful online marketing campaign, we mostly say –
Content is the bridge between your brand and potential clients.
But that bridge is only as good as the value it provides.
When creating content, focus on providing value.
It not only brings you prospects but also helps you keep people coming back to you.
Content creation boosts your visibility since when you create more and more content, you get the opportunity to provide information to the clients who are in need of that information.
Not just that, creating long-form content gives you room to rank for your targeted keywords.
You want to be the answer to people's question on the internet, which brings us to the next point.
5. Dedicate FAQ page
Understanding the legal process is not everyone's cup of tea.
The plethora of different lawyers and their specialties can make anyone's head spin!
This, for your law firm, is an opportunity.
You can put efforts into providing answers to the commonly asked questions and compile them into an FAQ Page.
An FAQ Page gives you a great opportunity to add your targeted keywords which improves your visibility on search engines.
Ever heard of Featured Snippet?
Google has its own way of selecting answers to the most commonly asked questions and showing them up on top of SERPs.
If you've ever searched a question on Google and see your answer pop up in a box right at the top of the search results, that's a featured snippet. It's a good way to improve visibility for your site.
When you write answers to those common questions, you improve your chances to show up as the featured snippet.
6. Include Video To Build Trust
Want to emotionally connect with your audience?
Go visual.
When creating content, you also want your audience to engage with it.
Although still pictures can do that for you, videos can really sell the deal and take engagement to a whole new level!
Video is naturally engaging.
It helps you convey your message to the audience in an interactive way, helping you build rapport with potential clients.
Unfortunately, over time there has been a perception about lawyers and attorneys for a number of poor reasons.
Video, therefore, is a good medium to achieve your online marketing goals AND to combat that perception. Putting a face in front of your audience helps to break barriers and perceptions.
Remember we talk about the gap between the audience and your brand.
Video helps you bridge that gap.
Make sure you go professional when creating videos as you want to gain audience trust quickly.
7. Rack Up Your Online Reviews
One of the most effective online strategies is getting more and more client testimonials.
Want potential clients to trust your law firm?
Reach out to your past clients and ask them to review your services.
The platforms you can make them review your services on can be Google, LinkedIn or through the website contact form.
Then publish these reviews.
But to publish them, you need to build a client testimonial page on your website.
When a user is searching for a service online, they wants to have as much information possible about the service, brands, and people involved.
If they find that many people have rated you five star, they're more inclined to reach out for your service. This is all a part of building your brand.
People will trust other people's opinion on your services.
Therefore, client testimonials are very important.
If you can make review videos of your clients, that'd be great too!
8. Invest In Paid Search Advertising
Organic marketing is something we would highly recommend you to implement.
It should never be ignored at any cost.
But, in today's world where your competitors are investing heavily in marketing, you should make some space in your budget for paid advertising as well.
To be honest, organic marketing is for the long term.
It will not help you skyrocket your search engine rankings overnight. Doing SEO will lay the foundation for your firm for years to come, but it takes a lot of time and effort before it starts to kick in. But when it does? It's there forever.
Therefore, PPC or Pay-Per-Click advertising is one of the best online marketing media a law firm can use.
With the help of PPC platforms like Google Ads, experienced google ad managers can create, manage and optimize ads for attorneys and law firms which will show up on Search Engines.
When a user searches for the services you offer at your firm, your ad will show up on top.
When the user clicks on your ad, you are charged a small fee by the search engine.
We all know that when a person is searching for lawyers online, the probability of him hiring a lawyer is very high.
The simple act of searching for a specific service, such as your type of law practice, means they're more inclined to work with you because the potential client is actively looking for the service.
Therefore, PPC Advertising is a great investment for your law firm as a way to generate qualified leads.
Invest In Paid Search Ads Today And Receive $1,000 In The First Month Of Advertising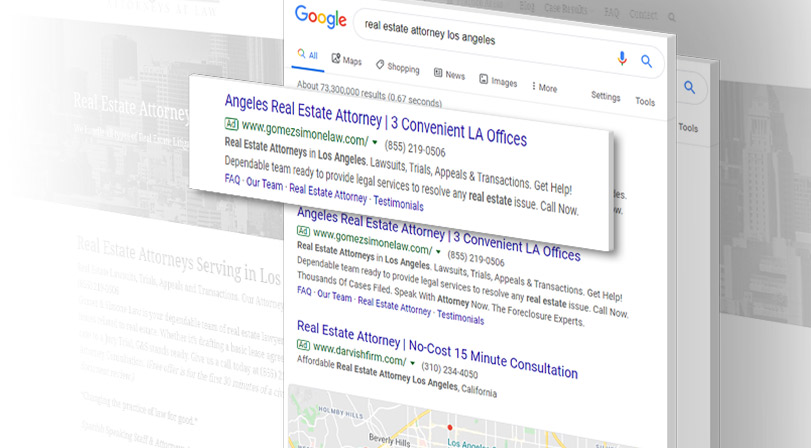 Make the most out of your paid search advertising by having our team of professionals maximize your ROI.
Request Free Consultation
9. Create Great Calls-To-Action On Your Website
Calls-To-Action are very important.
They are utilized to provide user directions on your website.
You want the visitors to know where exactly they can find the information they are looking for.
To do that effectively, CTAs play a major role.
This can dramatically reduce the bounce rate of your website and increase the conversion rate for your business (all important for SEO).
You should determine the most important action users can take on your website.
Do you want them to call your business?
Do you want them to fill out a contact form?
First figure out how you want the visitors to contact you, then make sure it is easy for them to do that. You want to gently nudge the potential client to specific aspects of your website and ultimately have them contact you.
10. Submit Your Website To Authority Websites And Local Directories
To make online marketing a grand success, law firms should put efforts on creating quality backlinks and gain referral traffic by submitting their business websites to legal-specific online local directories.
Here is a list of Law-specific directories you may start with:
Relatively speaking, this is the low-hanging fruit for your marketing. Getting your website link on these directories is an easy way to spread your link across the internet and give potential clients easier access to you.
11. Have A Mobile Friendly Website
Mobile is the way to go.
There's a great chance your future clients aren't searching for lawyers from their desktop computers.
Today, a majority of the people have smartphones and tablets to search and get information on the go.
You don't want them to get frustrated when they land on your website using a smart device.
So, make sure the design of your business website is compatible with mobile devices. If your potential clients come on your website and don't find it responsive, they will hit the back button like the website's on fire (this negatively impacts your SEO efforts).
To put our advice into perspective-
People are searching for the term 'personal injury lawyer' 550,000 times each month from smartphones and tablets!
Final Thoughts
There you have it.
Reading about building a great digital marketing strategy for your law firm is one thing and executing the strategies is another thing.
We highly recommend you to try and test different strategies to find the right match.
We hope these attorney marketing tips and ideas help you build a solid digital marketing strategy for your business.
If you've found this to be informative and are interested in expanding your firm, contact us.