Digital marketing strategies have been the backbone of success for innumerable businesses all across the Internet.
Did you know that out of every 10 companies, nine of them are effectively promoting their business online with digital marketing methods?
Along with these strategies, company owners need to take into consideration various digital marketing metrics that affect the strategy—and ultimately, the business.
Understanding and analyzing these metrics will lead to the company figuring out the budget they need, as well as the how well their strategy is performing and if they're getting a good ROI.
We know company owners have a lot on their plate. They run the business, attend meetings, make financial decisions, monitor the performance of the company, and do much, much more.
Monitoring the effects of a digital marketing strategy is absolutely crucial to the business. As an owner, one must be able to understand different metrics related to the company's digital marketing strategies, and then make decisions as to how they should move forward.
Understanding these metrics allows a company owner to overcome unpredictability in the business and gives them the ability to pivot in another direction if necessary.
If you don't understand the marketing aspect of running a business, then it will be virtually impossible to make your business model function efficiently.
Let's dive into some of the most important digital marketing metrics a business owner should know.
1. Number Of Website Visits
Perhaps the most important overarching number that trickles down into everything else is the number of visits your website receives.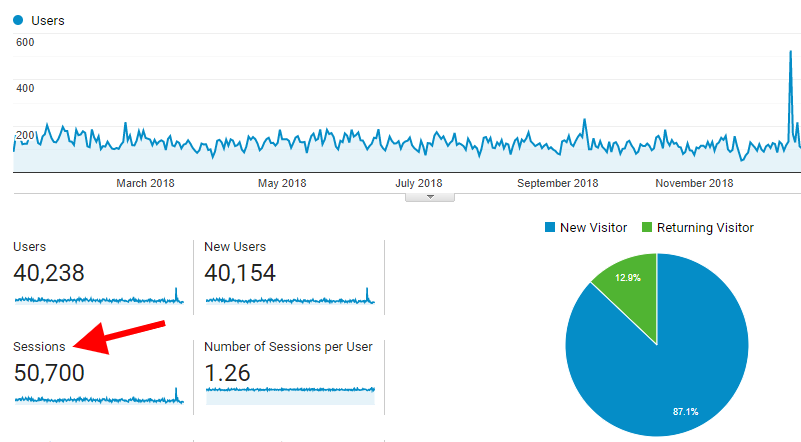 Getting a baseline idea of how your website has performed over a period of time can help you better understand how the site is performing overall.
It doesn't matter how incredible your product or service is if you don't have any traffic.
But you don't want just any traffic. You want relevant and qualified traffic getting to your website.
Looking deeper into this, understanding where your website visitors are coming from will give you a better idea of where to focus your efforts.
If you see that visitors are mainly coming from your social media marketing campaigns, you can double down on that strategy to keep increasing the visitors.
Maybe you want more visitors to be finding you through search engines like Google, and you decide to increase the focus on your search engine optimization efforts.
No matter how visitors land on your site, getting them there is the first step to helping sell your product or service.
2. Number Of New Unique Visitors
Having return visitors is great. After all, keeping existing customers is a lot easier than gaining new ones.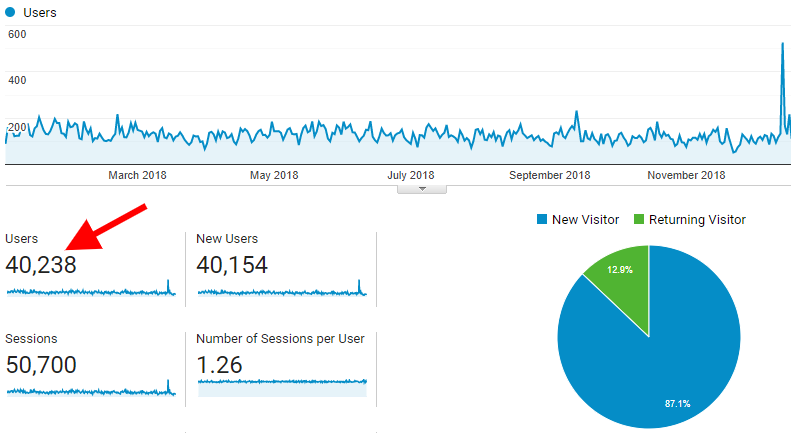 However, it's important to keep track of how many new visitors your website is gaining per month.
Keeping a monthly track of this metric provides a better performance analysis of your website's content.
3. Traffic Sources
With a successful digital marketing strategy, you can flood your website with relevant traffic in no time.
Once the traffic starts to flow in, it's important to take into consideration the source generating the highest number of traffic on to the website.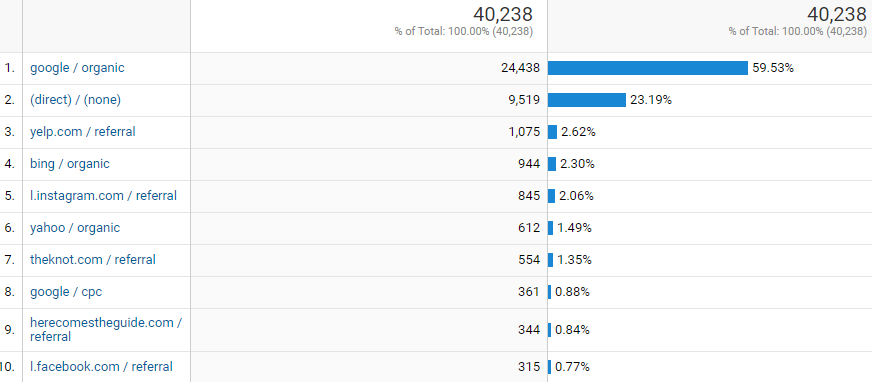 Various social media platforms such as Facebook, Instagram, and Twitter are utilized in order to gain traffic to the website.
Similarly, search engines such as Google and Bing will be another source of traffic for your site.
Now, the business owner needs to analyze the medium generating the most visits on the website. Suppose Facebook brings about 100 visits in a day when compared to Instagram which just attracts about 10 people in a day.
This is where the owner and marketing team can make a decision as to what channel they'd like to focus most on.
Similarly, there should now be a strategy discussed on how to get more traffic from the lesser performing channels.
4. Conversions
For most business owners conversion is the most important metric that they look at. It's the number of goals that their website has reached. Goals can be anything from a phone call, a service inquiry, or a sale.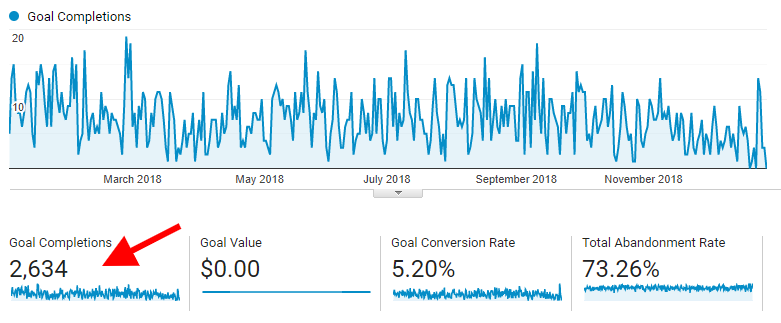 Conversions, in the eyes of a marketer, are considered to be a quantifiable victory.
There is a plethora of factors that go into how well a website earns a conversion. Small tweaks here and there can make a major difference. This is known as conversion optimization.
This is why a business owner must always take into consideration the conversion rate of the website. How well your website is converting will help a business owner decide if any changes or tweaks are needed to the overall website design and content.
5. Time Spent On Website
This conversion metric explores the activity of the customers on the website. Understanding how long the average visitor spends on your website will help you determine if you are providing enough information or if you are providing the relevant information to them.

Time on website metric allows a business owner to determine how engaging the content of the website is and if there needs to be any strategic changes.
It's important to keep your visitors as long as possible on your website. The longer they stay on the more likely they are to convert (give you a call, inquire about a service, or purchase a product).
If you notice that your visitors are leaving quickly you may want to check if you are providing enough relevant content to keep them sticking around.
6. Bounce Rate
People sometimes click on advertisements but immediately click the back button. This activity gets registered in the performance metric called Bounce Rate.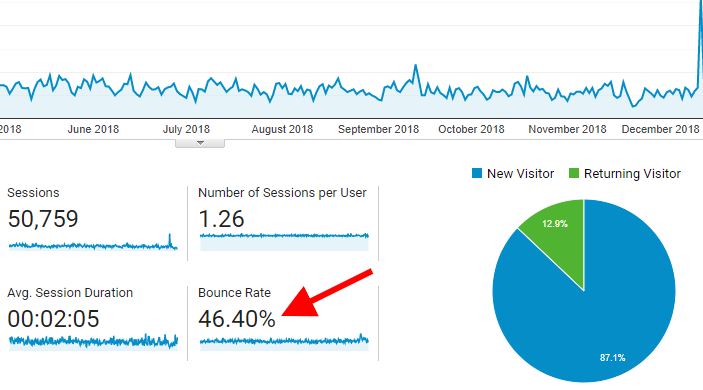 Here's another simple example to put it in perspective. Have you ever searched something on Google, then clicked a website, quickly browsed the content then clicked the back button?
If you did, chances are that website wasn't providing the quality content that you were looking for.
But that's not the only reason that your bounce rate might be high. If your website takes longer than three seconds to load, many users are going to quickly hit that back button which will increase your bounce rate.
It's important for your digital marketing team to have a good understanding of what is causing the issue so that they can quickly make corrections.
After all, the quicker a user bounces out of your website the less time you have to try and convert them to a customer.
7. Mobile Traffic
Mobile website traffic was surging for a long time, but finally in 2016 it surpassed desktop traffic.
That trend hasn't stopped and has only increased since that time. We bring this up because if you haven't considered how much mobile traffic your website receives then you're completely missing out on an opportunity to increase conversions.
It's important that you as a business owner are able to identify what percentage of your website visitors each month are on mobile devices compared to desktop devices.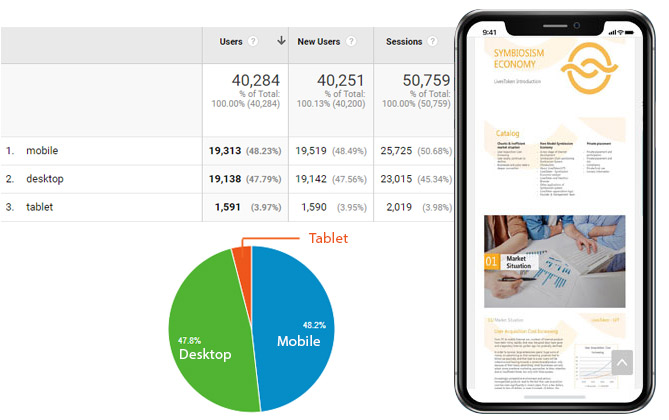 You might be thinking 'What's the big deal? My website looks fine.' Well that might be true for some, but the reality is an overwhelming majority of websites aren't properly optimized for mobile users. It used to be that mobile traffic was an afterthought when designing a website. Nowadays we're always taking mobile users into consideration before we design any website for a client.
When designing for mobile it's necessary to understand what's important. One of the most important elements is your loading time for your website. Mobile users are impatient and if your site loads slowly they're likely to back out of it leading to a potentially lost lead.
Second, it's important that the design has a proper flow for the user. That means identifying what important information needs to be on the mobile-friendly site so that it provides the user a pleasant experience. Finally, it's important that you have your website's calls-to-action placed properly so that the user is not endlessly scrolling before they see it. The right placement of your call-to-action can increase your conversions. Even if it increases 1-2% that can mean a huge rise in your leads.
8. Cost Per Visitor & Revenue Per Visitor

Cost Per Visitor is defined as the amount it costs to get a visitor onto your website through your paid advertisement strategies. When a user clicks your advertisement and lands onto your page you are charged a specific amount. Each advertising platform calculates this differently and there are ways to decrease your costs.
Revenue per visitor is the total revenue that your website is able to earn on a per visitor basis.
If revenue per visitor is more than the cost per visitor then your marketing efforts are headed in the right direction.
9. Cost Per Conversion
Depending on your definition of conversion, this metric can also be called cost per lead or cost per referral. The overall metric is essential to understand by the owner of the business.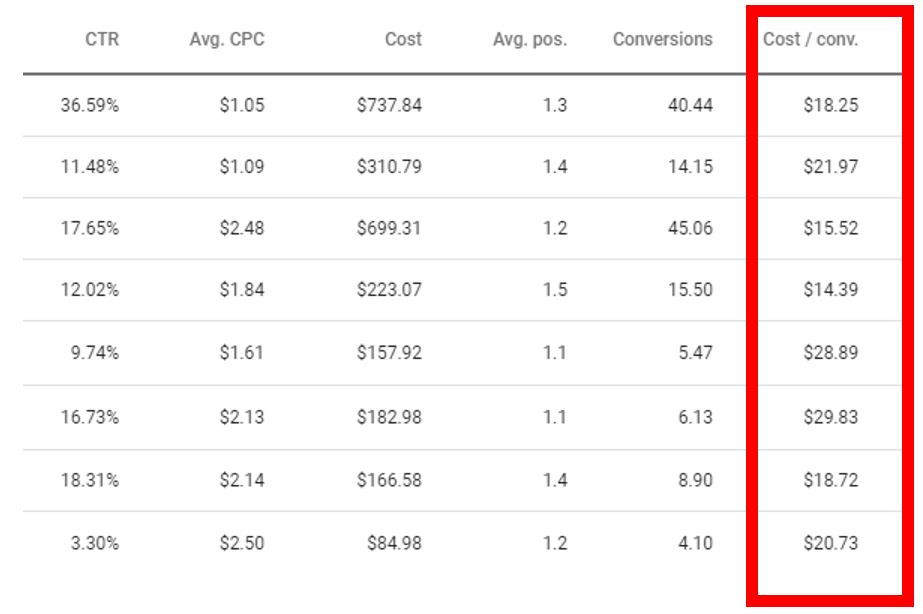 This is how much it costs the business owner every time a website visitor converts one of the goals. It's important to understand that every business and every industry will have different benchmarks on what is considered a good cost per conversion. Some industries simply have a higher cost per conversion due to the nature of the business.
If you have an attractive product or service combined with a good digital marketing plan, chances are you will keep your cost per conversion on the lower side.
10. Return On Investment
This is the metric every business owner has been waiting to see! They want to know how much in return will I get for my investment?
Different business owners and businesses will have a different idea of what is a good ROI for them.
Business owners want to know, "If I give you $1,000" a month, what kind of return am I going to get? Well if the average sale of their product or service is $30, their marketing team is going to have to sell a lot more to create a positive ROI than if each sale is worth $10,000.
Wrapping It Up
When it comes to understanding what metrics a business owner should know, these are probably at the top of the list.
We know it can be a lot of information to digest but we promise you it's worth understanding for the sake of your business.
A good digital marketing team will help the business owner understand these metrics and why they are important to focus on.
By better understanding these metrics they'll be better aware of the work that is needed to help the business reach its goals.
It will also help them to better understand where they should be focusing their marketing budget.
Hopefully, by the end of this, you've gained a little more knowledge as to what metrics you should focus on as a business owner.
If you've found this blog helpful you can subscribe to our newsletter where you'll receive more informative blog articles just like this!
If you are looking to expand your business and to start generating more leads then contact us.