Despite fierce competition from TikTok and Instagram, Facebook is still a highly lucrative website and advertising platform for content creators and businesses. However, just because Facebook has almost three billion active monthly users doesn't mean your ad campaign will necessarily succeed. First, you need to discover all the aspects of running an effective campaign, like how long to run Facebook ads, which ad types to use, and how to develop an effective strategy.
Although we're going to give you some excellent advice in this post, you can get even better results by investing in paid advertising on Facebook through Alecan Marketing Solutions. Our team of talented digital marketers and advertising experts will take care of all the hard work for you, so all you have to do is sit back and watch your new Facebook ad campaign begin to convert.
Why Should You Invest in Facebook Advertising?
The internet is jam-packed with platforms where you can run successful ad campaigns for your business. So, with that in mind, why should you set up a Facebook ad account and launch a campaign?
Facebook is a worldwide platform that offers some unique opportunities that you can use to capitalize on your advertising strategy.
Diverse Audience: Facebook, now officially called Meta, is one of the biggest social networking platforms in the world. According to data from Statista, the third quarter of 2022 saw approximately 2.96 billion active monthly users on Facebook. That's a vast audience pool you can potentially reach with the right campaign strategy.
Ability to Create Custom Audiences: Facebook Ads Manager allows you to build ads for a custom audience using demographic parameters like age, behaviors, interests, etc. It's a valuable feature, as it lowers the likelihood of reaching the wrong audience.
Built-In Ad Analytics: The moment you begin running Facebook ads, you can track their performance in real-time using built-in analytics. For example, you can create a custom report on key data and performance metrics. Analyzing that information (such as click-through rate, video views, etc.) allows you to gain critical insights regarding your Facebook campaign, letting you learn what works – and what doesn't.
Facebook Ads Manager: The Basics
After you create a Facebook page, you may want to install Facebook Pixel as well. The next step is to access Facebook Ads Manager. This centralized dashboard gives you an overview of all Facebook ads you have currently running. The Facebook Ads Manager dashboard consists of four primary sections:
All Ads: If you have multiple ads running on Facebook simultaneously, the "All Ads" section is where you can select each individual campaign for more information and key metrics, like your ad budget, lead generation, etc. You can also pause or delete campaigns.
Summary: The "Summary" section lets you get the big picture regarding your Facebook ads. You can view key metrics, including your ad spend, performance, post engagement, reach, etc. The data in this section are critical to help you determine the necessary changes you should make to your creative ad and how to refine your strategy to drive sales and conversions.
Audiences: If you create a target audience for your ad set, the "Audience" section is where you'll find information about your reach. For example, you can see which of your ads is actually engaging the right audience. If you're not getting the ad results you want, you can make changes based on demographics and other parameters.
Automated Ads: If you elect to use the Automated Ads feature, you will also see this section in your dashboard. It's a great place for beginners to start learning the ropes but doesn't offer the same targeting precision as manual campaigns.
Choosing the Right Objective for Your Facebook Ad Campaign
Picking the right objective for Facebook ads is crucial to creating and managing a successful campaign. Of course, it's not as simple as it sounds. You should develop and optimize a different objective for each stage of the marketing funnel, which includes:
Awareness: Finding and reaching new customers
Consideration: Carefully building and maintaining customer relationships
Conversion: Driving conversions and sales to increase profit
Awareness Objectives
Increasing reach
Boosting brand awareness
Consideration Objectives
Lead generations
Engagement levels
Website visitors
Video ad views
App installs
Messenger communications
Conversion Objectives
Online sales
Conversions
Store traffic (for businesses with a physical location)
How Long Should Facebook Ads Run For?

So, now that you have the basics regarding Facebook ad campaigns, let's dive right in: How do you know how long to run a Facebook ad for the best possible results?
Well, at the risk of sounding vague, there's no magic, one-size-fits-all answer to that question. Every ad strategy is different, and techniques that worked on previous ads may not work again on future campaigns.
Discovering that fine line between running an ad for too long or not long enough is challenging. If you oversaturate your intended audience, you risk ad fatigue. Conversely, creating Facebook ads that only run for a week or two can also result in poor performance.
So, how do you find the sweet spot when deciding how long to run ads on one of the world's biggest social media platforms? Let's find out.
The Testing Phase
Before the official start date for your ad, it's essential to invest some time in the Testing Phase. Most businesses test ad sets for about three or four days to determine if the new campaign is worth spending more time and money to launch officially.
While you're in the testing phase, avoid making changes to your ad copy or settings. If you do, it will reset the Facebook ad algorithm and skew the data. We'll explain more on that below.
Your daily budget is another consideration that will help you determine whether your testing phase should run a few days, a week, or longer. Businesses with larger budgets typically have more money to invest in the testing phase.
The Learning Phase
If you intend to use your ad account to launch a Lead Generation or Conversion Ad campaign, Facebook will run your ads through the Learning Phase. The primary purpose of this phase is so Facebook can determine which audience within your target range is actually completing the desired action and objective—such as submitting info, clicking links, watching videos, etc.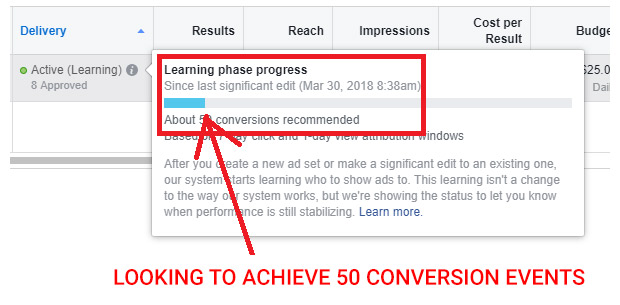 Generally speaking, the learning phase consists of 50 events in a week. Remember, if you make any changes, the learning phase will reset, and you'll have to start all over. The following changes can cause a phase reset:
Pausing an ad set for a week or longer
Adjusting your ad targeting settings
Modifying the optimization event
Changing the ad creative
Incorporating a new ad into your original ad set
However, there are some changes you can make that won't reset the learning phase, including:
Bid cap adjustments
Changing the target amount
Adjusting the budget
Critical Considerations When Creating, Launching, and Optimizing Facebook Ads
Choosing an ad format and developing a campaign objective is only the beginning of creating successful and high-converting Facebook ads. If you can't decide how long you should be running ads on Facebook, consider these additional factors: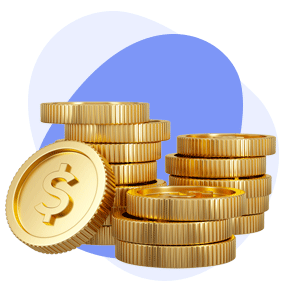 Budget
Every digital marketer must consider budget constraints, whether they're new to the Facebook Ad world or already have a successful website with lots of traffic. Of course, in the world of paid ads, large budgets increase the number of people who will see your ad.
However, there's a catch: oversaturation can result in ad fatigue. As the campaign frequency rises, it causes your ad set to run through the audience much faster. You can track conversions and monitor key performance data to proactively prevent fatigue. When the results begin to drop off, it's time to consider a new Facebook ad strategy.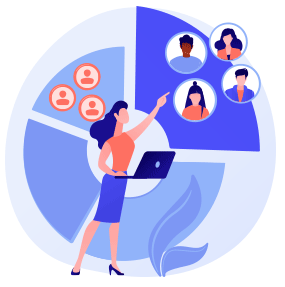 Audience Size
Audience size is also critical. If you aren't targeting a large pool of people, you can't keep your ads running for too long at the risk of oversaturation and fatigue. For example, national businesses can keep ads running longer as they target a wider market. Conversely, local businesses with smaller customer bases should refresh the type, format, copy, and visuals of their campaigns more frequently.
The Main Takeaway: How Long Should You Run a Facebook Ad?
Ultimately, there's no right or wrong answer. However, before you run a specific ad set for the long term, spend three or four days testing out its performance to gain accurate data you can use to make a wise decision. In addition, small or localized businesses may have better luck running short-term ads to avoid fatigue or overexposure. Nationwide or global organizations have a bit more leeway when running a long-term Facebook ad. Again, use data and performance metrics to help you make a decision.
Contact Our Facebook Ad Experts at Alecan Marketing Solutions
Developing and maintaining a successful campaign on Facebook takes time, effort, and skill. If you need more help determining the best types of Facebook ads for your business or want to know more about how long to run Facebook ads, we're here to help. Call us at Alecan Marketing Solutions today at (800) 208-5458 to book a consultation with our team of experienced digital marketers and advertisers.