Whether you're a plumber, roofing contractor, kitchen renovator, or involved in any other niche in the home improvement industry, marketing your services is a key element to continuously earning new clients and jobs.
One effective way to do that is by creating video content, specifically video testimonials from clients you've done work for.
With the amount of competition always increasing, marketing your home improvement business is essential and reviews help back up your value.
Don't get us wrong, any type of positive review is good for business and they can help with your home improvement SEO, but written reviews alone aren't always going to get the job done.
This is where video testimonials come in. They provide a more visual aspect to connecting with your audience and potential customers.
Well produced video testimonials not only get your positive reviews across, but it also increases your brand awareness as a whole and are an effective way to show off your work.
And these videos don't have to be time-consuming and they definitely don't have to break the bank.
By the end of this blog, you'll be able to learn more about how to create video testimonials that are effective in increasing business.
1. Ask For Permission
The first step is actually gaining the customer's permission to film them for a testimonial.
The best time to ask for a video testimonial from your clients is before the project starts.
For example, you could say:
"We will do our absolute best to complete the project just the way you want it. If you're fully satisfied with how the project is completed, would you mind participating in a brief video testimonial talking about your experience using our services?"
The reason to ask the client at this point is it allows them to be prepared for filming a testimonial should they agree to it. It doesn't put them in an awkward position and allows them time to prepare.
Asking during the project can confuse the client since the finished product is not completed yet.
On the other hand, asking clients that you completed a project from a year ago might also not be a good idea. The reason is they might not want to deal with your company anymore and ignore you completely. Your chances of getting a video testimonial from job done a long time ago is very low.
It's important to ask for permission from a client that was heavily satisfied with their service. This means connecting with the client in a very professional manner with little complaints.
These can be clients that wouldn't mind being in front of a camera and going into detail about the experiences with your service. Right after the job is complete, remind them if they are still available to be part of the testimonial. This way the project and experiences are still fresh in their mind, giving your video more details.
It is ultimately their decision to participate, so make sure not to be pushy if they decide to back out.
2. What Questions To Ask
Content is so important when making a video testimonial. You want your client to sound genuine all throughout the process. It's also important not to lead the client and make it sound scripted.
Make sure your questions are ordered in a proper manner and flow smoothly. This means asking questions in chronological order. Here are our tips to how to ask questions.
Beginning Of The Video
This is a time to ask the basic questions when the client first started out with their home project journey.
Some questions you can ask are:
"How did you find our company?"
"What problem were you trying to solve?"
"Why was the project important to you?"
"Why did you hire us to complete the job?"
"When did you need the project completed by?"
Middle Of The Video
The middle of the video is the feedback of your service while the project is being completed.
Some questions you can ask are:
"How was the noise level during the project?"
"Did anything surprise you about our service while the project was being completed?"
"What can you say about our professionalism during this time?"
"Were you satisfied with our communication with you?"
The experiences during a project can determine if your client is satisfied with your service. As a home improvement business, you have to realize that clients value their peace and quiet. Communication with clients is key so you are able to educate them about what you are doing or warn them about certain noise levels. They will appreciate the communication and be more satisfied when the project is complete.
End Of Video
The questions at the end of the video wraps the satisfaction of your client with the finished product. This means asking questions that rate your overall service from the time of completion, value gained, and communication.
Some questions can be:
"What was your reaction with the finished product?"
"Is there anything we can improve on?"
"Would you recommend us to others?"
"What was the best part about working with us?"
"What's one word you would say about your overall experience with us?
These insights help you create a powerful and orderly video testimonial that is easy to follow. As you create and ask your questions, make sure it feels like a conversation rather than an interrogation. Remember that the client is the one giving their time to help you with your business. Once everything is done, thank them for their time and show your appreciation.
3. Tools and Equipment Needed
Capturing the perfect video testimonial doesn't mean you have to spend thousands of dollars. Some smartphones produce 4k video with stunning sound to back it up.
Remember that your customers are the audience, so make sure you have the equipment best suited to complete the project.
If you don't have camera equipment, think about hiring a local video production team to do the job for you. These are experts in the field and can help you find exactly the vision you want for the testimonials. Overall, don't stress too much about the equipment, since there are so many ways to create a video.
4. The Staging & Location
Make sure to always pay attention to your background and where you want the video to take place. Whenever at all possible make sure you're able to film the video testimonial in their home. Ensure that the work you did for the customer is shown in the video.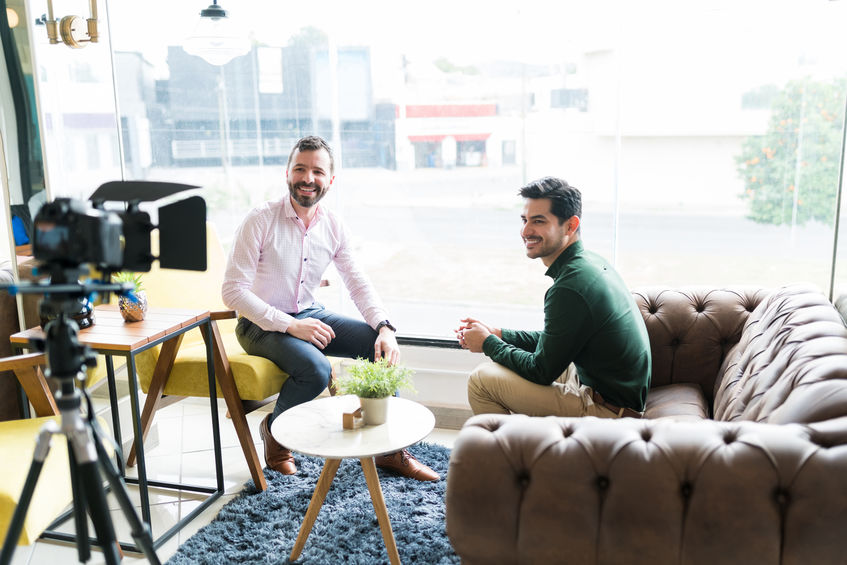 Filming the video testimonial in their home will help keep them more relaxed and provide for a better vibe for the video.
Having a light source is always great to shoot for video. Natural light such as a window fits perfectly for that comfortable theme you want to depict in the video.
Your best option is to film in a room with great natural light whenever possible. This creates a significantly better feel for the video.
Make sure to film during the day since nighttime your picture quality is lowered.
5. Types Of Shots To Include In The Video Testimonial
Focusing on just one shot can make the video boring. Include some B-roll and pictures throughout your video! These shots should contain before and after photos and videos as well as shots of your team working on the project.
Make sure your video is visually appealing to ensure that viewers keep watching the video.
It's vital that your video makes sense regarding the project being discussed. If you are talking about a home improvement project for a bathroom, don't show garage work being done. When your client says your team was really professional, show some b-roll of your team working.
6. Editing Your Video
With any video, editing puts on the final touches and puts everything together. Remember to edit your video in a way that is consistent with your brand and themes.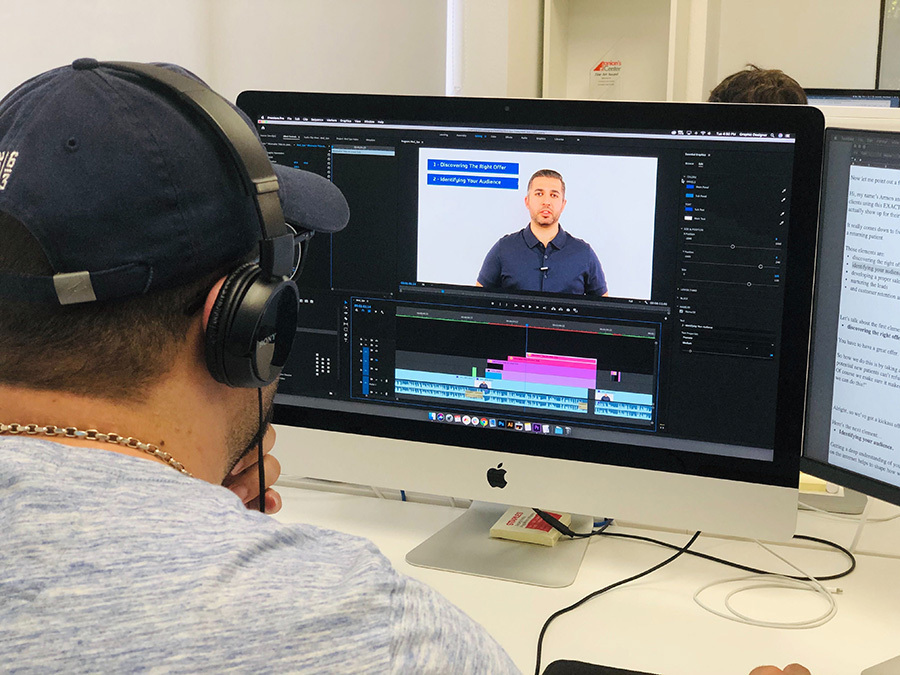 There's no need to spend hundreds of dollars on video editing software. There's plenty of free video editing options available for you.
If you don't have time on your hands, consider outsourcing it to an editor because this final part of the process brings everything together.
7. Publishing & Posting Your Video Testimonial
Congratulations! You're all done with the video testimonial and now its time to publish.
Make sure that you publish your video in multiple locations including on your website and on all your social media accounts.
A great title and description will make people want to click the video testimonial so it catches their attention.
Make sure your video is easy to find on your website and not deeply hidden on pages.
When the video is up and running on your website, focus your attention on notifying your followers on social media. This means coming up with great captions to make people take notice of your video. Whether it's Instagram, Facebook, or Twitter, know what time your users are on for each individual platform. Posting it at peak time will make sure more eyes see the video that you worked so hard to publish.
Bonus Tip: Use Your Videos In Paid Ads
Here's a bonus tip for you. It's not exactly about creating a video so much as it's about a beneficial way to use your video.
Your ideal clients want to see how beautiful your work is and how professional your team is.
Consider setting aside a small budget to promote your video on paid Facebook and Instagram ads.
Facebook and Instagram ads are a POWERFUL way to show off your home improvement business and the work that you've done. A testimonial video is a perfect way to share your work to thousands of potential clients.
Facebook advertisements allow you to be highly specific with which type of audience sees your video. You're able to choose a demographic and choose from thousands of behaviors and interests that you know your ideal audience has.
Examples Of Home Improvement Company Video Testimonials
Pictures and written reviews are great, but video testimonials are able to show off your work in ways that those first two options simply can't.
As a home improvement business, showing off the beautiful jobs you've completed is a huge part of how to market your business to get new clients.
By using these simple tips you'll be able to create beautiful and engaging video testimonials for your home improvement business.
If your home improvement business is in need of digital marketing help, our team at Alecan Marketing has over 15 years of experience helping companies like yours out. Just contact us as our team is eager and ready to help out!