As a medical practice you more than likely rely on your local community to be the overwhelming majority of your patient base. But what's the best way to make your services known to your local community through medical practice marketing? While there are many digital marketing strategies that you can use, local SEO for medical practices will ultimately be your best long-term patient acquisition strategy.
Optimizing your local SEO for medical practices will increase the visibility of your business to your local community and for potential patients searching for your type of healthcare and services.
Whether you're a medical spa & aesthetic center, dental office, chiropractor, plastic surgeon, or any other type of medical practice, increasing visibility plays a vital role in the growth of your business.
By increasing your visibility this will lead to more website traffic, leads, and conversions since these types of potential patients are actively searching for your type of service.
Ensuring your business website is properly optimized for local SEO for your medical practice will allow you to hyper focus your website for the exact type of patients you're looking for.
According to Google, 88% of searchers for a local business visit or call that business within 24 hours. That's the type of potential calls and bookings you're missing out on.
Not only that, according to Go Gulf, 46% of all searches on Google are seeking information about a local business.
That's a MAJOR local search percentage for to medical practice to feed into.
So how do you start improving your rankings?
Here are our top 10 tips to improve local SEO for medical practices.
1. Create Or Claim Your Google My Business Account
One of the first steps that you should do to increase your local SEO for your medical practice is to create or claim your Google My Business account.
After claiming or creating your Google My Business, you'll need to fill out pertinent information to help Google better understand what type of business you are, your services, the location, and more. Some of this information will be displayed on searches that users do related to your services.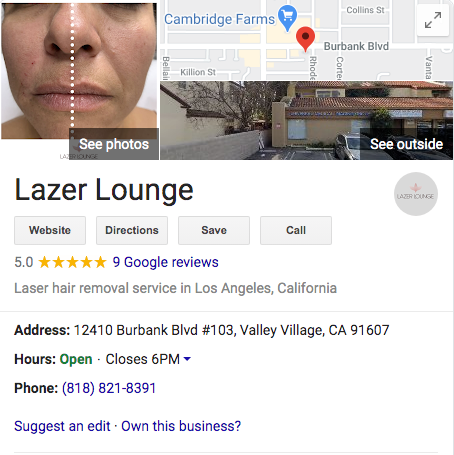 Once you've done this, Google will now recognize your medical practice as a legitimate business and can start the process of including it into local searches related to your services.
Here are some tips for your Google My Business account that will help the local SEO for your medical practice.
Create or claim your account and verify your ownership of the business.
Provide accurate and up-to-date information.
Add in your logo, hours, payment methods, and types of services.
Add plenty of photos of your business, services, products, and more.
Begin asking your happy customers to leave reviews on your Google business page.
Publish posts and updates to your business profile from the Google My Business dashboard.
2. Encourage Reviews From Your Customers & Showcase Them On Your Website
Have you ever searched for a business and decided to check out their reviews? Your potential patients are doing the exact same.
Not only does getting new reviews help with local SEO for your medical practice, but it also provides "social proof" for others to see when searching for your services.
Social proof is comments and reviews left by others for new potential patients to see. This can help leave a positive perception of your medical practice.
According to BrightLocal, 85% of customers believe online reviews as much as personal recommendations.
The more reviews that you're able to build up on your Google My Business account the stronger the signal is that gets sent to Google to rank your business for specific searches.
3. Create Content Based On Local Keywords & Search Terms
A great way to optimize for local SEO for your medical practice is to begin creating content based on local keywords and search terms that revolve around your services.
You might be thinking, what the heck do you mean? Don't worry, we got you.
Take for example a dentist in Pasadena, California. On your website you'll want to create pages and content that includes the search term "dentist in Pasadena".
Or let's say one of the services that you offer is teeth whitening. You might want to create a page or blog using the keyword, "teeth whitening in Pasadena".
Optimizing your website with all these local search terms signals to Google what your business is all about and where you mainly conduct your business.
Start sprinkling in these types of keywords and you'll begin to see changes in your local SEO for your medical practice.
4. Make Sure Your Website Is Mobile Friendly & Loads Fast
The overwhelming majority of website visitors your to your medical practice's website are going to be from a mobile device. The shift to mobile device's dominating website traffic has been going on for a few years now.
Google is aware of this shift in mobile usage and uses it towards the ranking of your website.
It might sound obvious, but your business website plays a huge role in your marketing.
So if you want to improve your local SEO for your medical practice ensure that your site is mobile friendly and loads fast.
Here are some tips on how to make your medical practice website more mobile friendly:
Use bigger fonts that are easier to read.
Make sure your website loads fast (2-3 seconds or less).
Be conservative with how much copy and images you use.
Create a pleasant navigation experience for users.
If your website loads slowly users are going to exit your site which sends a signal to Google that they may have had a poor experience.
DON'T let that happen like in the video below!
5. List Your Medical Practice On Online Business Directories
In the digital marketing world, listing your website on online business directories is the "low-hanging fruit" that you can easily take care of.
Adding your medical practice to these directories will create a network of links pointing to your website and will help with your overall visibility. This works towards improving local SEO for your medical practice.
In fact, business directories are one of our best places to advertise online.
6. Ensure Your Name, Address, & Phone Number Are Consistent Across The Internet
This might seem like common sense but we can assure you…sometimes common sense isn't so common.
Part of ensuring proper optimization for local SEO for your medical practice is making sure your business name, address, and phone number remain consistent everywhere on the Internet.
This means your website, any review aggregators (Google review, Yelp, etc.,), and all the business directories and listings that your business is posted on.
If your name, address, and phone number aren't consistent this can send a signal to Google that perhaps there might be some issues with the legitimacy of your business or cause it problems for how and where to rank it for specific keyword searches by users.
7. Include A Google Map Of Your Physical Location(s) On Your Website
Another great way to improve local SEO for medical practices is to add a Google map of your location onto your website.
Add the Google maps to your "Contact" or "About Us" page along with your name, address, and phone number and it boosts a signal to Google to improve the local SEO for your medical spa.
Make sure you're not spamming this across hundreds of pages as this is seen as a "no no" by Google.
8. Dedicate Web Pages For Each Of Your Services
You might think it could be simpler and more useful to dump all of the services you offer onto one page, but if you're trying to improve the local SEO for your medical practice it's better to create a separate page for each of your services.
The reason for this is because having a separate page for each service signals to Google that your medical practice is an authority for this treatment or procedure. By signaling to Google that you're an authority it helps towards the local SEO efforts for your medical practice.
9. Earn Natural Backlinks To Your Website From High Quality Sites
You might be thinking, "what's a backlink?"
A backlink is a link that is pointing to your website from another website. Preferably you want links from sites that are related to your business or industry.
The more links you have pointing towards your website the more weight Google gives to your site because these links are earning your medical practice credibility.
According to a study done by Moz, link signals are the first and second most important factors to improving your local SEO and getting your business into the "local pack".
The local pack is the listing of 3 businesses that Google shows when someone searches for a local business. Getting your medical practice into the local pack is a HIGHLY coveted spot.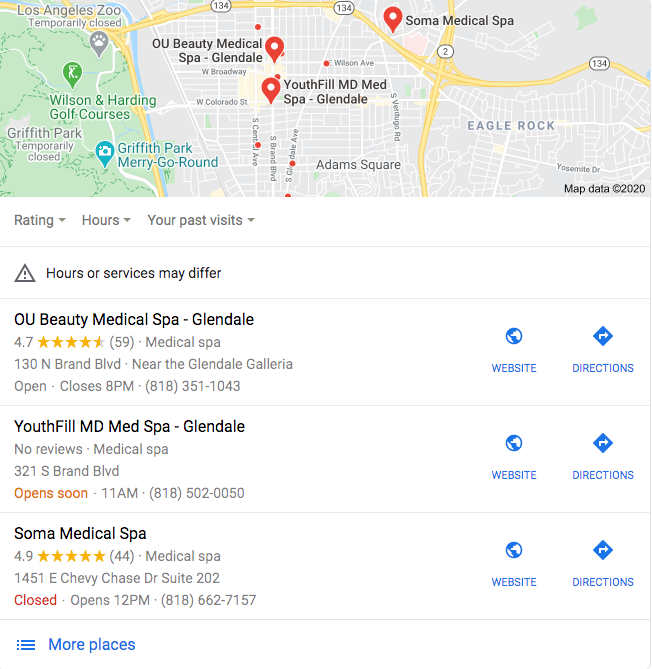 You want to ensure that the links pointing to your site are from high quality websites. The best way to do that is to create high quality content that others will want to share.
10. Use Location Pages If You Have Multiple Locations
If your medical practice has multiple locations make sure you have a dedicated page for each location.
You'll want to ensure that the URL is specific to that location as well.
Make sure each location page has the following:
Business name
Store hours
Phone number
Address
Google Map at the bottom
Testimonials
Local SEO For Medical Practices: Conclusion
Improve your local SEO for your medical practice is one of the first steps towards earning a larger share of your local patients.
Every day the patient's buyer journey begins with a Google search when trying to find solutions to their problem.
Having your medical practice rank high in their searches is an ideal way to earning their business and bringing in more patients through your doors. It's also the most cost-effective marketing strategy when thinking long term.
While these tips that we've provided will help in your efforts towards local SEO, you must understand that there are over 200+ factors for search engine optimization that must constantly be accounted for.
It's also important to understand that improving the local SEO for your medical spa is not an overnight process. This takes time but once it starts rolling you'll notice a significant difference.
If you're in need of improving the local SEO for your medical practice, contact us, as our team at Alecan Marketing has over 15 years of experience in the digital marketing world. Our medical marketing team is ready to help you grow your practice.