Brand Identity And Custom Logo Design
Update Your Brand While Maintaining Your Trusted Reputation
The logo of your business is the first impression you provide to potential clients, investors, and your industry. First impressions are crucial to your position as a professional, and they are just as essential to your business. But before you can create the perfect logo, you need to identify your unique brand and pinpoint your message and offerings to differentiate yourself from the competition.
Whether you are a new or seasoned business, it is crucial for your future success to create a unique position in your market with titles, logos, taglines, and images to gain new customers and keep a loyal following.
Alecan Marketing Solutions is a skilled logo design and brand identity development company in Los Angeles. Alecan has successfully guided local businesses to make their ideal first impression and increase sales and organic online traffic exponentially.
If you're ready to join the world of the top, most successful companies that have invested in their brand, read on to learn about some of the many benefits you will receive when you work with Alecan to create a logo that feels undeniably pertinent to your business, core values, and message.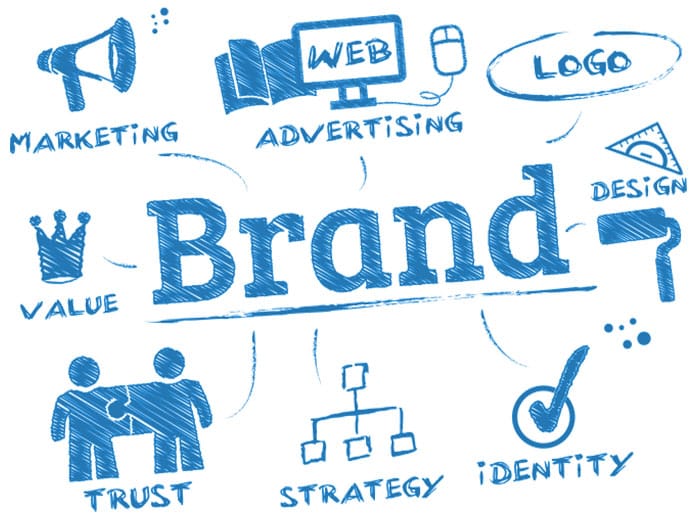 What is Involved with Brand Identity Design?
Brand identity involves a few critical processes to create your ideal impression and position for customers. We look at the personality of your business and culture that you want to represent, how you want your customers to view you, and the type of visuals, messages, and products that can bring all these visions together.
Brand strategy is the foundation of your business. It involves so much more than marketing campaigns, and includes the concept you've had for your business from the start and looks at the direction you need to take to get there. We will work together to lay out the milestones you need to hit to propel you forward in the right direction. A future of success for your business shouldn't be a DIY effort. Invest in the expertise of those who have helped countless other companies achieve their goals, and work with us to create a solid brand identity design.
The next few steps involved with the Brand Identity process are brand development and image. Brand development includes the marketing efforts you produce that apply the brand identity design we have created together. We will design a website and other strategic marketing tactics to develop ongoing marketing campaigns.
Another vital component of brand development is a custom logo. The team at Alecan Marketing Solutions will take you through the entire process of logo design to seamlessly integrate eye-pleasing aesthetic into your brand identity program. From the exploration of past logos, understanding what works and what doesn't, creating physical sketches, to presenting our ideas to you until you feel we've nailed it, our logo design process is comprehensive and involves 100% open communication at all times to ensure we are always on the same page.
Need Professional Logo Design And Brand Identity?
Call Alecan Internet Marketing Solutions Today For A Free Consultation. (800) 208-5458
Reasons Why You NEED Professional Logo Design and Brand Identity
IMPROVE EVERYDAY FUNCTIONS
We understand that your logo is a crucial component of your brand. If you've created a successful business over the years but are concerned about what rebranding might do to your image and message, we are here to assure you that we believe in refreshing and modernizing your logo—not changing it. We will maintain the meaning and emotional response that has been so crucial to your business and client base, and will carefully balance the fine line between fresh perspective and consistency with color, design, shape, or concept.
NEW VALUES AND EXPERIENCE
As your business has grown, so has your knowledge, experience, and needs of your customers. Don't let a stale brand and weak online presence hold you back from further growth. Showcase your professional growth with logo design to represent what you've learned, what you've changed, and what you believe in about your business. We will work alongside you to come up with a collaboration that combines your unique experiences with what we see as being crucial in today's marketing world.
If you're struggling to see the conversion rates and sales numbers you want to achieve, then it is in your best interest to allow tweaks and adjustments to be made to see what is blocking you from the success you deserve. Sometimes all it takes is a change to your logo, which, as we mentioned, is your first impression to potential customers and investors. If your logo doesn't align with your message and offerings, then it will be lost to those you are trying to reach. Our brand identity design company won't make your logo unrecognizable, but we will perform necessary design adjustments to help you connect with the path you see for your business.
In today's culture, it is no secret that trends come and go. And they pass us by faster than ever. It is important that your business stays up-to-date with current trends and market demands, but it also needs to be resistant to these constant fluctuations. While it is important to maintain the reputation your logo has developed, your business cannot ride on the same branding forever. It needs to be updated, tweaked, and re-evaluated over time. Alecan Marketing Solutions can revitalize and rejuvenate your brand through logo design to celebrate your successes, and represent your future.
Brand identity will get your brand image in the market and can drastically improve your visibility to consumers. The first step towards accomplishing this is researching your competitors and industry. Brand identity will be the most important driving force that propels you forward in business, compared to any individual marketing efforts. We will analyze the position of your business and compare it to your competitors. Our brand identity design company will come up with a plan that displays where you currently stand in the market, and the steps we need to take to get you where you want be. Additionally, we will ensure we provide you with a distinct brand that aligns with your business model.