Your Most Effective Selling Tool Is Your Shopping Cart
Sell Anything to Anyone, Anywhere in the World
The online market is a competitive place, and e-commerce websites that lack attractive interfaces, intuitive designs, and efficient inventory management systems will likely be passed over for faster, simpler, more professional-looking sites.
To help your online business attract customers and manage day-to-day operations, Alecan Marketing Solutions offers experience developing stunning e-commerce websites designed to grow your business and increase revenues. Our tech-savvy experts will help you outpace competitors with cutting-edge innovations, creative marketing campaigns, SEO strategies, and reliable customer support.


At Alecan, we realize that every business has unique needs, goals, and customers. While a simple e-commerce site may be suitable for startups or small companies, larger retailers may benefit from the power and efficiency that Magento integration provides.
When it's time to expand your retail website, Alecan's team will work one-on-one with you to build a digital storefront that speaks to your brand's professionalism and services.

Whether you're a small business or enterprise-level company, Shopify's scalability allows you to create and sell your products fast and efficiently.
The customization abilities with this platform are part of the reason it is one of the leaders in e-commerce. With Shopify, you're immediately signed up with merchant services so you don't need to take that extra step. Our team at Alecan can fully customize your e-commerce site to your desires with this great platform.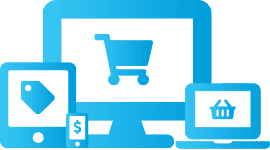 Designed With Users In Mind
To create inviting, easy-to-use digital storefronts for online retailers, Alecan's designers, and development team combine beautiful aesthetic elements, user-focused functionality, and powerful e-commerce back-end support.
We make it easy for customers to find your products online, fill up their shopping carts, and purchase the items they need, increasing revenues and bringing customers back again and again.